My Semrush review means to
Add value to your digital marketing skills
Improve your business performance
Increase your profit (or start making it if you are just starting out.
The review will cover:
What SEMrush is and what you can achieve
Who is it for?
Why you should get it and use it instead of other tools or before all other tools
Also, it will define how it will help
Your online business to grow
You to reverse engineer your online competition to perfection, match and beat them up.
In this SEMrush review, I'm going to emphasize that it is the best SEO & SEM, Social Media, and Content Management tool available today on the market (in my personal and professional opinion).
There are numerous SEO tool reviews, but lots of them are based on commissions authors receive. So people with better-promoted sites insert affiliate links to make money on products that give away better commissions.
My review of SEMrush is based on my hands-on daily use of this tool.
I've used SEMrush since 2015 daily. (I literally login as a minimum twice – morning and evening each and every day. As a standard, my team and I use SEMrusn all day long).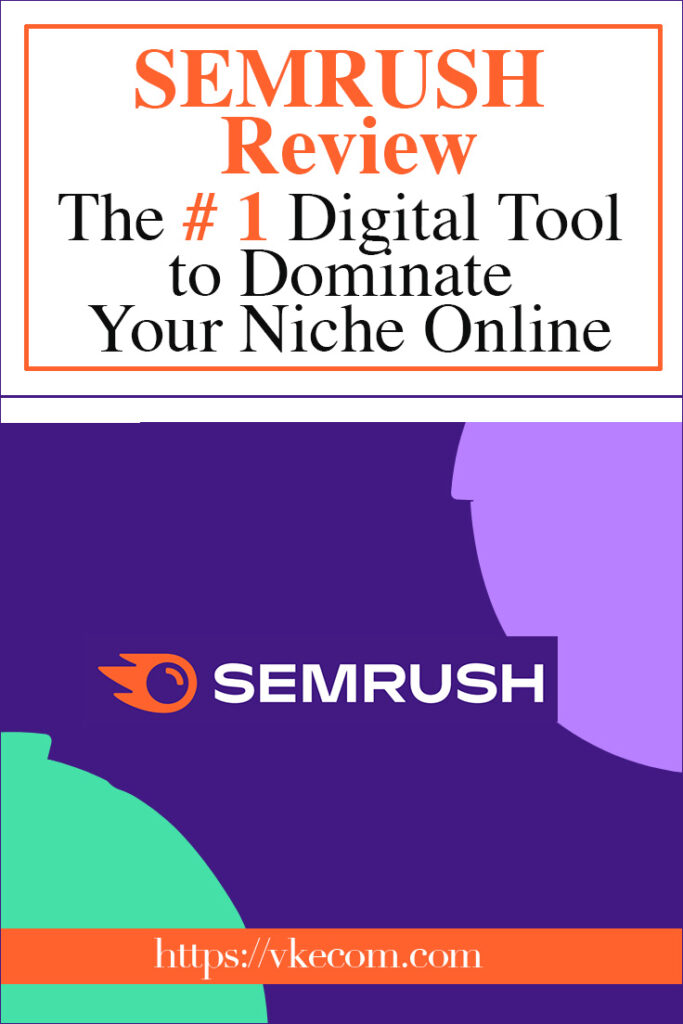 Who SEMrush is Created & Designed For?
SEMrush is for each and every business that has an online presence in any form
Individuals – consultants, coaches, bloggers
Small Businesses
Local Businesses
Online Stores & Boutiques
Wholesale (Business to Business)
eBay, Amazon, app sellers
What is SEMrush and What Exactly It Does?
Semrush is the most unique, organized, comprehensive, easy to use, cost-effective and time-saving digital marketing tool I ever came across.
Currently, it has 6 million users who utilize 142 geographical databases with 20 billion keywords. 818 million domains were analyzed (1).
Out of all online marketing tools (and I monthly spend on tools as much as some people on their mortgages), SEMrush is my number one choice for SEO, Social Media, Content, Research, Project Management.
Also with using SEMrush every single business day (and sometimes on weekends) for many years, I believe that it's extremely under-discovered and undervalued by businesses.
If you heard of people using SEMrush for keyword research only, in my mind is like driving the jet to the local supermarket or buying a Ferrari to listen to a good stereo.
Before a detailed explanation of how to use SEMrush, let's jump into
SEMrush Review Conclusions and Ratings
In my honest SEMrush review it is a five-star tool that each business must invest in before starting an online business. If you already run any type of online property, you should've bought the tools a long time ago.
It is a versatile, all-in-one, unique tool an online business can't survive without.
I run stores, info sites, local businesses, and sell on eBay & Poshmark. I can't imagine my business life without this tool.
Again, I use many more tools and I would miss them as well, but it's like missing a good friend while won't be able to live without a soulmate (SEMrush is my soulmate by all means!)
20 Pros of using SEMrush – Why Do I Love it SOOO Much
SEMrush Infographic – 20 Reasons to Invest In It

20 Benefits of SEMrush
1-10 Benefits
Easy to use and understand
For both "offline" people and digital gurus. Its created for busy folks
Fast to learn
No learning curve
You quickly learn by doing
All in one solution
Has multiple tools under one interface to solve various digital business needs simultaneously.
You would get numerous tools for a fraction of the cost if you bought them from different vendors. So you can get rid of other premium services.
The best, most extensive, daily updated, and the most accurate keyword research tool in the market
Saves lots of time for the research process
Has More than 20 billion keywords
Provides the most accurate keyword position tracking
Shows both desktop and mobile rankings
Help identify 'low handing" keywords' fruits fast
Utilizes keywords suggestions
Presents frequently asked questions

It is the #1 solution for websites' audit
Ultimate reverse engineer competitors' tool
You can identify competitions' weaknesses quickly and match their wins immediately
Top SEO tool covering all primary SEO formula's components
helps to find feature snippets
– Listing management help distribution for 80+ directories
– All listings are voice search ready
– Capability to respond to reviews from Google My Business and Facebook directly from the interface
– Local ranking heatmap – tracking Google Maps positions to geolocation
– Does city-specific tracking
Presents a clear vision of all your projects' progress at the same place
Helps to find any website issues that need to be fixed quickly
Exceeds expectations in finding content ideas
11-20 Benefits
11. Provides topic research
12. Saves money with its writing assistance on subscription services and premium SEO plugins
13. Sends Automated reports directly to your mailbox
Daily delivery
Downloadable in any format – Excel, CSV, PDF
Exceptionally useful for Social Media needs
Has scheduling tools
Shows posts performance
Suggests times when it is better to post.
You can schedule on Facebook, Twitter, Linkedin, Instagram, Pinterest, and GMB
Provides a huge FREE knowledge base with every possible topic covered via
Improves CTR (Click Through Rate)
Handles your Marketing Calendar for all projects
Allows to manage multiple clients and projects
Includes the FREE trial.
SEMrush's 14 days is twice longer than Ahref's free trial
Offers fantastic support via phone, email and chat. (It is better than Ahrefs and Moz)
Cons of using SEMrush
I personally don't see ANY cons. If you say that I have to find at least something because nothing is perfect and reviews must have any cons that
It is not specifically designed for mobile devices, but it has an app though. I still believe that all-important tasks must be done in front of the desktop anyways, but I might be old-fashioned in my judgments.
free trial requires a credit card which is totally ok with me and should be with other people
So, for people who are looking for cons in my SEMrush review – there are really none. To me, it's the perfect tool that over-delivers constantly.
SEMrush Review: SEMrush, Interface User Experience and ease-of-use
Look! Won't lie I felt a bit overwhelmed the first couple of days with it, but it was years and a years ago…
The tool not only has endless possibilities for SEO experts to explore but also houses a complete digital solution for social media and paid search marketers.
With so much to offer under one roof, I thought the learning struggle could get long.
But it took SEMrush less than two days to convert dicey feels into confidence. I don't use each and every bell and whistle, but can't live without about 50% of this digital marketing tool
Since then it pulls an easy-to-use interface quite efficiently for me.
Interface Use
My absolutely favorite is DASHBOARD. That's where all days start and end. I can quickly see all my projects with metrics at the same place, so their daily gains and losses provide me immediate ideas on what to do ASAP to improve.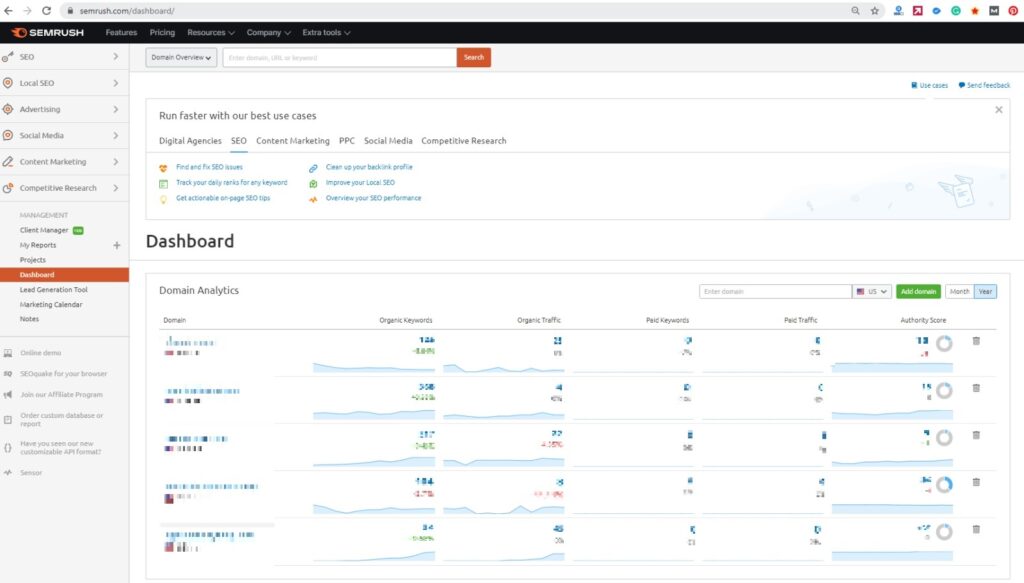 There are several instances when I have to get a quick snapshot of performance rather than diving into the in-depth analysis. SEMrush gets immediate access to the analytics.

When I'm baffled with some features, the user manual spread across the modules helps me understand them quickly.
Hierarchically designed and segregated features are a feast on the eyes, especially when I'm trying to get around a quick project deadline.

SEMrush created the navigation simple and easy for this tremendous amount of tools and features.
The menu is separated by main topics: SEO, Local SEO, Advertising, Social Media, Content Marketing, Competitive Research, and management.
When you click on main topics, some subtopics might repeat themselves because they are related.
For example, the whole keyword research section you might see under SEO as well as under Advertising Research because it is vital for both.
The menu expands super strategically showing all you exactly need for one or another project.
From my point of view, the navigation is self-explained and excellent, so it helps to learn quickly and work efficiently.
Featured Tools – SEO Dashboard
Now you are dealing with the swiss army knife of SEMrush.
SEO dashboard is indeed the jack as well as a master of all trades.
It has everything you possibly can imagine to look at your site's search performance.
As well as I always thought if I could blend real-time Google data with other analytics in one common area.
The regular switches among different tools didn't quite make sense and wasted my time.
But SEO dashboard lets me pair Google Analytics and Google Search Console with SEMrush for real-time insights.
This is what you get when you have paired Google Analytics with SEMrush:
Visits
Unique visitors
Pages/visit
Visit duration
Bounce rate
Traffic rank
Line graphs to check top trends
Geographic distribution & Visits trend
Goal Completions
Devices and locations
Top pageviews
In addition this is what you have with pairing Google Search Console
Several metrics on site performance
Top queries by the number of clicks
Also interactive graphs on total clicks, impressions, average CTR and average position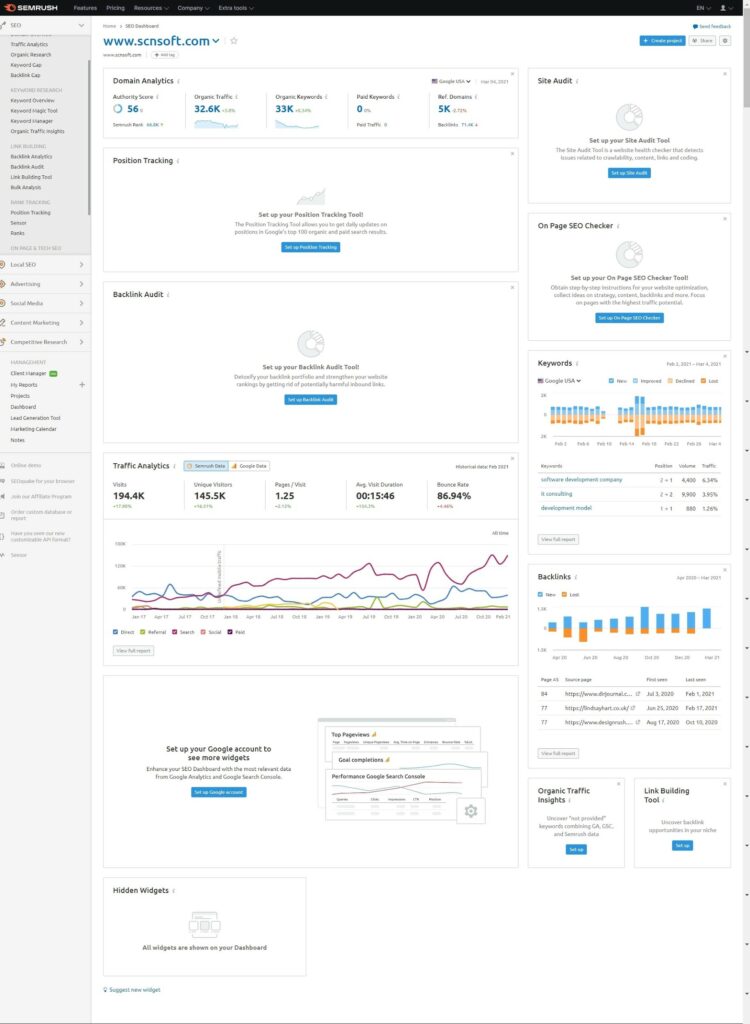 Top benefits of SEO dashboard
Do not confuse SEO dashboard with SEMrush main dashboard that presents all projects together
So, SEO dashboard helps you
get after your competitors with a competitive research toolkit
research top performing keywords, create content that ranks and gets you every bang of the buck
reach for trusted backlinks and enjoy the SEO juice for the higher authority
measure your SEO efforts with daily rank tracking
audit your site, reduce toxicity, strengthen its health, and perform
SEMrush Review Featured Tool – Competitive Analysis
This is the place where I spend tons of time. Also, this is the place in SEMrush that helps me to create a razor-sharp strategy how to rank above well-known names in a short period of time.
Below is my work, position #1 of Google. I was able to be above Forbes. So, I hope no comments necessary. I would never be able to accomplish it without SEMrush.
I did all research via SEMrush competitive analysis feature and Magic Keyword tool
Domain Overview
This feature is priceless for the analysis of
your own site (s)
your competitors' site(s)
any site(s) in the world
Analyse Domain Performance by Country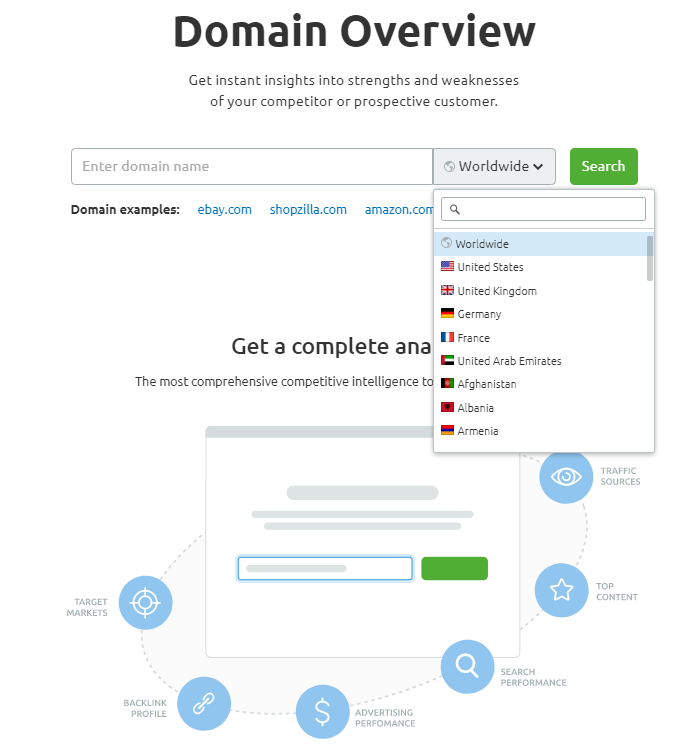 You can see how the domain performs worldwide as well as by country.
It is very important because if you run an international site, the performances can be different.
So you would need to adjust your strategy by country as well
I call SEMrush Domain Overview a website x-ray to diagnose any site immediately just looking at this tool
Compare up to 5 domains at the time
Also if you have a premium account, you can compare up to five domains at the same time – which gives you a pretty clear picture on their
performance
straights and weaknesses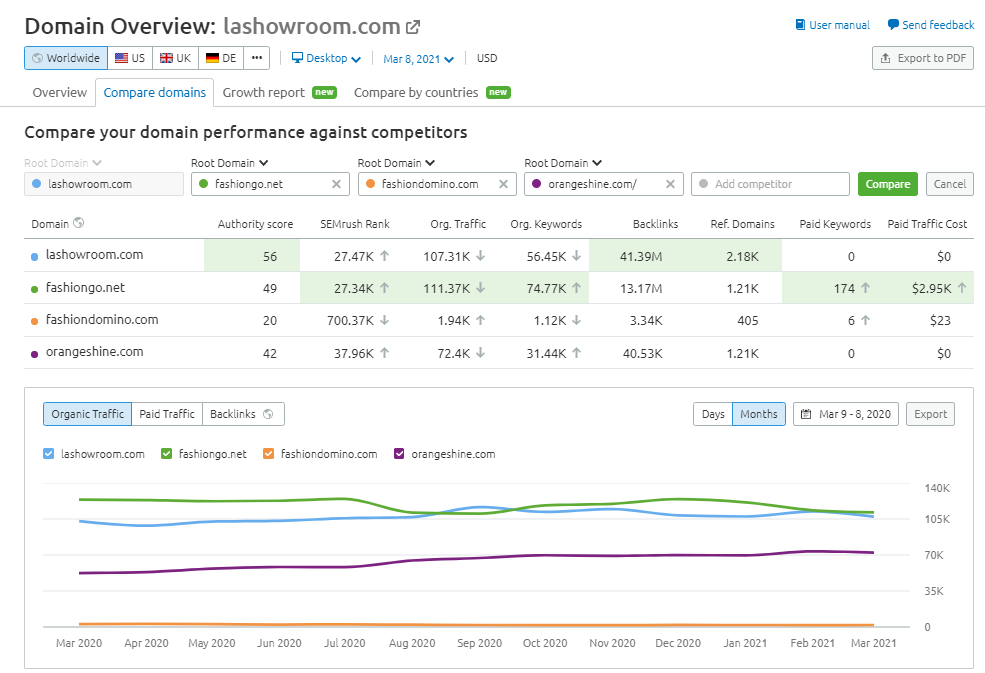 Overview Features
You can Overview the site where you can see
Authority score
Organic search traffic
Paid traffic details
Amount of backlinks (referring domains,
Display advertising
Also clicking on all metrics about you can drill for all information in details
Chiefly one of the most valuable functions for me is that you can analyze domain by Root, URL, Subdomain and Subfolder
Why it's important?
For example, when you write SEO content you analyze your top 5 competitors' content first. So you can run your search by exact URL and see which keywords you need to rank for and how many backlinks to build to the exact page to win search engine spots

Then there will be a distribution by country and organic traffic details
And, the most precious is that you can see all top organic keywords your site is currently ranking for
Growth Report
you can compare domain performance by time periods and see growth at one simple view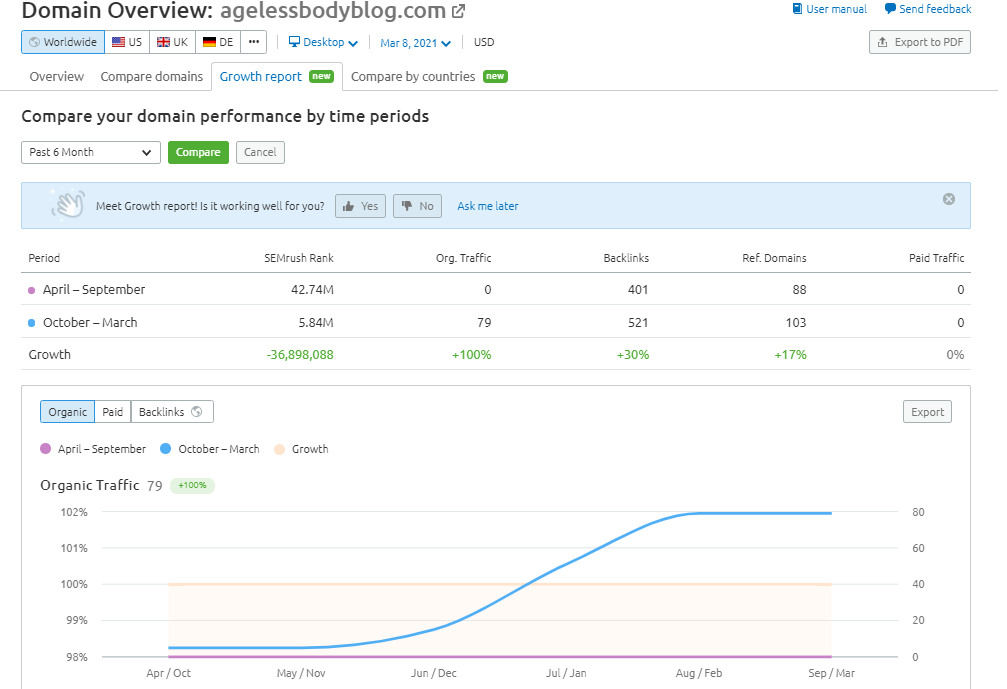 Traffic Analytics
If the website you are looking for has some decent history, you can see the main metrics that Google Analytics presents (visits, uniques, page per visit, average visit duration, and bounce rate)
There is a traffic share between desktop and mobile.
There will be traffic distribution by county, and if the site is larger, you can see subcontinent traffic.
You can add up to 4 competitors to see where you need to go to win the game.
The top benefit of the Traffic Analytics feature – you don't have to have access to someone's analytics; all you need is SEMrush to see hidden insights
Organic Research
Organic Research is another feature I continuously use because it shows your keywords'
Overview
Moreover, the overview presents the number of keywords bringing users to the site, the number of users expected to visit the domain in the following month, the estimated average monthly cost to rank for organic keywords in Google AdWords, and the amount of branded vs. non branded traffic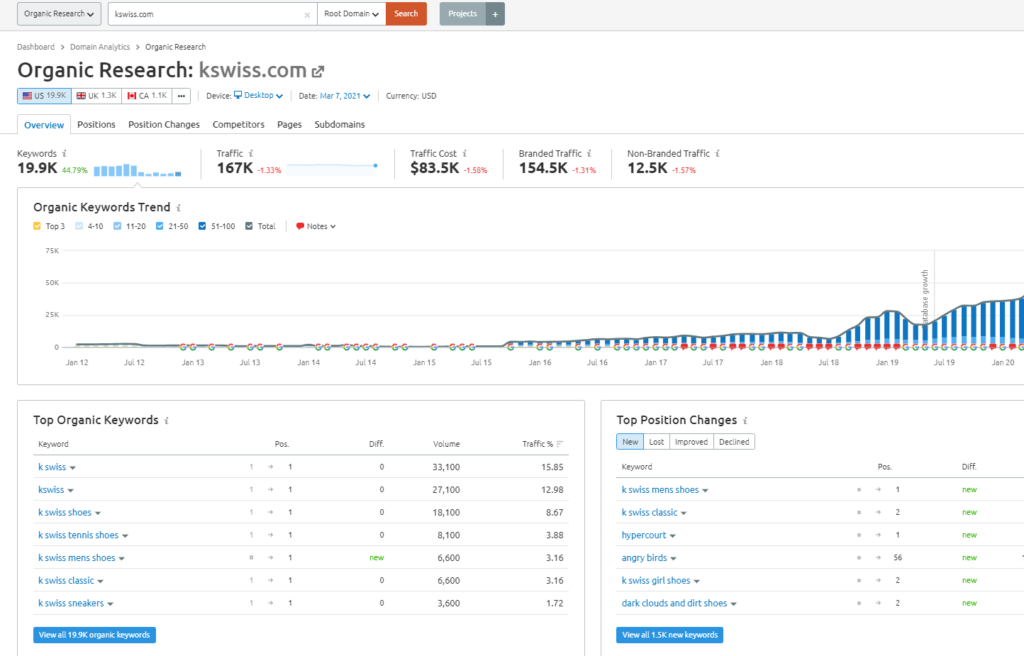 Positions
Positions provide the number of keywords in google, keyword volume, difficulty, and estimated cost per click. Also, it shows SERP features for each keyword. So you can see by which features your keyword is ranking now and plan what to do to improve rankings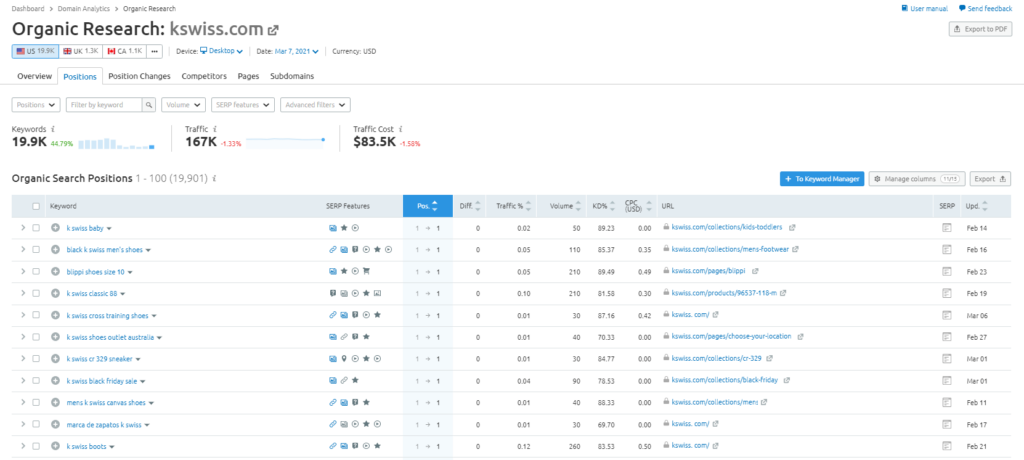 Positions' changes
Positions' changes tab IS MY FAVORITE. Every day, I see which keywords changed their positions, went up or down. It justifies my efforts immediately and shows where I need to put more work into the improvement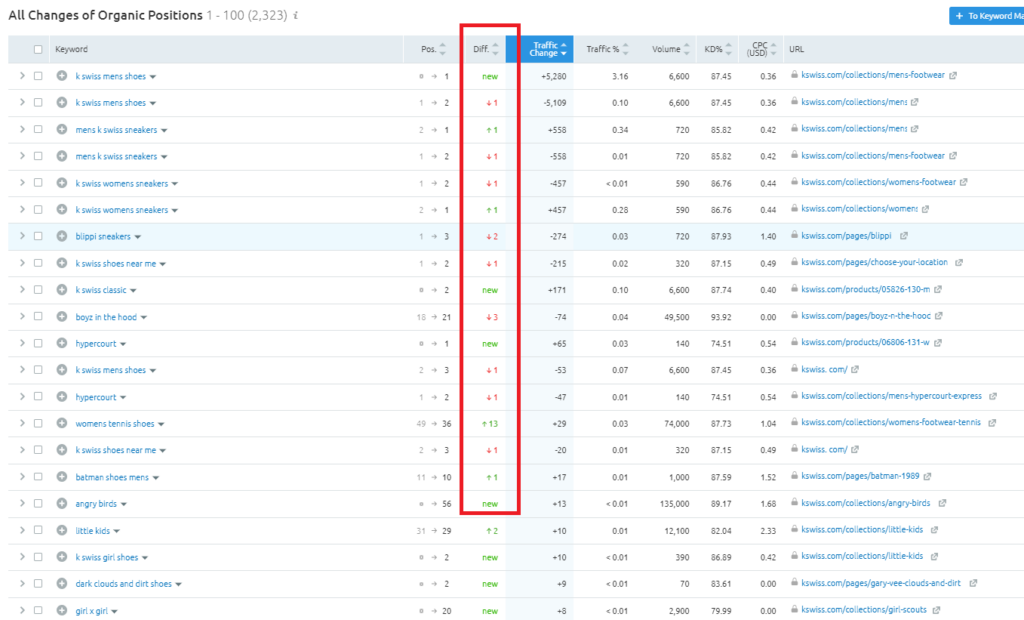 Competitors
I don't find this section useful for my business, but you absolutely might. I know for a fact which sites I consider my direct competitors
Pages
Shows best-performing pages with traffic, keywords, and the possibility to see backlinks
Subdomains
Show subdomains of the site that you might or might now know.
Keyword Gap
In simple words, You enter your site and competitors up to 5 domains.
Then you choose the keyword types – you can choose between organic, paid, and PLA. After that, you can see who is ranking for what – you can find competitors with the most extensive profile, expand your keyword list and beat them up.
Backlink Gap
Works the same as the keyword gap, just for backlinks
SEMrush Review – Rank Tracking
Digital marketing was easier had Google put us right up at the top for our SEO efforts.
But search engines are tough nuts to crack.
That's not how they work.
Every rank is hard-earned.
The effort that you put into after you've set all your SEO-might is what counts the most.
Luckily, Rank Tracking is an excellent tool for communicating SEO successes and failures and adding additional efforts for marketing campaigns.
With it
you follow if your efforts are bearing fruits
and you know whether you need improvement
#1 Position tracking
It's like keeping a bird-eye view of daily progress.
And make informed decisions after that.
Notice how you can go big by tracking your progress every day.
Who wouldn't want to know if the campaign missed the dart?
Here's how you track SEO-campaigns with Rank Tracking:
click on the SEO dashboard
go to position tracking in rank tracking
hit "the new position tracking" button at the top-right corner
fill in the domain and project details
enter the keywords you want to track
enjoy rich data in the position tracking tool
Rank tracking details
landscape: track the important landscape such as visibility percentage, estimated traffic, average position
overviews: get the ranking overviews of the set keywords through interactive graphs
ranking distribution: find the ranking distribution of the keywords
pages: have details on average positions and total volume
featured snippets: opportunities to show up in featured snippets

Top benefits of rank tracking
monitor your search engine ranking daily
learn about changes in target keywords
compile ranking reports and have them in PDF format
SEMrush Review #2 Sensor
If self-introspection ever had a face, it would be of Google's.
The giant search engine changes its algorithm almost every day, multiple times.
All for one cause.
"To have answerable search engine services for users."
But your SEO campaigns might not take these changes with spirit.
Result? Dead-rubber campaigns with nothing substantial in your cash register.
But hold on!
SEMrush Sensor tool has other plans.
So this tool tracks search engine updates and information about SE volatility.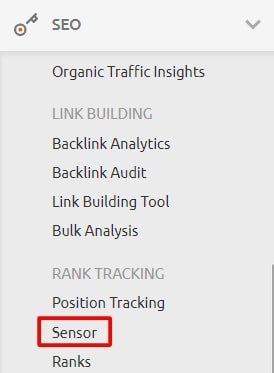 Sensor details
the record for all Google updates
details on categorical search engine updates (art, finance, science, etc.)
list of the biggest winners and losers with the update
all categories deviation from the average monthly volatility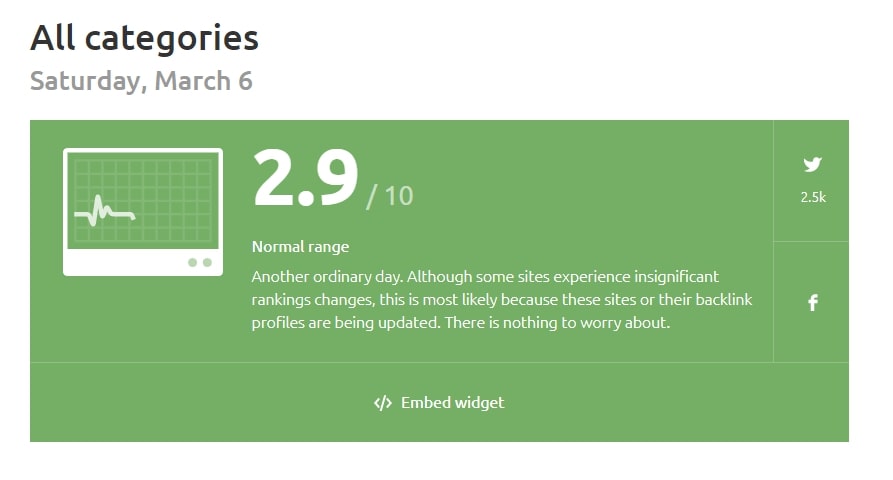 Top benefits of Sensor
keep pace with Google updates
act when it perfectly deems fit
monitor personal score and calculate sensor volatility numbers for the keyword set
check tremors in search engine activities and rustle up accordingly
improvise with search engine volatility
SEMrush review #3 Rank
I wander to the SEMrush Rank feature in my leisure quite often.
It depends on how everyone takes it.
I usually take a glance to find where I stand.
Chances are high; you may feel demotivated in your boots.
But you can check out these high-performing geniuses to find a winning SEO mojo if done right.
Also, SEMrush Ranking makes you aware of the online properties with the highest organic visibility.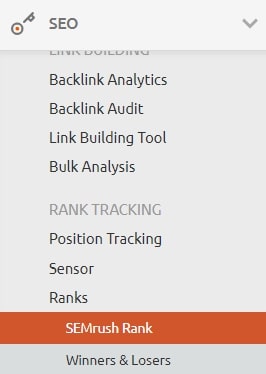 SEMrush Ranking details
SE Keywords: gives detail on ranking keywords in the top 10
SE traffic: estimates traffic for the SE keywords of the particular domain
Cost: provides information on the price for the keywords had they been paid
Paid keywords: represents domain buying Google ads for PPC campaigns
Paid traffic: estimates monthly traffic for paid keywords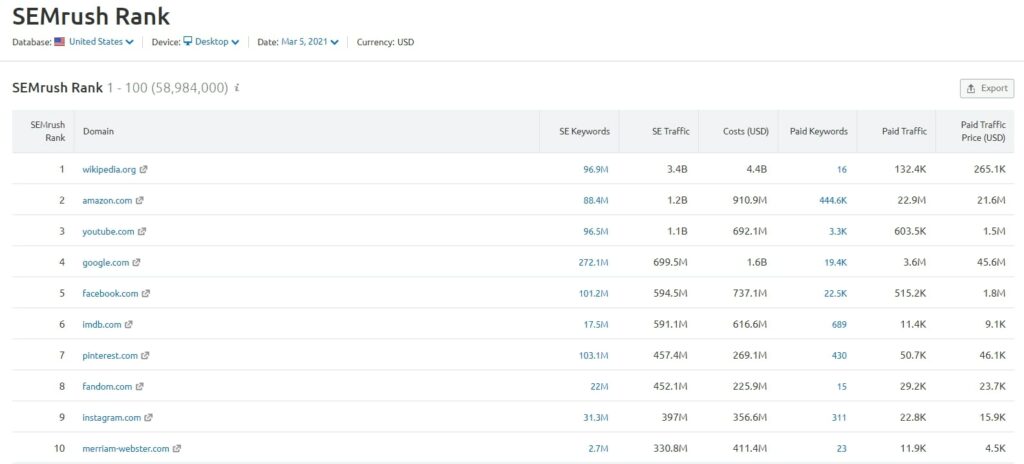 Top benefits of SEMrush Ranking
competitive analysis reference
lead generation and prospecting
global internet research
SemRush Review: Featured Tools – Advertising
I generally love to spy on my competitors' ads, the keywords they advertise for, and the paid ads that get them conversions and sales.
It then doesn't get any easier to plan my Google Ad campaigns with such spying.
Again, SemRush advertising toolkit has been a one-stop advertising shop to do all of the above.
Three reasons why I love SEMrush's advertising toolkit:
niche advertising research has got simpler
competitors' past and current campaigns analysis made easy
advertising strategies are easily set-up with the list of keywords and ads

Advertising Dashboard
On clicking the advertising dashboard, you'll find the PPC advertising toolkit.
The Google or PPC ads generally have 4 phases.
Market analysis
Keyword research
Ad tracking
Social media ads

SEMrush review #1 Market analysis — phase 1
I begin my PPC ad campaign by analyzing the market.
Further I click on the SEMrush market analysis segment which lets me conduct the ad research in three major ways.
Advertising research
The tool
reveals all the main paid search competitors
identifies the keywords the competitors bid
displays their lives ads and campaigns
Click on the "go-to advertising research" button to work on this.
Moreover, as soon as you click, the search engine will pop up that allows you to sneak peek into your competitors' ad strategies and identify their strengths and weakness to enhance your own ad campaign.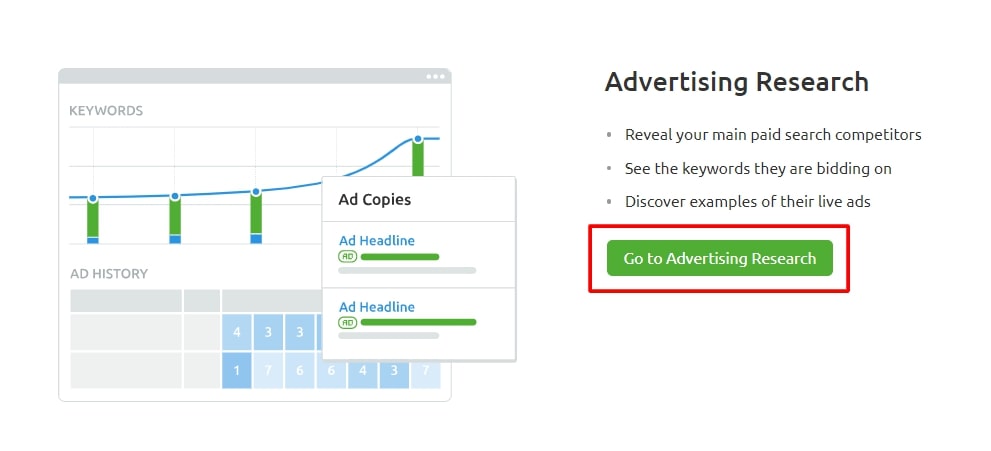 Top benefits of Advertising research
get details on the most profitable ad copies
go through competitors' AdWords and Bing Ads trends
know desktop and mobile keywords separately
see the emotional triggers they use in their ad copies
learn more on your rival's advertising habit
view keywords and ads for multiple languages (100 countries and 20 languages)
Once I have worked on advertising research, I look for display advertising if any.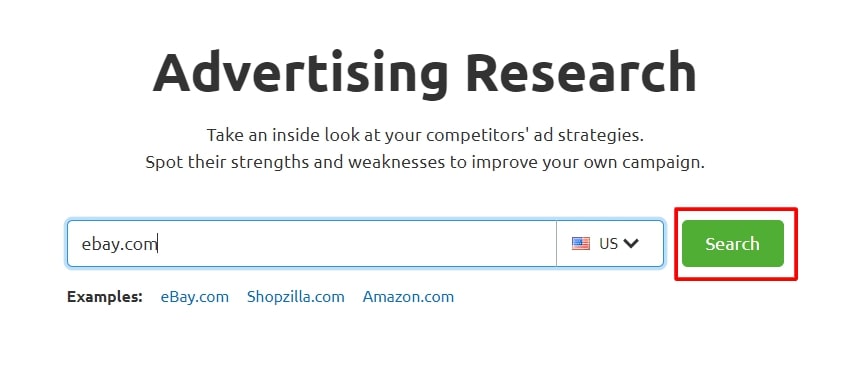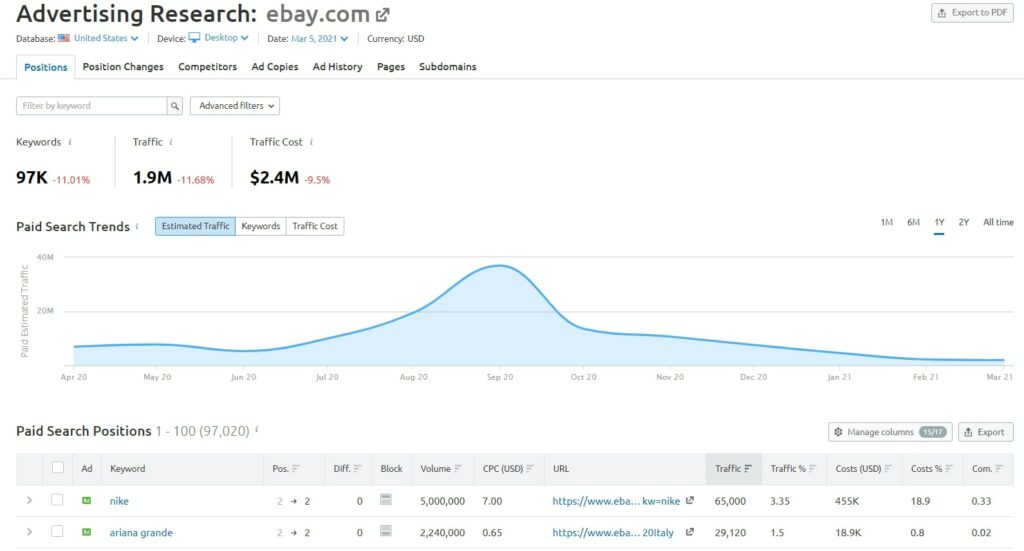 Display advertising
The tool:
helps identify your audience the competitors target on Google Display Network
lets you monitor your rivals' Google Display Network ads
gives insight on the banners and texts used by your rivals in the niche
finds the biggest GDN publishers in your niche
Tap on "go to display advertising"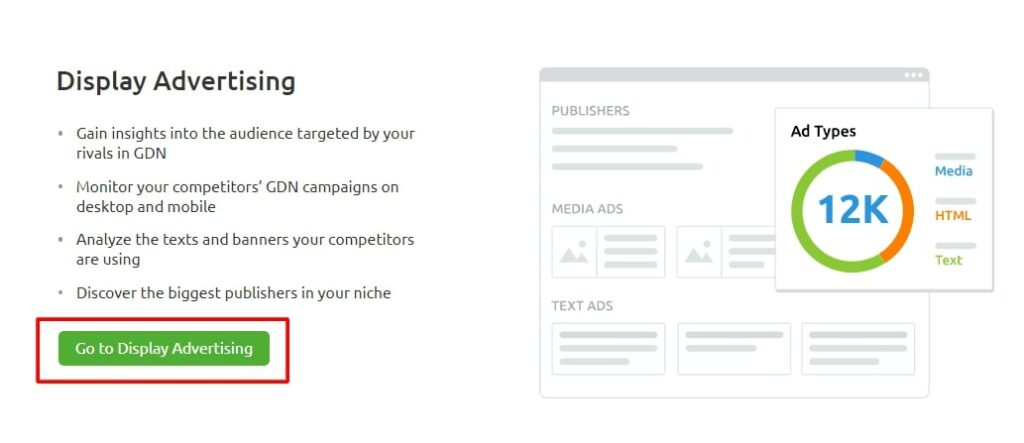 You'll find a search explorer to analyze the banners and ad texts of the rivals in the niche.

On entering the competitor's domain, you will have four tabs to deal:
a) Overview
the demography of the targeted audience including age and gender
the screenshots of competitors' sample ads
the publishers who have advertised the banners and ad texts of your rival
display ads by countries
top audience interests and ad types
b) Ads
all the ads by the domain
indexed ads
detail on the ad campaigns such as launch and pull-off dates
button to export ads to your pc
c) Landing page
the total number of ads pointing to the landing page
the ad first seen
the ad last seen
d) Publishers
list of all the publishers for the advertiser
the recent trends and summaries of the Google ads
advance filtering option
And finally, I check for the product listing advertisements set up by my contemporaries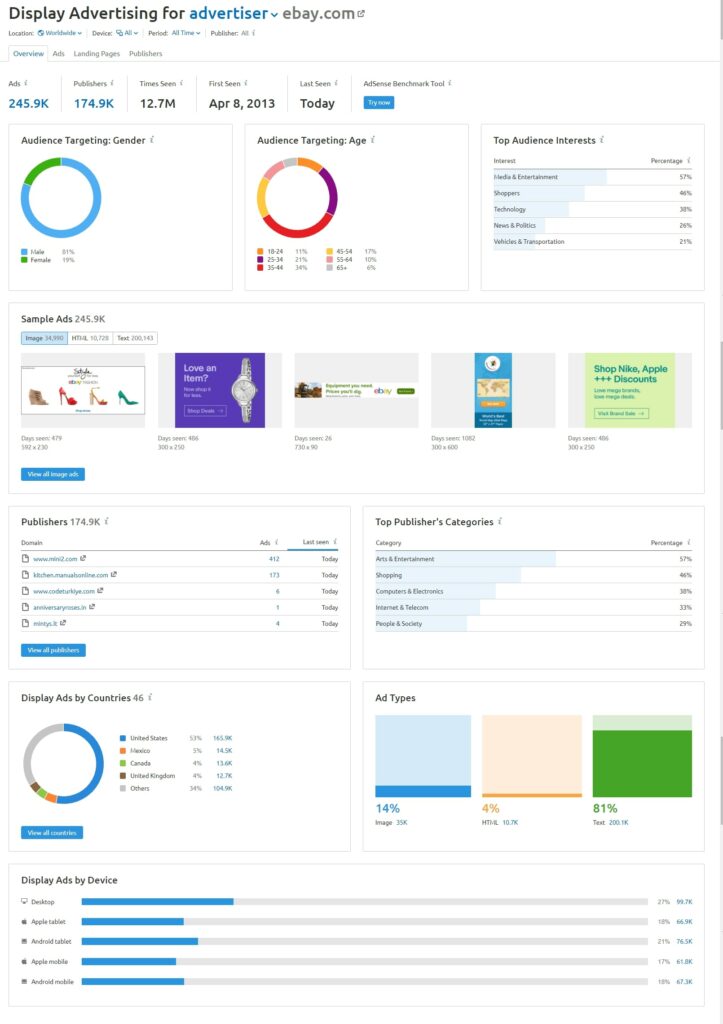 PLA research (for product-centric businesses)
The tool
unravels the biggest competitions in Google Shopping
discovers serious truth about competitors' pricing strategy
helps find the triggering keywords for specific products in the GS results
gives custom reports on it
And then we click on the PLA research button.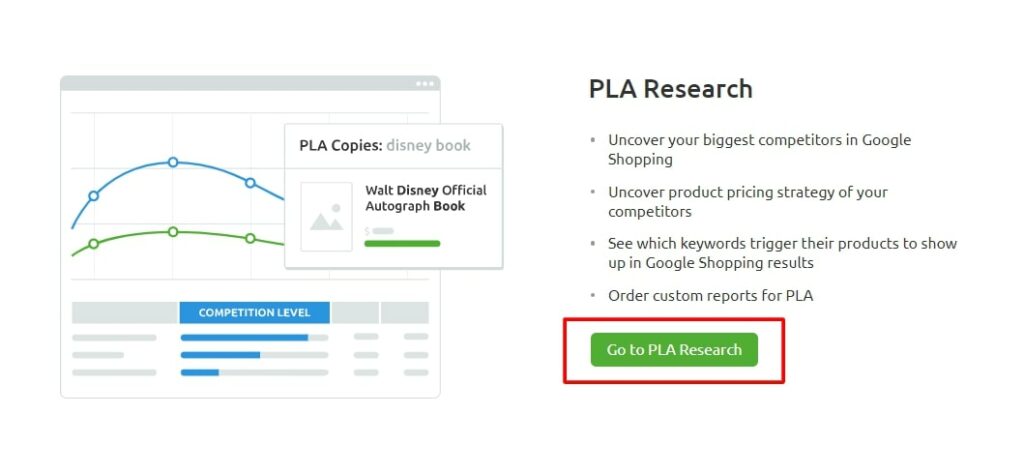 You'll reach a landing page that lets you Google Shopping Optimization

Top benefits of PLA research
get the list of product ads for keywords
find the position of any Google Shopping ad in paid search
know the queries that trigger the appearance of competitors' PL ads
discover the leading PLA rival in your industry
determine the common ranking keywords for your rivals
analyze PLA's components for improvement
SEMrush review #2 Keyword research — phase 2
Market analysis ticked. By this time, I know everything about my competitors.
Now I find the keyword gap.
You might find it similar to the keyword research tool, but it's intensively for ad-related keywords.
Also, as with Market analysis, I go to the keyword research segment in the advertisement dashboard.
The segment allows to research keywords in four ways:
Keyword gap
Keyword magic tool
PPC keyword tool
Keyword gap
The tool:
lets you find the target keywords you've missed but not your competitor
makes way for more ROI
helps determine advertising keywords in paid and PLA campaigns
To make it happen, click on the "Go to keyword gap" button.
Further, you'll be directed to the page where you can do a full-analysis of the keywords including long-tail keywords.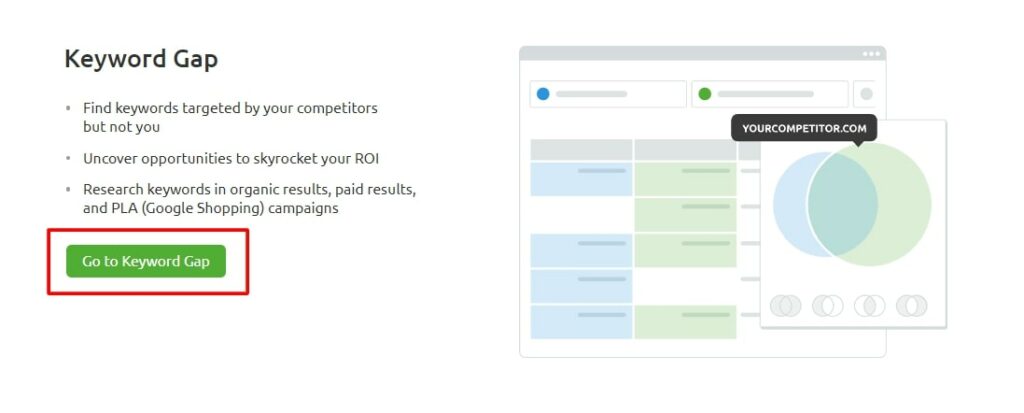 Top Benefits of Keyword Gap
compare your domain's keyword with your competitors for all the three campaigns: organic, paid, and PLA
find the competitor with the largest keyword profile
build your own keyword directory to beat businesses in your niche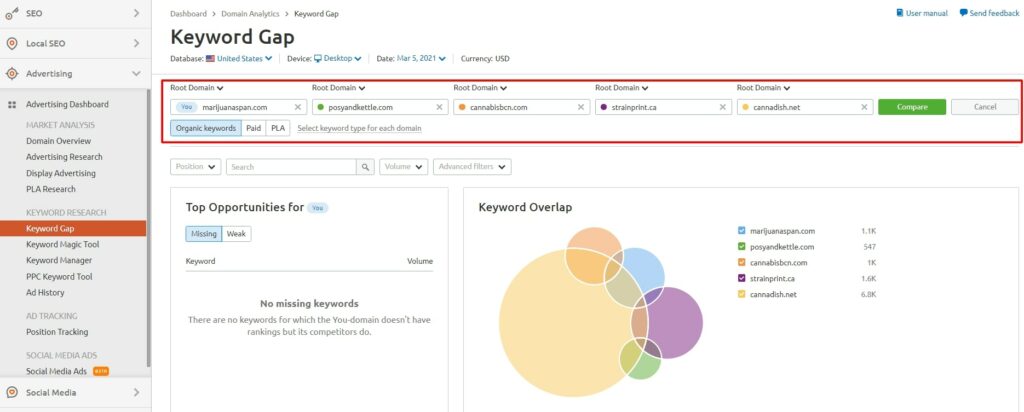 Keyword magic tool
The tool:
allows you to make a master list of keywords from one seed keyword
helps you discover the long-tail and popular keywords
gives competition estimates, cost-per-clicks, and volumes in one report
"Go to keyword magic tool" button will then take you to the keyword research tool explorer.
Enter any keyword in the engine and get detailed insight on keyword research.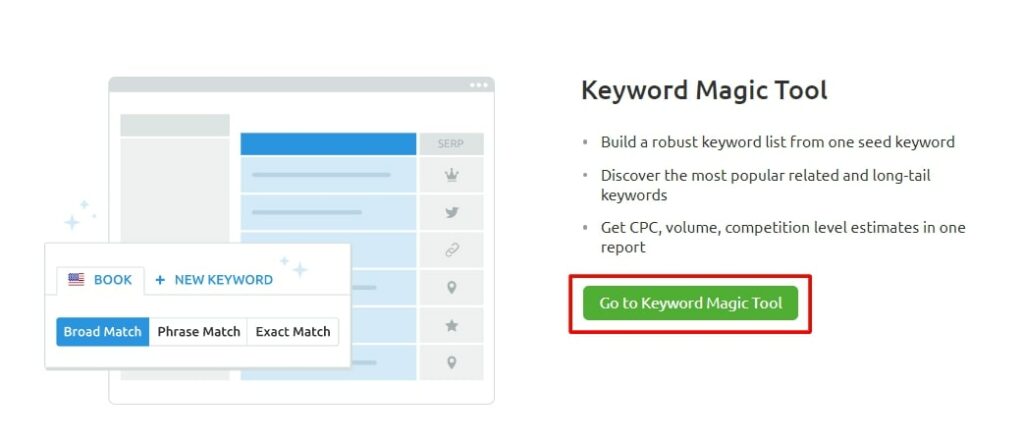 Top Benefits of Keyword Magic Tool
Find keywords based on broad, phrase, exact, and related keywords
Add any favorite keyword to the keyword manager
Export the list for your future work
Use advanced filters to search potential keywords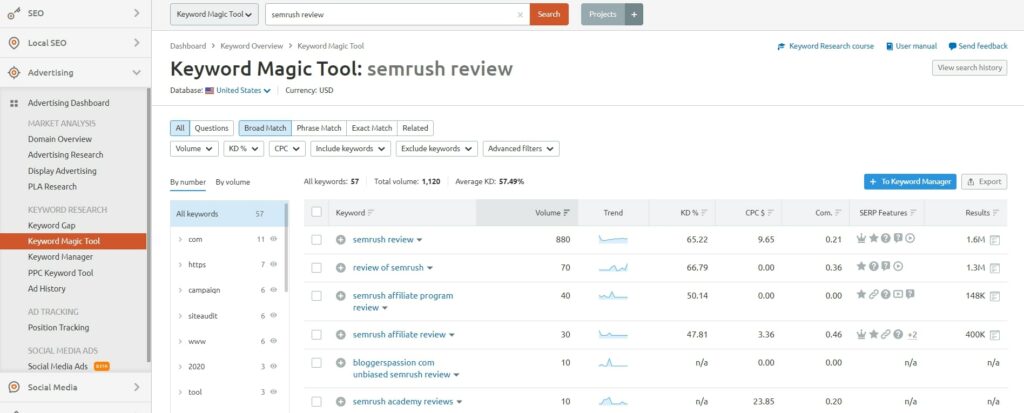 PPC keyword tool
The tool:
helps in designing and optimizing the Google ad campaigns
allows match types and clean keywords
removes conflicting keywords to save wallet thinning
Also, once you tap the "go to PPC keyword tool" button, you will be able to create a perfect keyword list.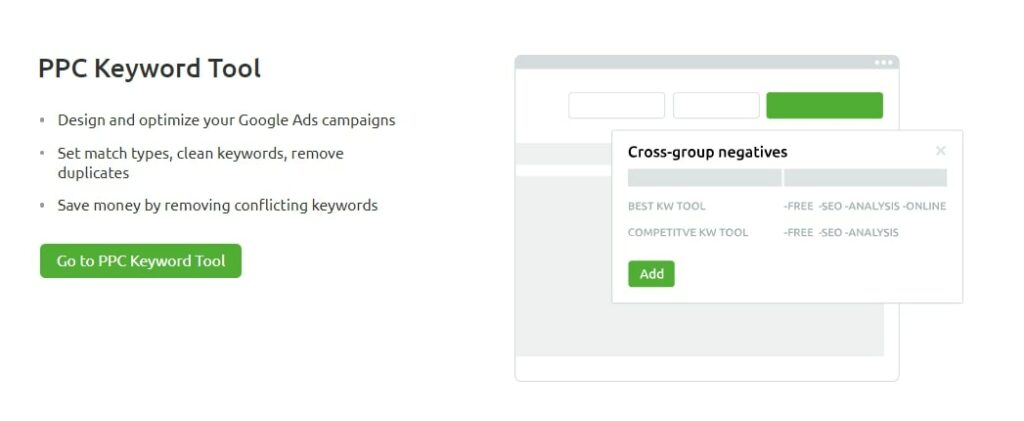 Top benefits of PPC keyword tool
collect the keywords from the previous list
get new keyword ideas from SEMrush reports
filter out the irrelevant keywords using conditional filters such as CPC, volume, and difficulty level
tidy up your keyword list by removing the duplicate symbols
group and organize any keywords by simply drag and drops
use cross-group negatives to filter the conflicting keywords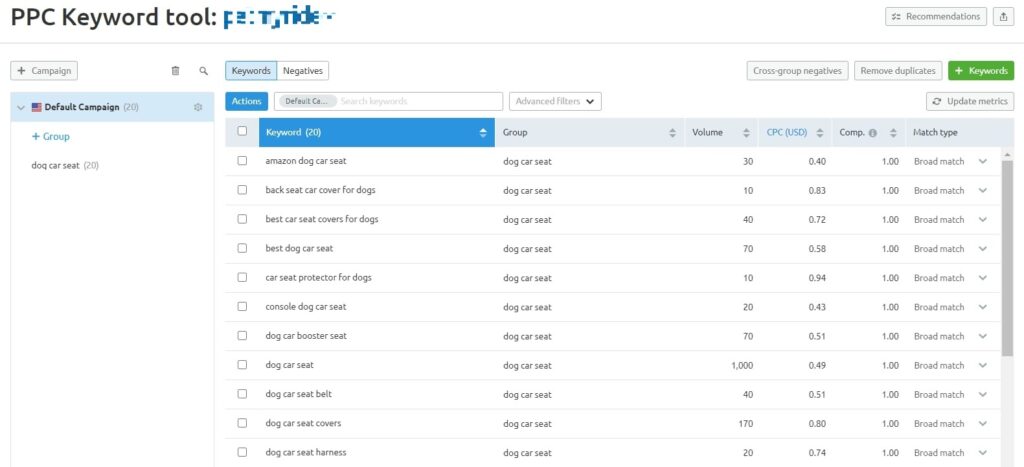 SEMrush review #3 Ad tracking — phase 3
Although SEMrush gives confident ad research in any niche, it's crucial we don't go easy after the two most important steps.
Chiefly you can't launch your ads and expect them to perform without human intervention.
This is what I love the most about advertising dashboards: it not only helps research but gives a ranking overview to improvise.
When you click on the ad tracking segment in the advertising dashboard, you'll find yourself on the position tracking page.
Position tracking
The tool:
tracks and displays your paid visibility against key rivals
provides in-depth data on SERP features (featured snippets, shopping ads, etc.)
identifies the upcoming competitors in your industry
generates PDF files for analytics
On clicking the "Go to position tracking button," you'll be asked to set-up your domain and then you can measure your SEO-efforts with ease.
I measure them daily. Wonderful! Isn't it?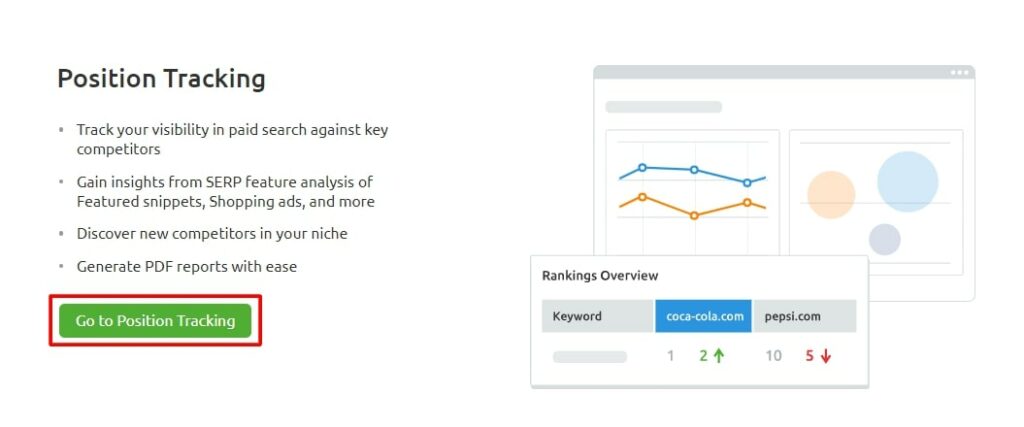 Top Benefits of setting Position Tracking
Get accurate data on your Google rankings
Monitor every URL, domain, subdomain for any keyword on daily basis
Check rankings mobile or desktop wise
Check rankings at local, national, and international level
Analyze desktop and mobile data
Filter your position data with 16 SERP features
Get notification on the crucial position changes
Also good and easy position reporting with SEMrush position tracking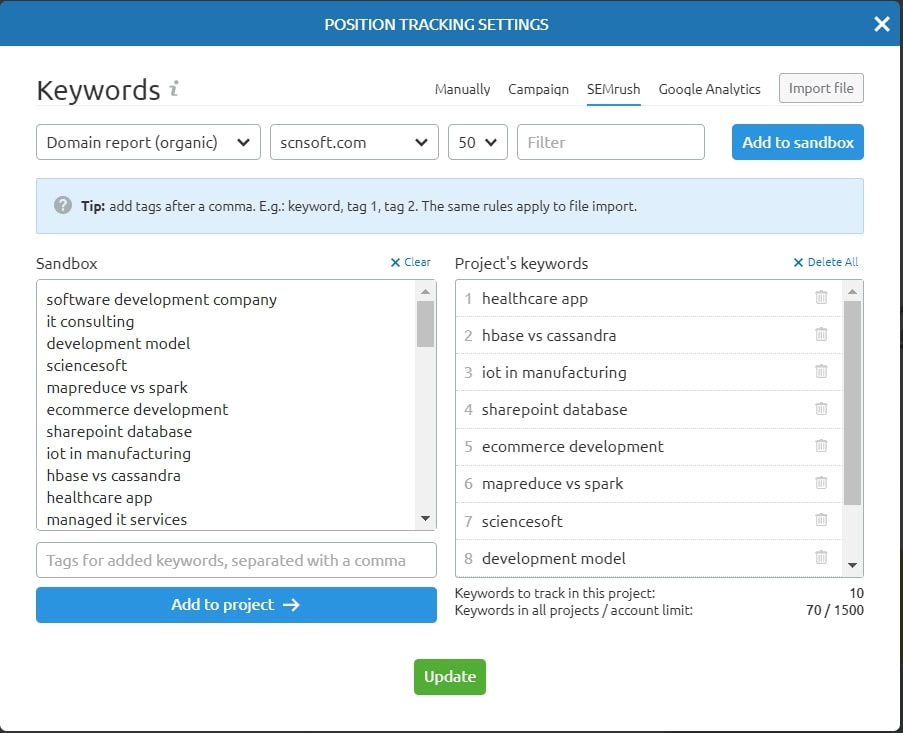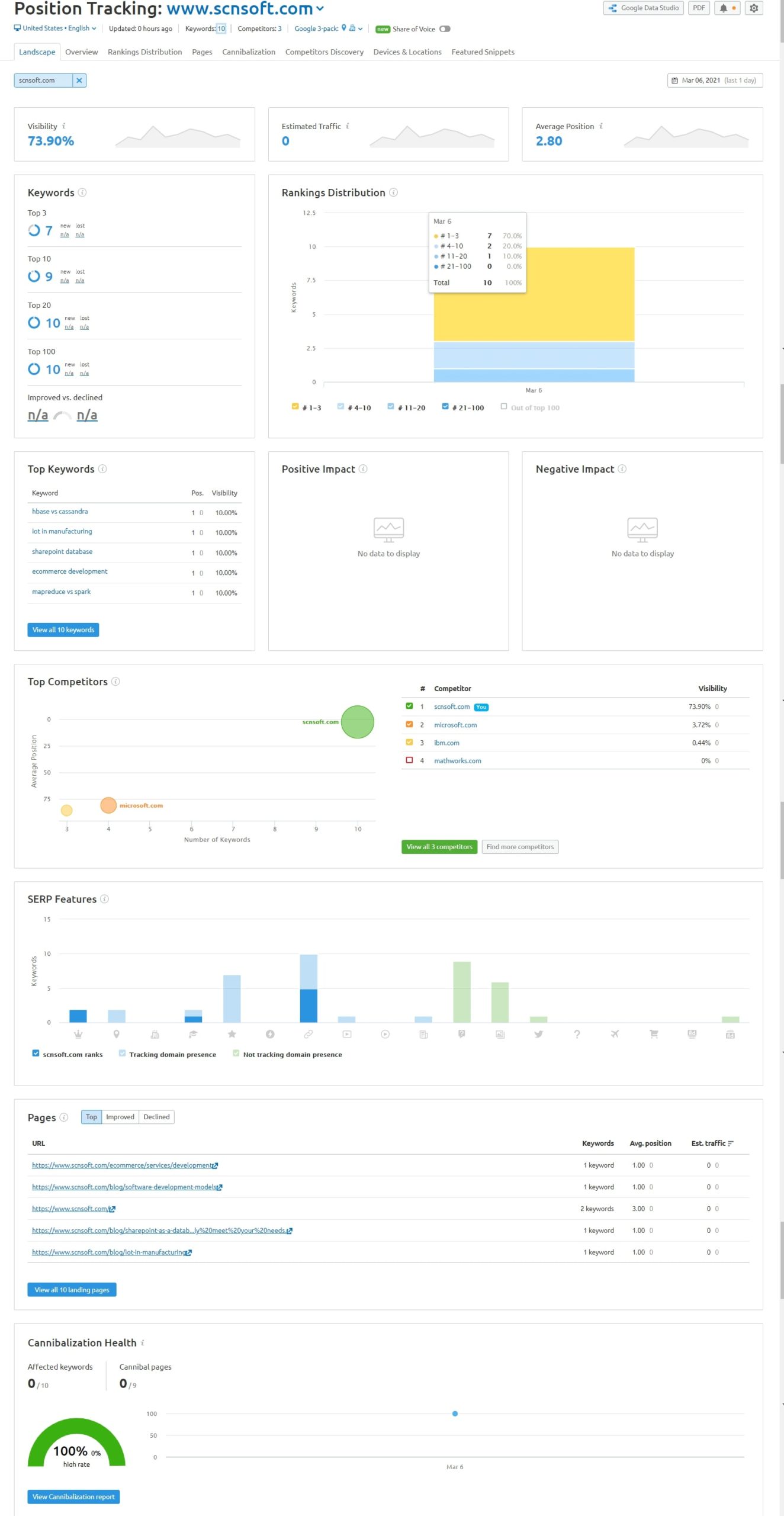 SEMrush review #4 Social media ad — phase 4
You'll know more on this in the coming section. Continue reading.
Semrush Review: Featured Tools – Social Media Dashboard
Over the years… I have realized the only way to outperform competitors is by keeping a strict eye on the points where they engage with customers.
And social media, undoubtedly, has become the most considerable engagement zone for businesses and audiences.
Brands have direct access to their audiences.
And audiences have immediate access to their favorite brands for feedback and fun.
But being a digital marketer, I just don't wave off my blanket as the sun goes high and start interacting with the readers.
Nah! It's not that simple.
I remind myself of the dark side of social media.
It is not a place with a bunch of happy people wanting to go through your posts.
But it's a place that roofs uninterested people looking to get entertained.
So when I try to touch these uninterested but low-hanging fruits with social posts, I ensure my posts hit the right chords rather than detracting them.
Special thanks to SEMrush social media toolkit that:
I'm not shooting blank guns to the empty targets
and my audience enjoys relevant content than valueless social media posts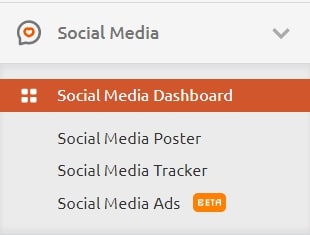 Social media toolkit
SEMrush without social media toolkit is SEMrush without steroid.
Moreover, this great toolkit lets social media managers arrange their social media routines and analyze their social media posts.
It helps:
create posts
analyze their performance
with the progress report
in competitor benchmarking
build compelling ads

Social media dashboard
The dashboard has three useful social media tools.
First, Social media poster
Second, Social media tracker
Third, Social media ads
I love playing around with them.
They are real-fun simplifying social media workflows.
And also with building authority beyond the web.
SEMrush review #1 Social media poster
What SEMrush does with the web also does with social media content.
Furthermore, the "big brother" always watches you and your competitors on all the social platforms, including Facebook, Instagram, Twitter, Pinterest, and LinkedIn.
But that's not even half the selling point of this tool.
Here's the real dealmaker.
"You can plan, post, and track social posts without leaving the SEMrush interface."
Isn't it interesting?
Also, I've seen social media managers wandering around social platforms, peeping through their competitors, day and night, dark and bright, only to go for poorly executed plans.
But this tool lets you manage the entire social business account without hopping around different tabs.
Here's how you get along with it:
you walk to the social media dashboard
click on the new project at the top-right corner of the page
fill project details such as domain and project name
click on the create project
You're just there.
Your project is set.
To post and respond to social posts,
reach for the social media poster tool
Click on the "add profiles to manage" button
configure all business pages you want to access
Damn! There you're.
Top benefits of social media poster
use calendar interface for campaign scheduling
simplify your posting schedule with automatic queue
refer all your drafts and old posts saved in this tool
set up a content plan and receive email reminders from the tool
schedule your posts in Google My Business directly
SEMrush review #2 Social media tracker
I don't try to be the best with my digital projects straightaway.
Instead, I set short goals, such as researching and beating close competitors in my niche.
With the process iterated repeatedly, I find myself climbing the ladder of digital success and outranking the competitors.
One promising area to work and beat competitors is in social engagements.
As well as, if I'm not receiving as many likes and shares as my competitors, I know I have to get on the wheel myself for improvement.
Social media tracker is one such one-size-fits-all tool to track closest competitors across all the major social platforms.
More importantly, it lets me find the types of content and their frequency that hit the home runs with readers.
So the tracker helps deliver the delicious contents to the hunger-driven readers looking to taste the first blood.
Here's how you can easily set up your social media tracker:
click on the social media tracker
you'll have the list of projects you set earlier
tap the set-up button in the managed profiles section
connect to all the social business pages in the project
find social profiles of your competitors
start tracking

Social media tracker details
Select competitors: go through your competitors' total followers, posts, and engagement
Date range: scrutinize your competitor for any specific period
Historical data: view post and engagement data to track your campaign for 60 days (except YouTube)
Top content: have details on your competitors' top-performing posts and try to cater better content
Compare competitors: know where you stand with your competitors using audience, activity, and engagement metrics.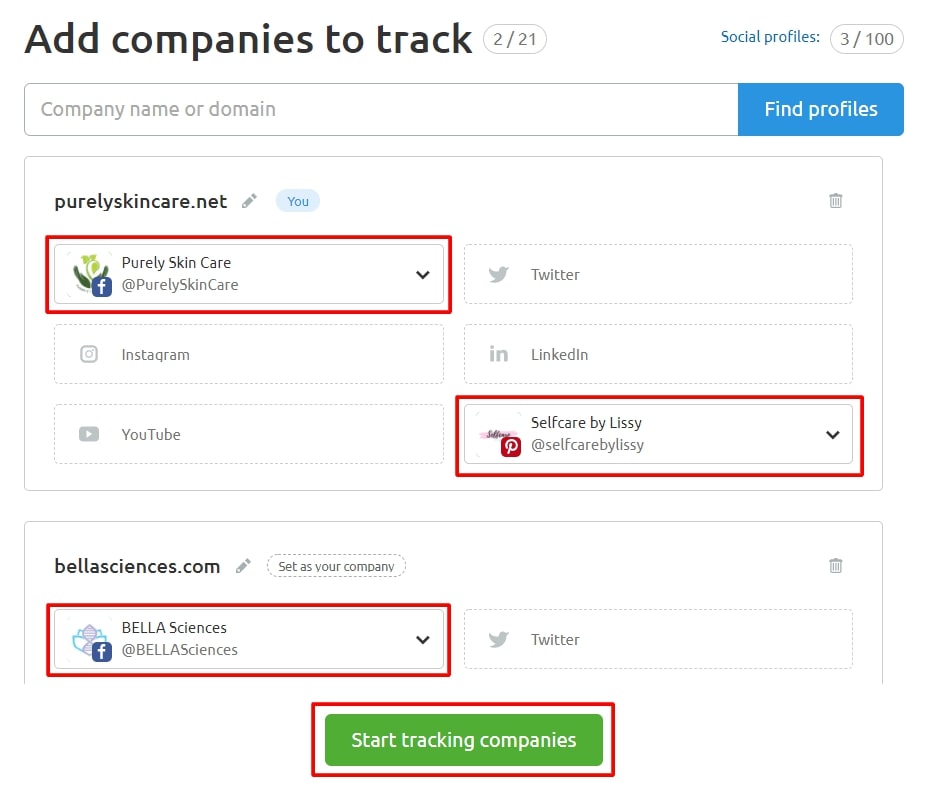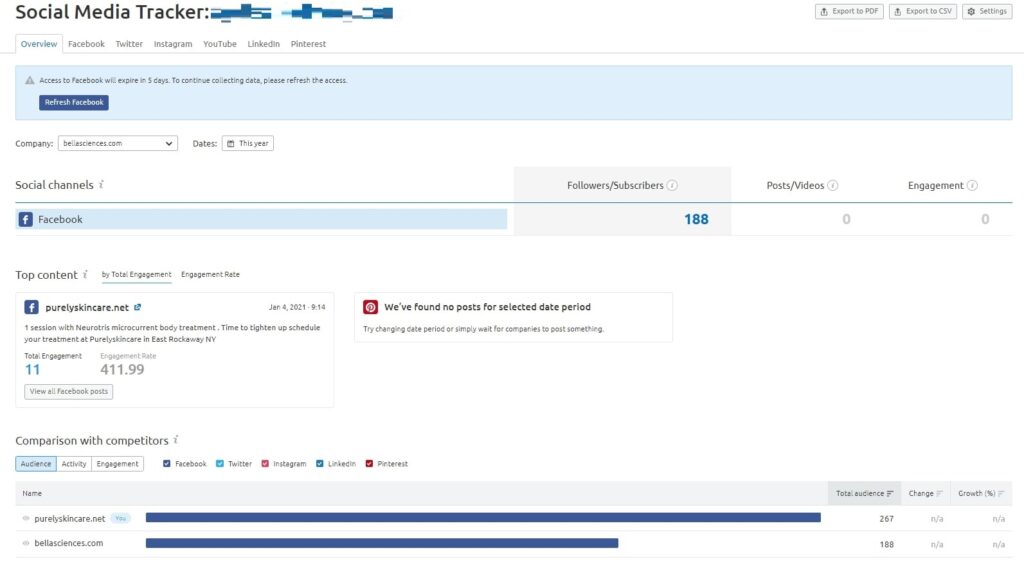 Top benefits of social media tracker
track all the social platform activities under one roof
get the trending hashtags for your content
identify the latest social media trends and audience mood
export all the details for early improvisation
SEMrush review #3 Social media ads
I've hassled around paid ads on multiple social platforms.
Trust me.
It can get on the nerves quite quickly.
As much as social media paid ads are useful in targeting potential audiences, they're also time consuming.
Not to forget, they badly need more than two eyes to operate unless you're a living tuatara.
But as always, I put my naked trust in SEMrush to deal with these ads.
Also, the god-damn tool lets me run paid ads on Facebook, Instagram, FB Messenger, FB Audience Network, and all the campaigns in one place.
And the best thing about it is: you don't have to struggle with complicated settings.
Here's how you fix the settings:
click on the social media ads
hit "create ad" for the desired project
connect social media accounts
tap on the create campaign button
run your ad based on objective, budget, bidding strategy.

Social media ad details
campaign ads: launch and take a closer look at all the ad campaigns
campaign details: get your hands around detailed reports such as status, budget, number of results, cost per result, impressions, reach
performance report: know the pluses and minuses of your ad campaign with 46 metrics
ad attention: get notified on "bad ads needed to be fixed" and "good ads need to be scaled"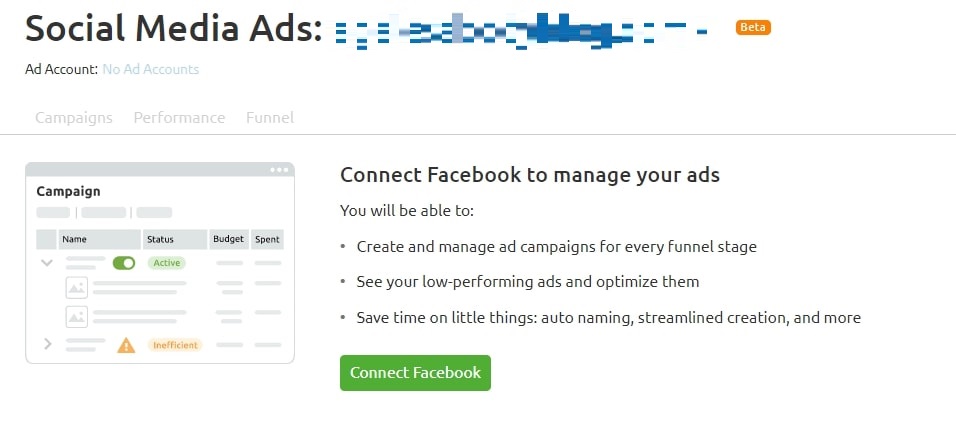 Top benefits of social media ads
plan, create and launch ads on Facebook and Instagram network
know when to scale and when to shut off your ads with real-time alerts
optimize your ad campaigns with an ad reporting tool
have campaign details in CSV file and share with your team
SEMrush Review: Featured Tools – Content Marketing
I will be frank.
Chiefly when you set an online property to accomplish just your business goals, the going gets tough.
But when you make a website to add value and offer useful information to your readers, all your goals seem achievable.
SEMrush has been a go-to tool for me to add value to the life of my visitors.
It helps me gather content ideas and make sure I never run out of gas.
Instead of ballpark guessing, the savage SEMrush content marketing toolkit lets me create and manage informed content plans.
If you're on the way to finding popular content ideas, topics, headlines, and questions related to your audience, trust me, you need to hit this dashboard (2).
It peeps through the rival's contents and gives ideas on winning blog posts, e-books, posts, and even podcasts.
The tool ensures two things for me:
I'm putting effort into content that flocks-in massive website traffic.
And my eyes have unique death rays for finding content gaps.
Content marketing toolkit
If only the toolkit stopped at creating content plans.
But SEMrush does what it's best at: giving 360 degrees content marketing solutions.
The toolkit also lets me:
find content gaps
optimize content
Write
measure performance
Content marketing dashboard
The content marketing toolkit is a pool of powerful tools.
I use them all to execute content ideas into perfection.
Here's what you can do with these tools:
SEMrush review #1 Topic research
This is my favorite content marketing tool.
As well as when I want strategies for content brainstorming, I hit the topic research search bar immediately.
The super-smart tool crawls the web and reveals subtopics in catchy formats.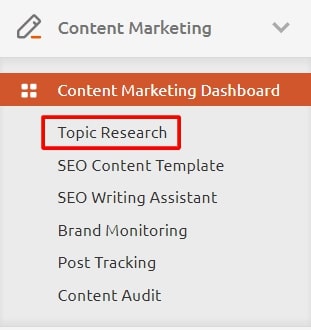 SEMrush topic research tool details
Card: Has trending subtopics marked with a fire icon
Explorer: breakdown of topics into subtopic, content idea, Facebook Engagements, backlinks, and total shares
Overview: gives the top 10 headlines, questions, subtopics, and related searches
Mind-map: a visual representation of the topic cards


SEMrush topic research tool knows its things seriously
Quickly gives hands-on details on popular subtopics with most-shared headlines
Allows location-specific content idea search
Gives access to frequently asked questions by searchers
Top benefits of topic research tool
find content plan gaps as and when you want
get hands on relevant topics
enjoy the potpourri of content ideas in a matter of few seconds
refer to popular questions linked with your niche
pick the ideas based on keyword difficulty
try to spot new opportunities to outperform my competitors with these ideas
SEMrush review #2 SEO content template
Death and taxes are unavoidable.
And for digital marketers, SEO too.
It's magical how optimized-mediocre content ranks better than non-optimized unique content, thanks to the SEO strategies.
Again, optimized content doesn't come out of guess-works and imagination. You have to please search engines.
Also, to make sure you don't fall short of search engine criteria and craft SEO-friendly content, SEMrush provides the template of recommendation. Here's how you do it:
Search target keywords or group of keywords for template generation
Wait for the content template to come up
Get the recommended template with target keywords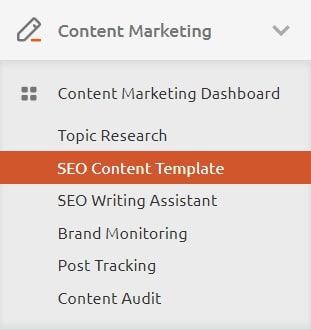 SEO template details
Recommended text length: make your content based on top 10 searches average length
Readability score: build readable content with readability score and text length analysis
Related keywords for semantic searches: get ready for future texts with semantic keywords
Potential backlinks: improve your authority score with more backlinks
Keyword gap analysis: see how your competitors use keywords in their content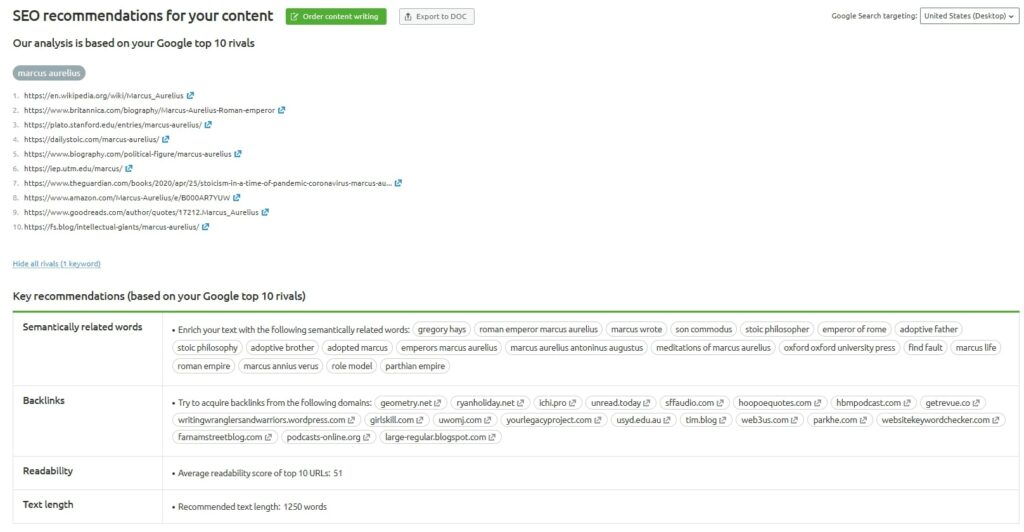 Top benefits of SEO content template
integrate the template with Google docs to ensure SEO-friendly content
save and export the content template
get access to the page title, meta description, text, & your competitors' URLs.
SEMrush review #3 SEO writing assistant
Writers hate revisions. Anyone who says otherwise needs a lie-detector test.
Moreover, in case my writers don't lose content's track and spend days structuring and editing the documents, I give them SEMrush SEO writing assistant for content reference.
Chiefly, SEO writing assistant is an SEO content template, simply put to practice.
The tool is a sassy real-time SEO checker as well. Using it is very easy.
Go to the SEO writing assistant in the content marketing toolkit
Hit the get recommendation button once you've done keyword research
Start writing the optimized content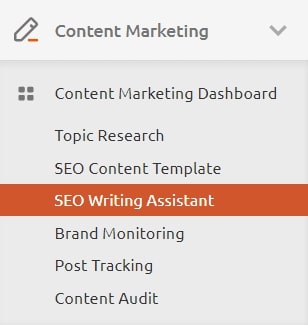 SEO writing assistant details
Add-on integration: Connect SEO content template with Google docs or WordPress draft
Real-time analysis: Analyze how content complies with the SEO recommendations
Plagiarism checker: Check if your piece is original to avoid web penalties.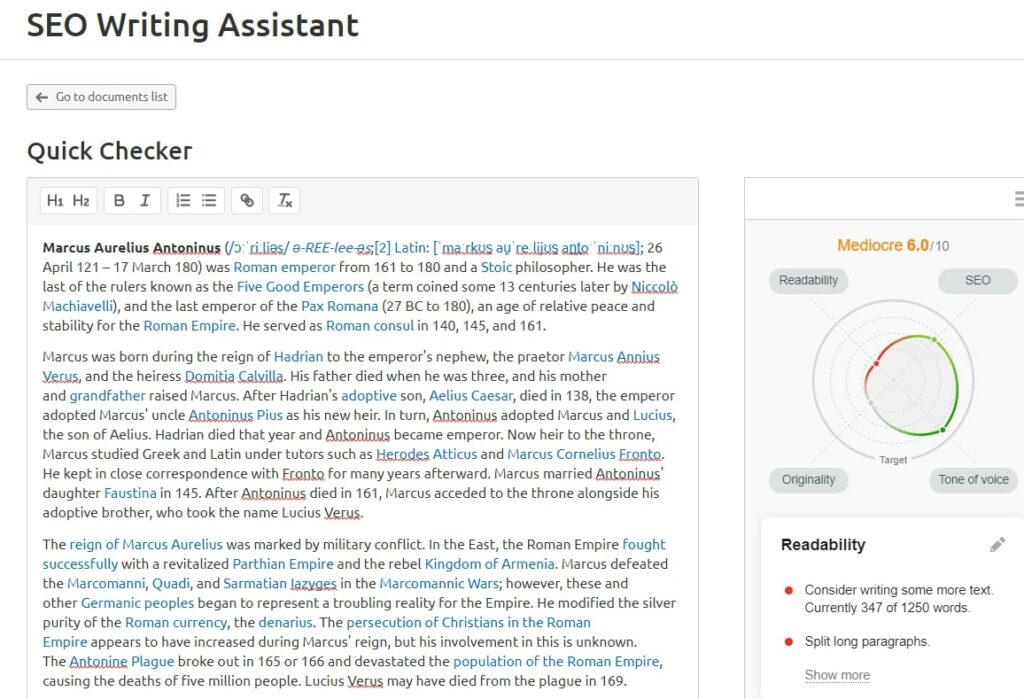 Top benefits of SEO writing assistant
be vocal with brand voice through consistent and valuable content
make optimized copies for the audience
get text-perfect content before going live
have your article read by 8th graders (tone of voice)
never let the SEO quality drop
SEMrush review #4 Post Tracking and Content Audit
Once you've posted SEO-friendly content, you might think it doesn't need your attention anymore.
But mind you! Search engines update SEO algorithms quite frequently.
Also, if you observe the SEMrush sensor, you can find radical changes in the SEO algorithm every day.
When I see these tremors, I quickly hop to a content analyzer (Post tracking and content audit tools).
Both the tools tell everything about the on and off-page performance of my content.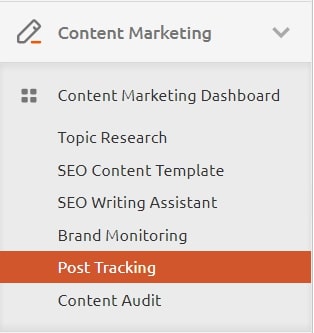 Content Analyzer details
Social share: measure how many people have reacted, commented, and shared your content.
Backlink audit: analyze domains that link to your content
Keyword rankings: check the ranking keywords for the particular content
Google integration: integrate with Google Analytics and Google Search Console to evaluate bounce rates

Top benefits of Content Analyzers
find adjustable content audit tables at your disposal
measure and improvise as the SEO trends say
have data on guest post traffics heading to your domain
add tasks to Trello or Google calendar
SEMrush Review: SEMrush Academy
I can't discount SEMrush academy for introducing friendliness between the platform and myself.
The series of neatly organized tutorials were the springboards for my SEO world.
In addition, the fact it's a free course and offers certification, any marketing beginner can master the SEO software suite without any hassle.
The course is a ladder to the wealth of SEO knowledge and content marketing.
Here are the quick grabber courses for you:
Grow your SEO agency with SEMrush agency kit course.
Practice & Boost SEO with SEMrush SEO tool kit course, all without having to reach your wallet.
Get access to free content marketing strategies to make the overall SEO campaign work.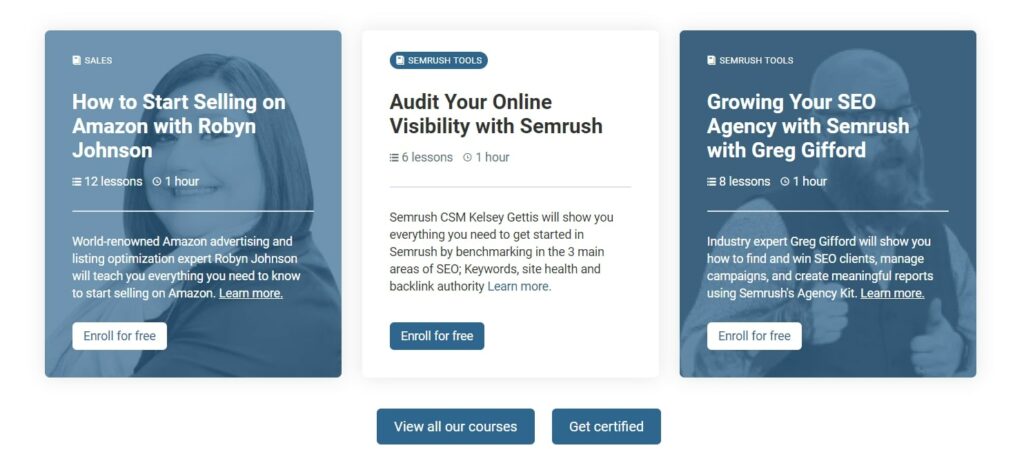 Sources
1 https://www.semrush.com/stats/
2 https://www.quora.com/What-is-SEMRush-and-how-does-it-works