Black Friday Marketing is a significant part of holiday preparation for each retail business. Every business hopes to have tons of sales and make money.
I survived more than twenty Black Fridays in fashion and lifestyle companies and would like to share some insights which I wish someone shared with me before.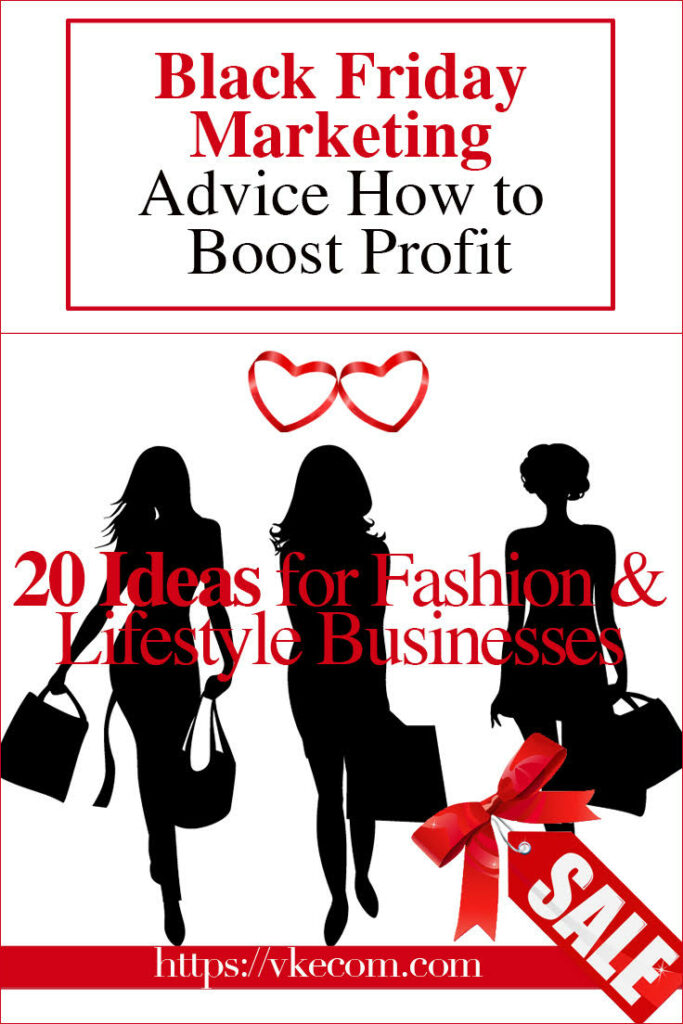 For building your Black Friday Marketing into your business plan, download FREE Fashion & Lifestyle Business Plan Workbook (30++ pages of advice)
20 Black Friday Marketing Ideas
1. Add special hours.
First of all, add special hours to Google My Business and Yelp (Yelp, if you B&M, and Google my Business should be a part of your Local SEO even if you don't have an actual store) for Black Friday and all holidays. Make sure that your listings on top platforms are accurate with consistent NAPs (name, address, phone number)
2. Update website pages.
Update your website with working hours and shipping information. Customers should easily find your shipping methods and prices. Free shipping is critical during this holidays that what customers are always looking for on the top of your deal.
3. Make return and exchange policy crystal clear.
I suggest creating a unique "Holiday return/exchange policy" for the period from Black Friday to New Year's Eve. Offer free returns and one free exchange within one-two weeks maximum with unworn merchandise and labels attached. Free equals convenience, and it will pay off. The key is to price your products with a room for free shipping, returns, exchanges and discounts.
4. Don't bother with hourly deals
Its lots of labor with low return on investment. I always wondered if people who recommend this method ever implemented it themselves. Remember, your customers will receive tons of emails from other retailers. Therefore, your hourly deals will simply disappear under tons of other offers and promotions.
5. Gift sets & bundles
Put together a variety of gift sets and product bundles for different budgets. Also, upsell each set.
6. Free high quality gifts.
Include high-quality complimentary gift in each package. All year long, I include bangle bracelets, fashion sunglasses or handmade soap bars. It works like magic reducing my return rates. For the Black Friday marketing, you should add a great gift even if your order is small. Including holiday cards or holiday favors is an excellent way to please your customers. It will make your deal even more valuable because everyone loves thoughtfulness.
7. Wrap EACH order.
Majority of customers use Black Friday to stock up on holiday gifts for friends and family. You should wrap each purchase and make it look like a gift. For example, in my boutique, each package that goes out during any time of the year appears like a super cute gift. Majority of your customers are women and women like lovely things as well as the fact that you care about them.
8. Create email marketing schedule.
Create your schedule and prepare at least three emails for both Black Friday and Cyber Monday each day. Large retailers will be bombarding your customers, so make sure your emails won't get lost. Sending several emails became a common practice. Don't be afraid that your customers will unsubscribe because if this happens, it means that they did not value your products enough.
9. Extend your sale.
Extend your sale for a few days after Cyber Monday. Build in this into your email campaign sending "after Black Friday/Cyber Monday promotional emails."
10. Create a gift guide.
Create your guide and promote it via email and Social Media. Your customers will appreciate that you give them something valuable before asking for their money. Product benefits and the information are a great selling tools.
11. Watch Facebook and Google ads.
Do not increase ad spend on Facebook and Google ads to "cold audiences," in other words, people who never heard of you. They would rather give their "holiday money" to their trusted retailers, not for someone who pops up in their feed interrupting their leisure conversations with friends and family.
12. Best Black Friday marketing promo that works.
Black Friday's marketing the best working promo is % off plus free shipping for online fashion and lifestyle retail.
13. Extend your customer service hours.
Not only extend your customer service hours, but also train your team to go several extra steps to assist.
14. "Holiday schedule" for retail companies.
Make sure your team understands that the company is in retail business which means company's real "holidays" will start after January 1st. Plus, everyone on the team should watch sales, messages, etc.
15. Super fast shipping.
Even if your company's shipping usually cuts out at a particular time, make sure that you ship as many packages as possible until the end of Black Friday, Cyber Monday and Holidays. Go overboard to impress your customers and make them come back for your excellence.
16. Create "year-long" landing page.
About 60% of shoppers begin search deals before Black Friday. It means that if you "plant" your Black Friday page this year with correct SEO and keywords, next year, you will be listed in search results if you did everything correctly.
17. Influencers & ambassadors holiday promotions.
If you have influencers or ambassadors who have worked with you for a while and promoted your store to their audiences, let them run promos. However, do not sign with new influencers as a part of your Black Friday marketing because if their following buy on sale, they may not want to buy again when your product is back to regular price.
18. Create Social Media calendar with matching promotions.
Short videos will do the best job to show your products and packaging. Facebook lives do miracles nowadays because Facebook likes to boost those posts organically. You can re-target people who engaged with your videos via Facebook and Instagram ads because if they saw your videos and likes them, you are not a stranger asking for money anymore.
19. Increase your social proof
If you have good reviews and testimonials, now is the right time to start posting them on Social media, website and add to emails to create even more trust and your Social Proof.
20. Don't stress out about your sales.
While "Black Friday" is considered the time of the year when you will have the most sales, it does not mean that it's the time when you will make the most profit. You have to train your customers to buy full price anyways. Plus, multiple retailers will try to take your customer away for those days. Black Friday marketing is an essential part of your marketing mix, but as a boutique, you are in a business of making a profit, not to be perceived as someone with super deals.
For best "Getting Traffic Tools & Resources" click here >>>
"Instagram for Business – 10 Steps to Grow Your Following and Make Sales" >>>
Read my Holiday Marketing Ideas Definitive Guide