In the Holiday Marketing Ideas Guide, you will learn what exactly you need to do with your online store before the holiday season to get the maximum sales during October, November, and December as well as to beat your competition.
In fact, those are exact techniques I used with my clients such as Ed Hardy, Playboy, Disney, Hale Bob, Palladium Boots, Electric Yoga, LA Showroom, Fashion Domino, Poetic Justice Jeans, Broderbund, and dozens of smaller fashion & lifestyle boutiques.
Let's dive right in.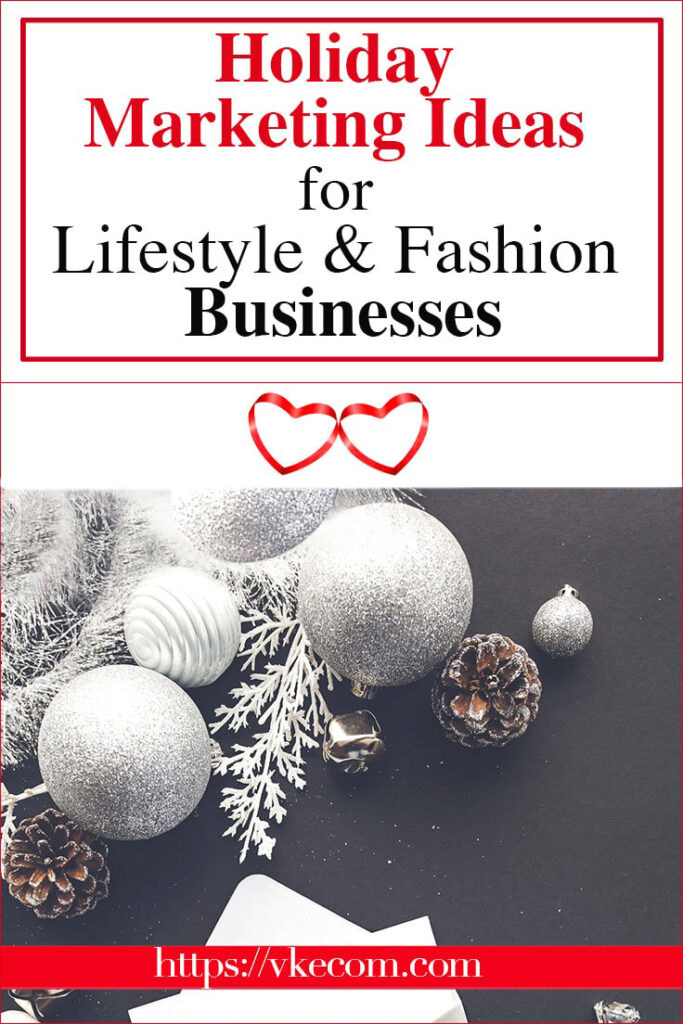 Holiday Marketing Ideas Guide Has 7 Chapters
1.Pre-Holiday Marketing – how to prepare your website the way visitors would love to buy from you, but not from the competition.
2.Website Optimization – how to optimize your site for holiday season.
3.New Customers' Acquisition – how to acquire new customers during the holiday season – dos and don'ts.
4.Existing Customers' Retention – how to make your customers come back again during the holidays.
5.Social Media for Holidays – Instagram, Pinterest, YouTube, Facebook ads.
6.Products & Packaging – tips that work like a charm.
7.Shipping & Customers Service – what is must-have during the holidays.

5 Tips after Reviewing 100 + Online Boutiques and Vendors websites before my speaking in front of boutique owners during the event at California Mart Center.
First of all, before we jump into Holiday Marketing, I would like to mention several key factors every smaller Fashion or Lifestyle online business owner should have in mind.
After going through more than a hundred boutiques' websites, I noticed similar mistakes. While those mistakes look small and innocent, they can result in visitors' loss.
Most importantly, the first impression is super essential for both new and returning customers. Your visitors decide either to leave or stay within less than 5 seconds. One-click away and your hard-worked marketing money goes to your competitors.
Please, remember that to look at what big guys (Macy's, Bloomingdales, FreePeople, NastyGal, etc) and mimic what they do is not a good idea.
The truth is those well-known online retailers already established themselves and cut their portion of market share. They started a long time ago; they have more substantial resources and more professional teams than smaller businesses do. So, they can get away with things that you entirely cannot ignore.
Things can turn into the vast money-losing mistakes for you, not even noticeable for them.
You should do your best to win, keep, and make happy every customer.
1. Logo & Slogan – show clearly what your boutique is about, what do you sell, who you sell it.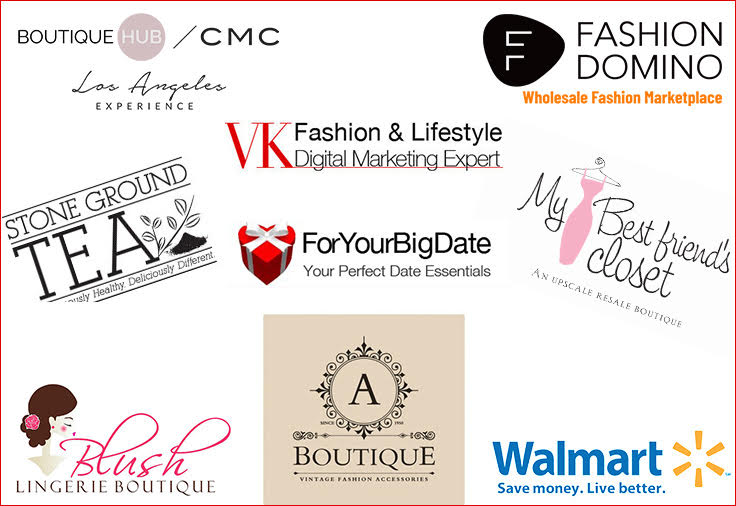 Your new potential customers need to understand in less than five seconds where they are and what your company does. You cannot sell everything to everybody. If you are a boutique, you sell niche products to niche customers. Going into 2020 online stores that are not niche-oriented will have difficulties staying in business because they don't have budgets and resources to compete with top online well-known retailers.
2. Above the fold main image – your primarily online real estate – main products, important message, etc.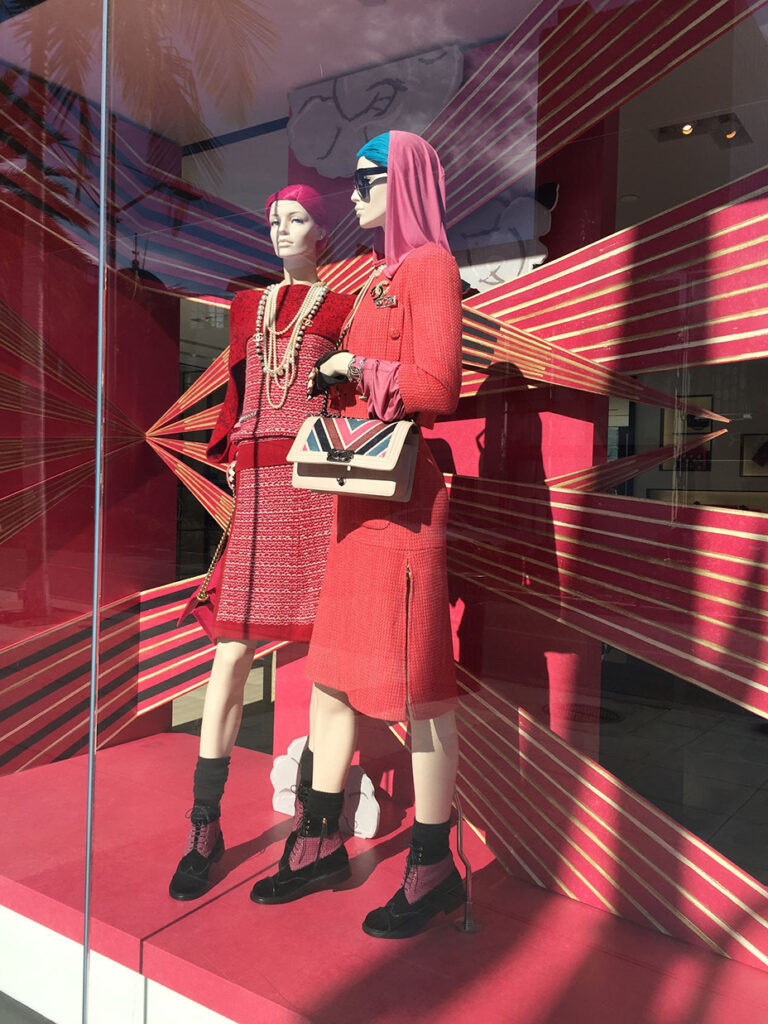 Think about your main image as of Brick & Mortar boutique shop window display. You have to display there your most attractive products to get and keep customers' attention.
The main image is your primarily online real estate. Showcase
Featured products
An important message to your existing and potential customers
You should display there your the most attractive products to get and keep customers' attention.
3. About Us – while it called "About Us," this section should be about "them"!!!, your customers!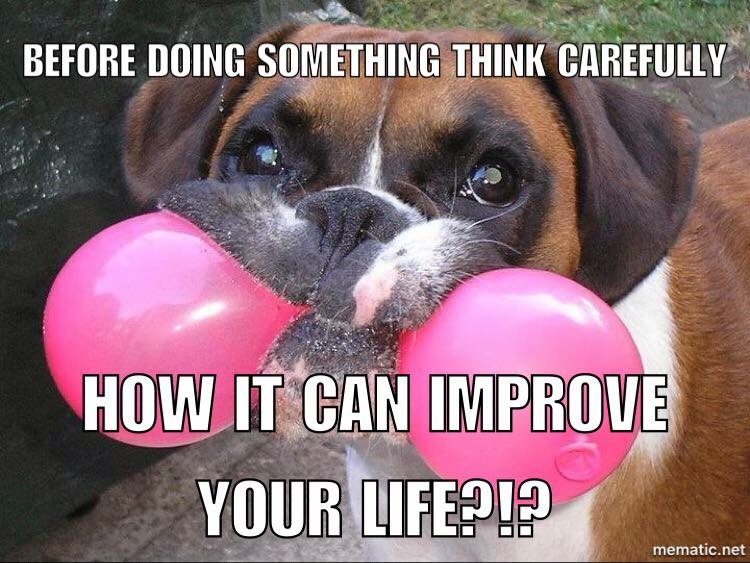 About Us MUST have a list of benefits for YOUR customers. Explain what you can do for THEM.
As harsh as it sounds, but customers do not care about your personal stories and families. All they care about is what you can do for them. If they are at your store to give you their hard-worked money in exchange for your products & services, then all they care about is how your products will make their lives better. It's all about them, so you have to give them BENEFITS.
About Us, text content should be keywords' optimized for SEO (we will talk about SEO later)
Every image and piece of text that you place on your website should be keyword based and optimized. Unfortunately, everyone knows that they must work on SEO, but very few people understand what it really is and how to do it.
As a result, you outsource the job to so-called SEO "experts" who have great talking and sales skills, then spend your money without getting any results and tell your friends and colleagues that SEO does not work and it was such a waste.
4. FAQs – provide with every possible answer your customers could have.
You have to know your customers. Unless you are an Industry influencer with tons of followers, who do what you tell them to do than you have to learn about your customers to understand their wants and needs.
You need to come up with a list of questions your customers might have and give them direct answers.
FAQs is information and the more comprehensive information you have on your site, the longer your customers will stay and the more likely they will spend money.
5. Product Titles and Descriptions are ESSENTIAL for your online sales.
When you go to the mall, you can touch, feel and try on products. When you sell online, you can show photos and product descriptions. Photography and product descriptions are your two main sales tools. That is precisely why you have to do your best in optimizing.
Front Load Keyword in Product Name
First of all, do not ever use manufacturer's descriptions and product names because it creates duplicate content for Search Engines (because it is already on the manufacturer's website and other boutiques using them as well on their sites). Your main SEO goal is to make customers find your website by typing particular words on Google. For example, they type "Little cold shoulder black dress plus size," and your product would show up. Would not it be nice? Exactly, that's why you need to work on product SEO.
Write Longer Descriptions – if you are a smaller or newer store write up to 100 descriptive words.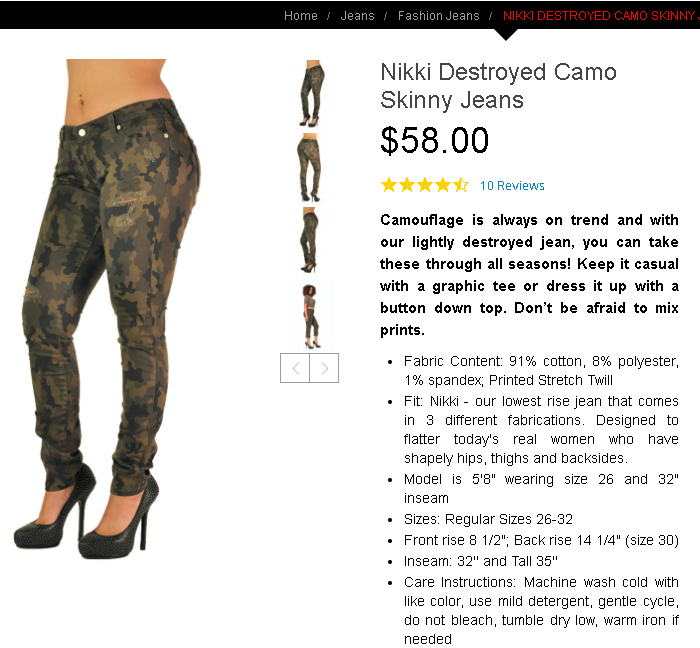 Remember, your product descriptions are your second main tool after photography. Describe each item. Then talk about benefits. Explain, how great quality the fabric, how excellent is the cut, how flattering is fit.
You have to explain to your customers all the benefits of why they have to invest with you, but not with your competition. Also, always give more information than your clientele expects.
For example, be not only the seller but the expert and the fashion stylist. Tell your customers how to style the same item for day and night time, what to wear it with etc. When customers see lots of useful information they read it as attention to their needs; attention and care sell well.
Provide All Product Sizes in your product description.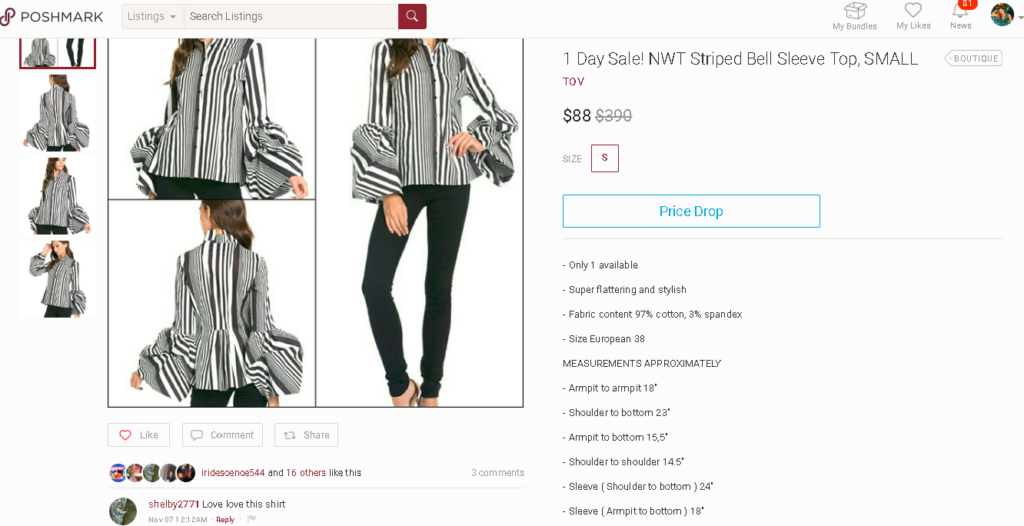 If you buy from different vendors with different sizing, provide measurements for each item and each size separately.
It is time-consuming, but it will pay off because it will make customers' life easy.
There are measurements I usually provide at my Poshmark closet and my own boutique. It works for my retail clients as well as for me.
Shoulder to Shoulder, Shoulder to Bottom, Underarm to Underarm, Underarm to Bottom, Shoulder to Bottom Sleeve, Underarm to Bottom Sleeve, Bust, Waist, Hips, etc. – the more information you will provide the easier sale will be
Product Image Files – Name file based on keywords.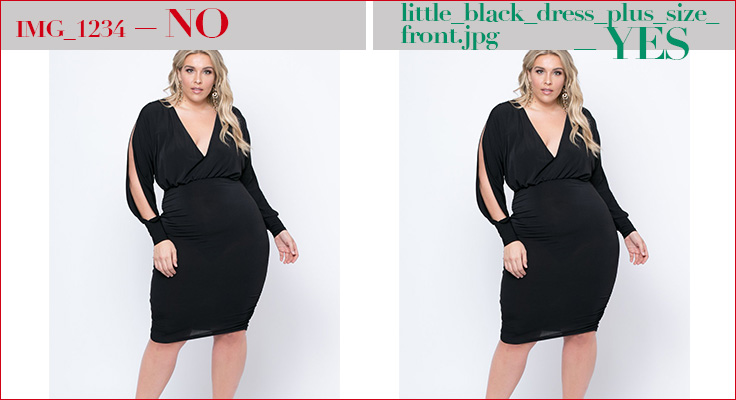 For example, IMG_1234 – NO, little_black_dress_plus_size_front.jpg YES
Learn about Image Optimization Tips here
I keep mentioning the keyword research. How to do it? There are tons of information around the web on this topic.
How to do keyword research? The best tool I have personally used for years is SEMRush. It is a must to have for each online business. It is the most comprehensive keyword research and SEO tool I've ever had.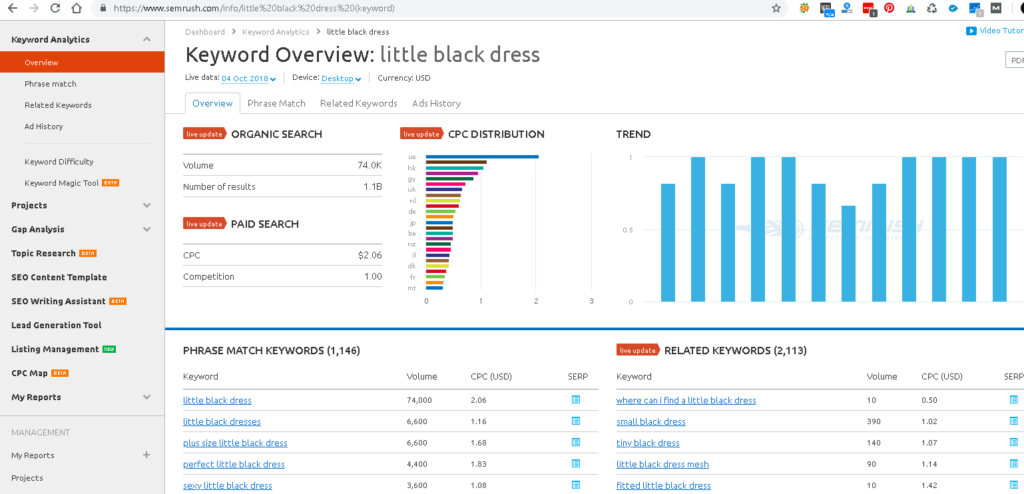 There are tons of informational resources in their blog and Academy as well.
It might sound a little too expensive, but you can always have a free account. With a free account, you are allowed to have ten searches per day (pro-level gives you 3,000 searches per day) with ten results per search (pro-level let you see up to 10,000 results). However, if you are a small online store, the free level might bring you what you are looking for.
Check out SEMrush for FREE below

1. Holiday Landing Page Optimization
What are your Holiday Landing Pages?
Your holiday landing pages are pages that you need to have and optimize all year long, but to open and show to your customers only before & during the holidays.
Holiday Products Landing Page
Landing pages to showcase your holiday product collections. You can create a single page or categories with subcategories. It all depends on how many internal resources you have.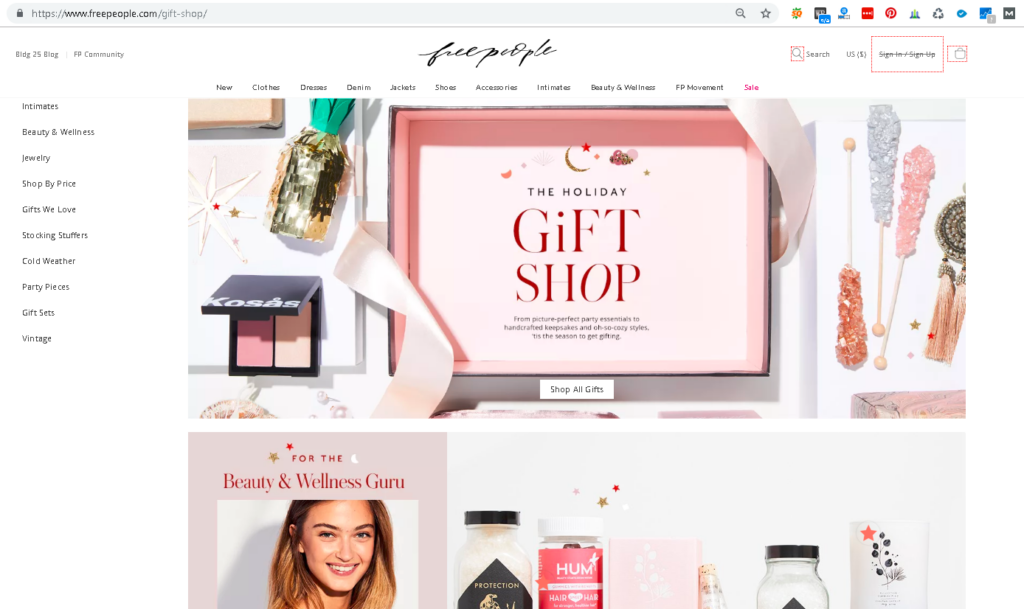 Content Landing Page for Holiday Season
Your content can live on separate pages or your main product page, Categories or Subcategories
Holiday Related Customers Testimonials
Holiday Shipping Policies, Shipping Deadlines, Returns & Exchanges
2. Website Holiday-Related Content
Downloadable guides
Downloadable guide or lead magnet in the form of content that your customers download in exchange for her email address so that you can email to them and market later on.
Your first statement will be "Show me online retailers who do it". I did it with my clients and it was super successful. Large retailers don't usually do it because they are already established and need to work an existing email list, and small retailers don't have enough knowledge, budgets, and resources. They all usually just use a simple email sign-ups instead. However, downloadable guides would MAXIMIZE DRAMATICALLY your efforts and grow your email list of potential customers.
Usually, downloadable lead magnets are popular among companies that sell services informational products, but I found them working well in the retail industry. I use them myself and recommend them to all clients.
Examples of downloadable lead magnet "How to create a capsule wardrobe for Holiday Season" or "Ultimate Checklist for Holiday Season – wardrobe, recipes, house decorations, gifts & wrapping ideas."
The downloadable guide format – PDF
If you run your store on Shopify, you will see an example here
If you don't have Shopify, I highly recommend it! Try it FREE HERE!
"How to" videos or blog posts
"How-to" materials provide an untapped space for your creativity. Teach your customers what they want to learn – how to dress for new year's eve, how to find clothing that flatters them. Any "how-tos" that your customers would like to learn would do the trick.
If you already have relationships with influencers, then you can collaborate on "how-to" videos and receive 2 for 1 – informational videos plus influencer marketing campaigns.
Customer testimonials.
Video or text testimonials where your customers tell how happy they are with buying holiday merchandise and gifts from your store. How great your merchandise, promotions, customer service, how they could save their time and money while shopping at your store
Product Gift guides.
What is the difference between Holiday Product Landing Page and Holiday Gift Guides?
The landing product page will display or lead to all your holiday products. A holiday gift guide would feature several products of your choice. A gift guide can be part of your landing page or be a separate page.
Another question boutique owners asked me several times last year was in which program you can make a gift guide. I recommend Adobe Photoshop and Canva, but if you have a marketing budget, outsource the job to a graphic designer who knows what to do.
Product gift guide examples.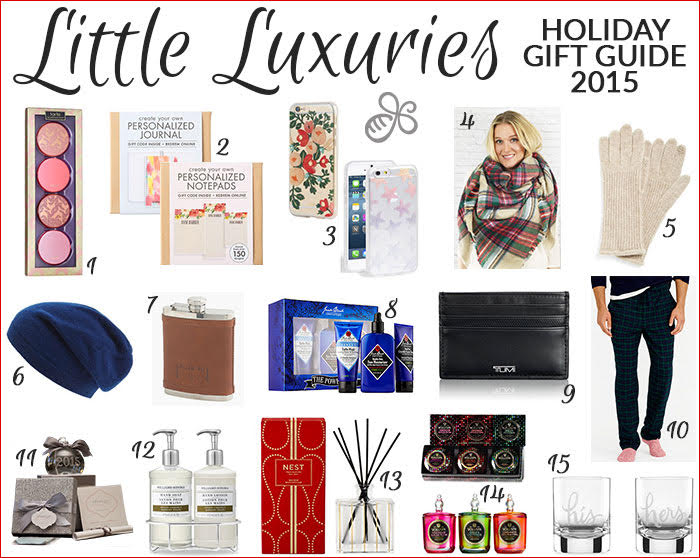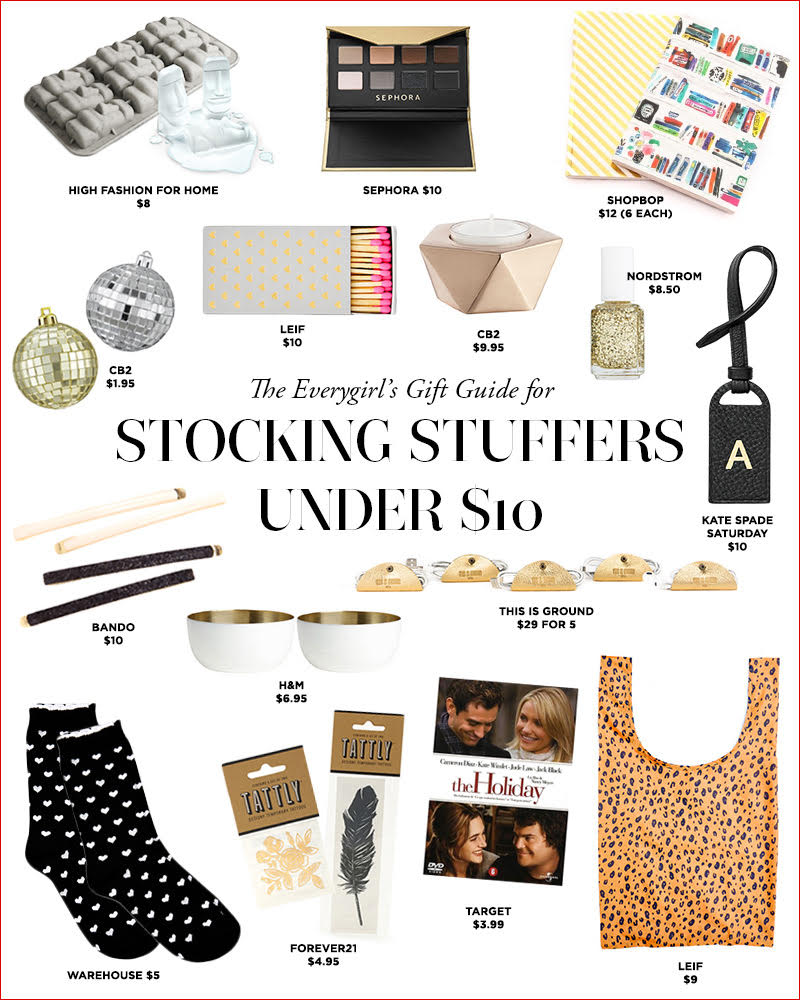 Upsells/cross-sells
For each holiday-related item pick matching upsells and cross-sells, so your products look like a collection.
Upsell/Cross-sell strategy is essential for holidays because promotions decrease the average order price while upsells lift numbers.


1. SEO – best things to do for your SEO before the Holiday Season.
What is SEO?
Last month 18,100 people typed in Google the question "what is SEO". Google gave them 346,000,000 results. The majority of people who asked are small business owners who know that everyone needs SEO, but they don't fully understand what it is and how to do it, who to hire and why to spend money.
So, what is SEO?
In simple words, SEO is the measurable process so your pages would show up in Google results. The better the SEO effort, the higher your website will show up.
SEO has the formula
On-Page SEO + Off-Page SEO + Local SEO +Social Media Signals
Text, meta description, images and many other things on your website are your On-Page SEO. On-page SEO is everything you do to your site to make it show higher in Google Results.
Off-Page –quality links pointing to your site
Local SEO – mentioning of your business in ALL local websites, directories, and maps
Off-Page, SEO is the set of efforts you do outside of your website.
Social Media Signals – other people engaging with your web properties in Social Media – likes, comments, and shares.
SEO holiday keywords based text for Holiday Products Landing page
You can write it in the form of holiday fashion or styling tips, or any other type.
For example, if you sell dresses, you can optimize for the keyword "Holiday party cocktail dresses.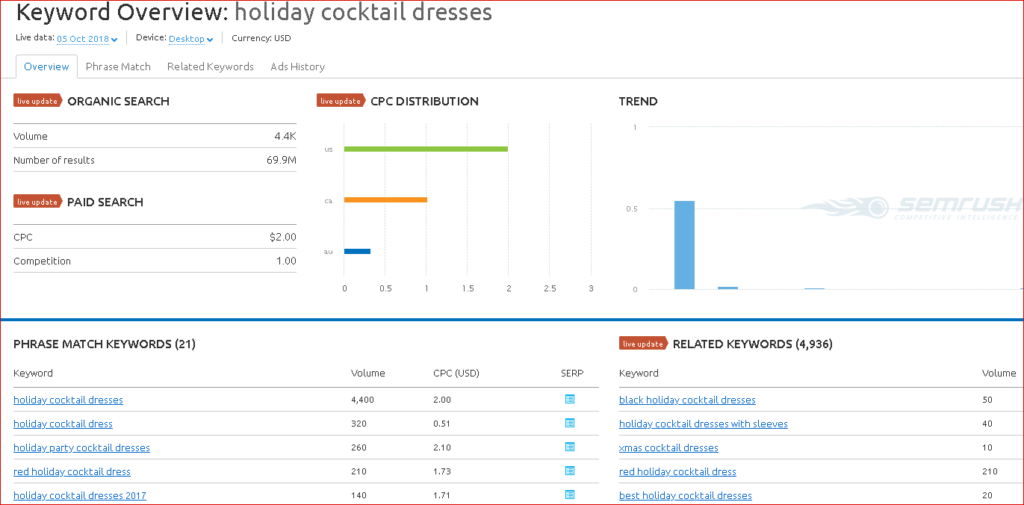 Name all images based on keywords. Front-load keywords at the beginning of image names.
Write catchy and precise meta descriptions.
The meta description is a snippet of up to 155 characters to show in search results within the description. Optimizing meta descriptions are super important for your on-page SEO.

Share your page on Social Media
So you could receive Social Signals (shares, likes, and comments) because Social Media Signals are part of your SEO algorithm.
Share your Holiday Guides on other sites and Facebook Groups to get signals and sales
2. PPC
PPC already requires the spend, so you won't be able to provide with deep discounts, so the maximum you can offer is
Free Shipping
Up to 15% off
Promote the Sale section.
Tips for PPC
Analyze your existing campaign and run ads ONLY in top-performing cities (do not run for the whole states unless you have a significant budget and know what you do).
If you already run your PPC campaign, then optimize them. If you did not run, then do not start them during the holiday season because before you start your campaigns, you need to run a test. Test results during any holidays won't be accurate because of multiple promotions from your store as well as your competition. Start your PPC after the Holiday Season instead.
Provide with Free Shipping Offers
3. Google Shopping Feed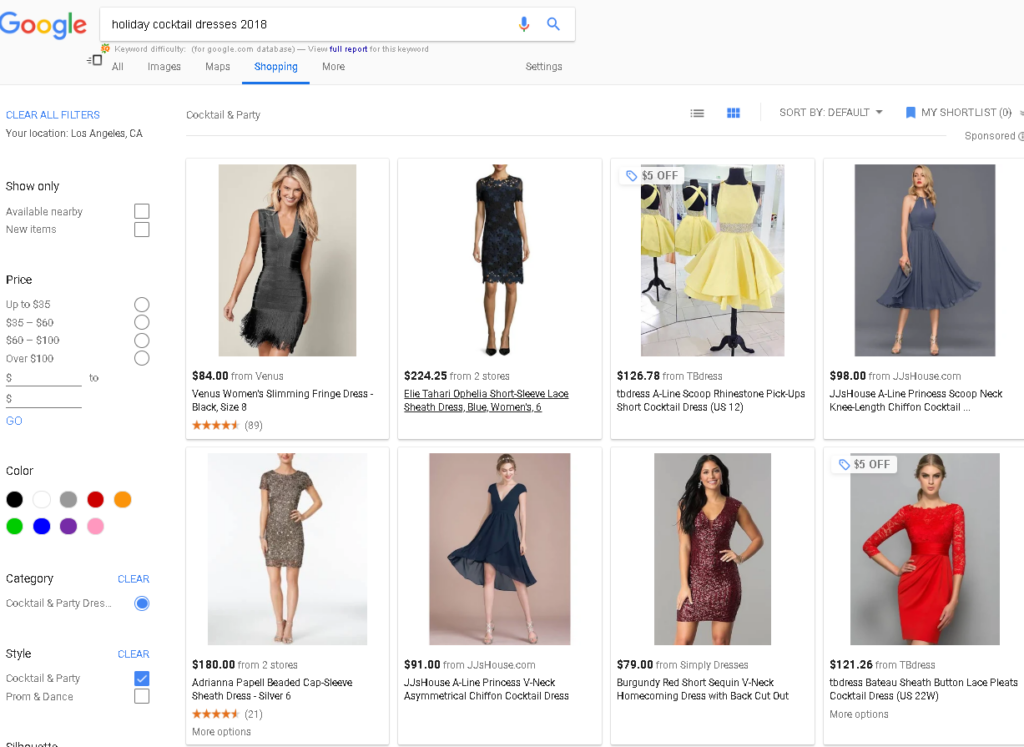 Holiday Google Shopping Feed Optimization Tips
If you decided to run a Google Shopping feed, update it daily (as a minimum).
Product titles and descriptions should be unique, detailed, and keyword-based. Do not ever use manufacturers' titles and descriptions copy (the same as for SEO).
DO fill as many attributes as possible. If Google requires them, it means they are essential to have.
Sale Price – show final promo price instead of regular prices with 20% off indicator
Set your promotions weeks or months in advance to avoid last-minute craziness. Shopping feed promotions should be in your promotional calendar
Product titles – run keyword research before creating your titles. Add the word "holiday" in your descriptions.
Keyword front load – place main keywords at the beginning of your title.
4. Influencer Marketing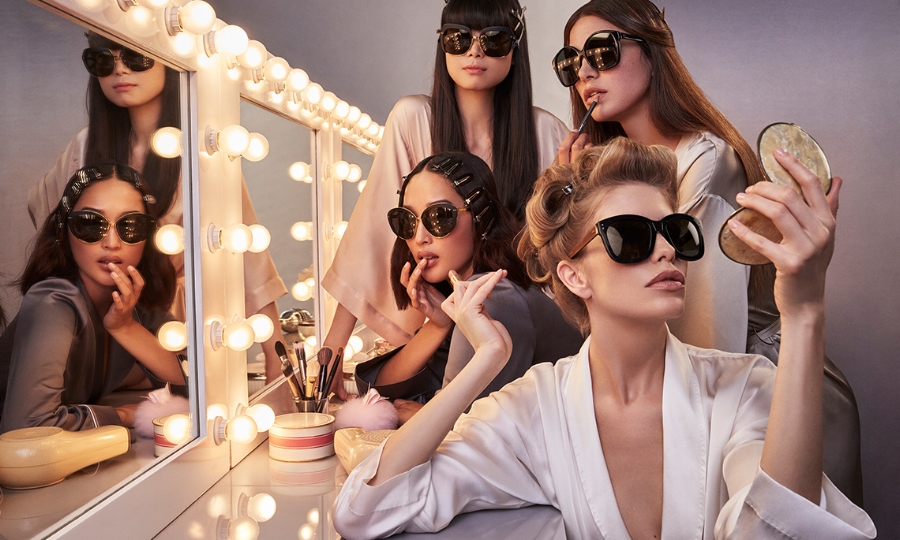 If you work with influencers during the year than you need to run a series of "holiday gift guides" and "holiday look books" with them
If you don't work with influencers yet, don't start new campaigns during the holiday. Influencers' marketing is mainly an acquisition channel, so providing too many promotions and discounts can lead to acquiring wrong customers who would expect lower prices or lots of promotions on a regular basis.
9 Tips about working with influencers.
Remember, that whenever you work with an Influencer directly, you take a risk that she will do something wrong or underperform (also, she can overdeliver, you never know).
Do sign the contract for each campaign anyways.
While explaining what your company wants and needs, do not tell Influencer how to do it because they know your audience better and know how to deliver the message.
Pick Influencer with the smaller following but higher engagement rates over others with a huge following. Conversion rates tend to be better. Also, smaller Influencers try to over-deliver and charge less, work on commissions or in exchange for products.
Work ONLY with people with active accounts. If someone has not posted for a few weeks, do not work with her.
Youtube – your promotional links must be above the fold under the video.
Instagram – when you run a promo to make sure that the account owner (Influencer) provides a link to your site for at least two days. Each Instagram promo works 80% for the first few hours and then 20 % for the next two to three days.
Don't be scared to overcompensate Influencers and send extra products – everyone loves the extra attention.
Remember, Influencer are "superstars" in their own eyes and eyes of their audience. If you want them to perform better, treat them with respect.
5. Suggested promotions & time frames that worked for my clients and me.
Below is the list of promotions I recommend for this Holiday Season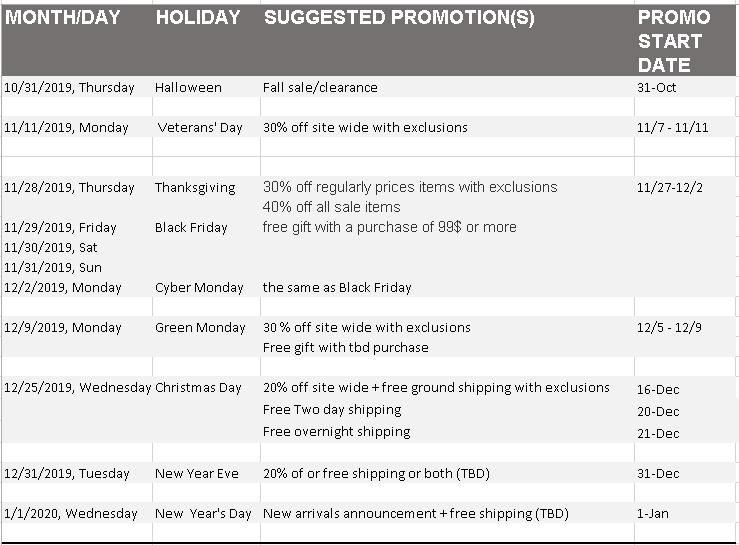 1. Promotional Emails.
Promotional emails are your moneymaking bread and butter during the holiday season. More than 40% of your sales should come from the promotional emails' efforts.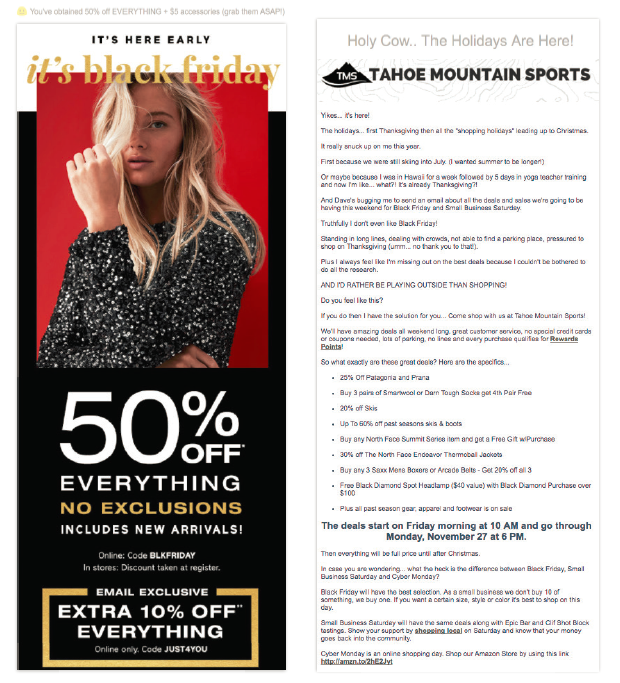 Suggested email promotions
Thanksgiving, Black Friday, Cyber Monday– Suggested promo – 30-40% sitewide with or without exclusions.
Green Monday – up to 30% off sitewide with exclusions.
Christmas Day – 20% off sitewide + Free Ground Shipping and then Two Days and Overnight Free Shipping right before Christmas.
New Year Eve – 20% off sitewide + Free Ground Shipping
New Year Day – New Arrivals Announcement
5 Promotional email tips.
Don't be afraid of sending multiple emails because they will be covered in customers' mailboxes with tons of emails from other retailers. If someone will unsubscribe it is not a problem because she was not interested enough in your brand or products anyways.
Place promotions at the beginning of email subject lines.
Add more information about products or product lines – list as many customers' benefits as possible. Customers' benefits will help your emails to stand apart.
Shoot for 25% email open rates.
Use resend feature – resend emails to customers that did not open them at the first time
2. Transactional Emails
Treat your transactional emails with the same love and care as your promotional, informational emails. Remember, transactional emails are your prime communication real estate where you can deliver information to your customers.
Keep your transactional emails branded and visually consistent.
Attention! if you have a notable email list and send lots of emails then you need to separate promotional and transactional email service providers.
What are transactional emails?
Welcome Email.
Explain how a customer can benefit from shopping at your store.
Add an irresistible "Welcome Incentive."
Provide contact information.
Order Confirmation Email.
Explain what will happen after the customer placed the order.
Provide with order details.
Use email real estate as a place for upselling showing "Trending Items."
Add more incentives for coming back and shop.
Shipping Confirmation Email.
The same as an order confirmation email.
Customer Feedback Email.
Ask customers questions.
Provide even more irresistible offers.
Show more products.
Talk about shopping benefits.
Keep it visually interesting.
Account Confirmation Email.
Talk about the benefits of creating an account with your store.
Everything else is the same as an order confirmation emails
3. Abandoned Cart Emails
According to Shopify – The average shopping cart abandonment rate is 67.44%.
It means that LOTS of money that could be yours is sitting in visitors' shopping carts.
Abandoned cart strategy is a must to have, but you should utilize it in Holiday Season in particular to maximize your sales.
Abandonment cart emails tips
Not only show products left on the shopping cart, but also describe their benefits.
For your question "how would I do it?" the list of product's benefits must be in each product description.
Add an incentive. The best performing is either free shipping or percentage amount off. (for some reasons dollar amount off have always performed not as well).
Add fast incentive expiration, for example, this offer valid for 12 hours only.
Add a text version of the email (before images load, customers will see the text).
Timeframe: first email after 3 hours, second email 24-48 hours, third email 2-3 days.
Best calls to action: " Buy Now," "Don't Miss Out."
An email should link to the purchase page.
4. Informational Emails.
What are informational emails?
Informational emails are emails where you do not sell anything aka not asking customers for their money. Instead, you GIVE VALUABLE INFORMATION to your customers.
How often you should send informational emails – one email per month.
What format should the information be – videos, text, pdf, infographics – anything you can imagine which is entertaining for your customers?
How to come up with information – do research and see what others are doing. Reuse your blog or social media content or use customer-generated content.

<1. Instagram (profile, content, captions, geotags, posting time, tags)
Statistics (by SproutSocial)
71 % of USA businesses use Instagram
80% of users follow a business on Instagram
30% of Instagram Users bought products they first discovered on Instagram
Instagram Tips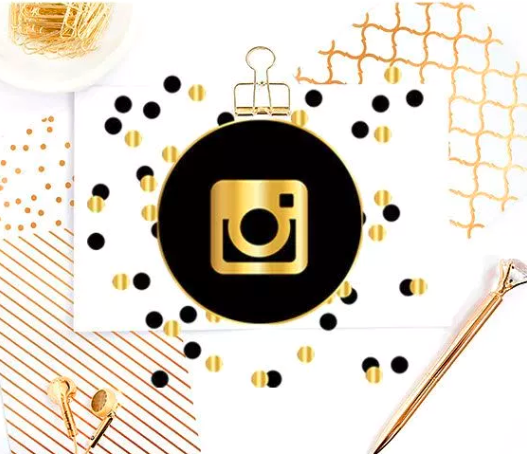 Your Instagram profile.
What you do, who you do it for, why your customers should be interested.
The best practice is to create your profile in bullet points, using emojis, and link to your most important page. You can change your link as much as you want depending on your promotions.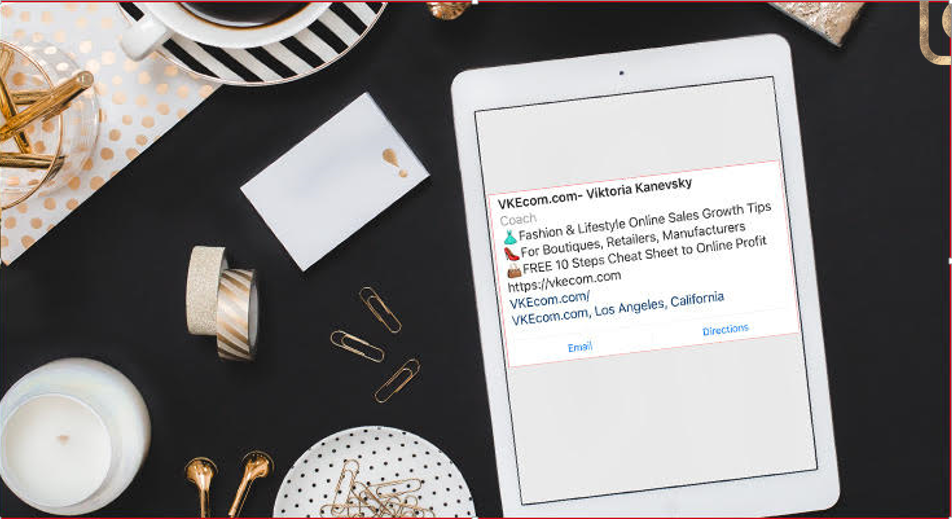 Content.
Your content should serve four main purposes: Inform, Educate, Entertain, Interact
Informing – telling your customers about your products, promotions, and everything else sales related. For example featured products, new arrivals, specials, etc.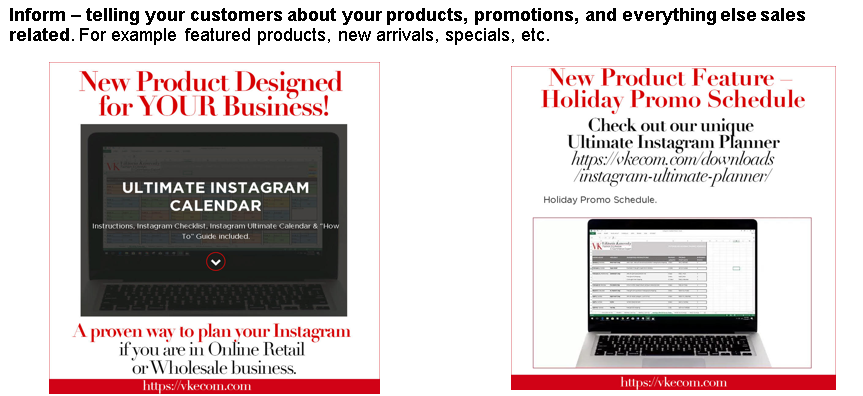 Educating – providing information about your business segment as a whole.

Entertaining – anything that will entertain your followers – quotes, funny industry related videos, "cute anything," "daily hashtags."

Interacting – talk to your followers, and make them respond.

Geotag.
Statistics – posts with a location receive 79% more engagement.
Posting times.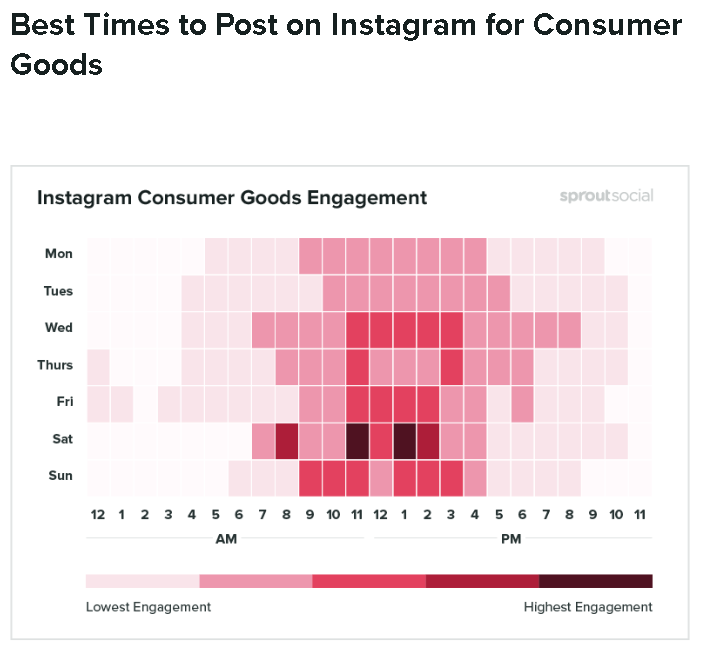 Tags.
Tags are keywords that help you to organize and categorize content, and help potential customers to discover content.
Statistics – Posts with at least one hashtag average 12.6 more engagement (by Simply Measured)
The best is to use 9 to 12 hashtags per post.
If you don't use the scheduler, do not include hashtags into the caption, put them into a comment.
Try to use niche, longer tail hashtags, for example, hashtag #dress with 90 million results in general and your post will this hashtag will be covered by tons of other posts with the same hashtag; however, more specific #redeveningdress with 915 results will make your product visible right away.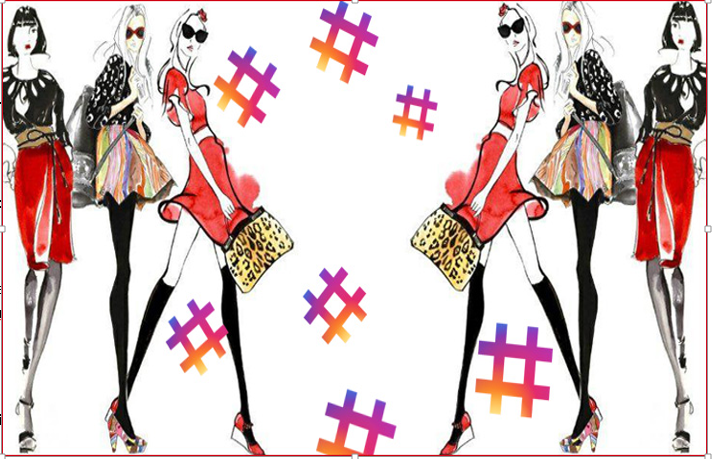 Captions.
Captions should be a mini blog post describing your image with the most significant words going in the beginning. If you don't have time for it, ask a question.
2. Pinterest (How and when creating holiday boards that will bring traffic).
First of all, Pinterest is a Search Engine and only after that is a Social Media network.
Statistics
75% of searches on Pinterest come from 1-3 word queries.
97% don't include a brand name.
Only 75-100 characters show up in the Pinterest search. So, your 75-100 characters should look as close to a user query as possible.
Where to find keywords for Pinterest?
Keyword research tool (like SEMRush)
Pinterest search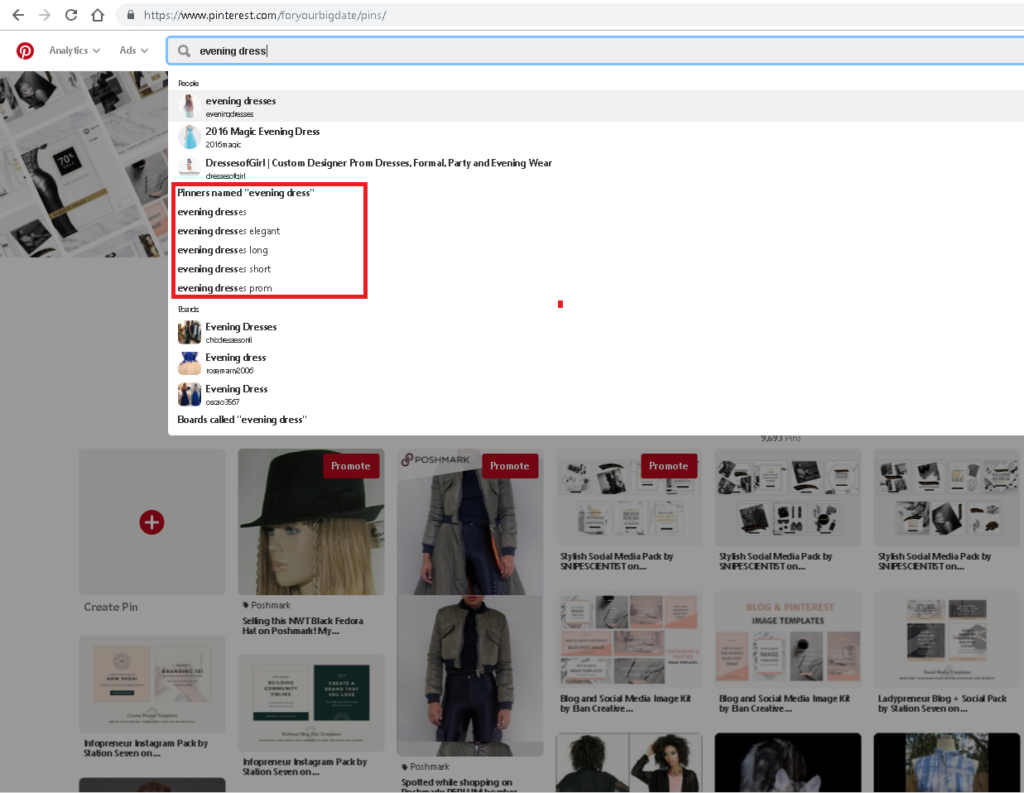 Write a keyword-based description
Add link
Add hashtags (hashtags can be the same as Instagram).
Don't worry about following people; if you create SEO based descriptions, potential customers will find your Pinterest and click links. Of course following, creating engagement is a great strategy, but if you, do not have any resources, then create Pinterest boards, with quality Pins, and SEO based descriptions
3. Youtube (How to create Holiday videos that will rank fast)
Place your main keyword in front of your video title.
Name your video file as your main keyword.
Use tags correctly. You need tags for YouTube to understand what your video is about. Use your target keyword as your first and main video tag.
Use bright and catchy thumbnails to stand out. Use NON- Youtube colors (not Red, Black and White), but Green, Purple, Grey, Yellow, Blue.
White mini blog post video description, keyword-based with up to 200 words
Create your videos longer than shorter because according to stats, average video on the first page of YouTube is 14 minutes 50 seconds.
Encourage comments and likes.

Holiday marketing is an essential part of your online marketing strategy for your fashion or lifestyle store/boutique. You should apply it to each of your channels. Preparing your store for holidays might seem overwhelming, but this work will pay off in the long run.
Again, while there are lots of ideas around, I'm going to share what worked for me in the past.
Therefore, even though we talk about marketing, I will touch on products, packaging, shipping, and customer service as well as promotions for each marketing channel because everything is related to each other during this time of the year.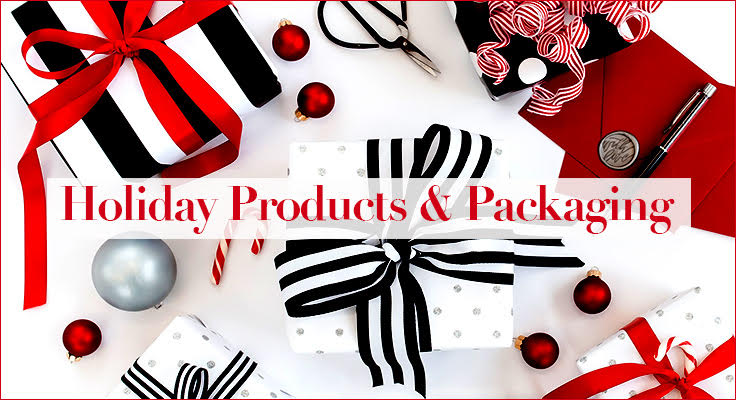 1. Holiday Gift Sets.
Holiday marketing starts with presenting your products right. Bundle your products by category and create different gift sets for different types of your customers' personalities and different price points. Also, you can provide an option to bundling products of customers' choice with a flexible discount.
For example, for two-three items x % off, and for and for four-five pieces xy% off.
You should be creative and make gift sets by categories, colors, price points, etc. because I assume you know the taste and shipping habits of your customers by now.
2. Holiday Gift Baskets.
Even if you never sold them before you should consider adding at least a couple to your holiday product mix. There are more than ten thousand searches in Google last month for the variation of terms "holiday gift baskets." The trick is to make them look unique and relevant to your customers' tastes. You also can make them one-of-a-kind – meaning each basket is different. This way you will protect yourself from the shortage of inventory. The most important to take amazing pictures that would represent the real value and beauty of your products.
3. Cross-selling items.
Fill your cross-sell section with relevant cute non-expensive products that everyone would love to add to their cart because it's not only irresistible but also will make an additional gift to someone this holiday season. Your shoppers are mostly women and women love cute things while being practical.
4. Holiday Gift Wrap.
I believe in wrapping everything every time with or without the holiday season. My numbers proved that stylish and creative packaging decreases return rates. I can't emphasize more how important it is.
Recently, I came across the conversation in one boutique owners' group where someone said that one huge well knows retailer ships shoes in poly bags. She was saying if they do it, we (smaller boutiques' owners) can do too. I've been quietly thinking that we absolutely cannot afford to do what big guys can. We have to think about each detail to win a customer who is already loyal to those big retailers.
For online boutiques each customer is priceless because we have smaller budgets and resources, so we have to go extra steps to acquire customers and turn them from a one-time purchaser into a loyal one.
So the moral of the story is to invest in holiday gift wrapping. Handwritten little "thank you" notes on the top of gift wrapping do miracles.
5. Free Holiday Gifts.
The same as I believe in gift wrapping, I find a surprise free gift with a purchase equally useful. Always. Just because she deserves something cute. Because she is stressed, tired, and this little-unexpected something will put a smile on her face. If you want to be in a profitable business, you need to learn to make your customers happy with their purchases.
Just build gifts into the price of the product along with shipping and packaging. If you are in "boutique business," it's entirely ok to sell quality products that might be a little expensive.
My clients ask me what the best surprise free gift should be? I suggest looking either at your sales history or product overstock and be generous.
For example, at some point, I overstocked my store with bangle bracelets. They are pretty, but for some reason, they did not move well. So, we started to include up to three bangles into packages. We gift wrap each free surprise gift to surprise our customers. They are curious when they see an extra wrapped package inside of their order.
Another great example is the soap bars. We had luxurious handmade, fragranced soaps, but for some reason, we could not get that realistic luxury look and feel on photos and videos. So, we decided to include one bar into a hundred plus dollars order (it was pretty generous considering the retail price of the soap). However, my strategy paid off when almost seventy percent of people received a soap bar came back.

1. Holiday Shipping Deadlines & Promos.
Holiday marketing also includes holiday shipping, exchanges and returns as well as extra customer service. Your customers should be aware by now of your holiday shipping deadlines, rules, and conditions.
Your deadlines should be stated in the "Shipping" section as well as a website banner to simplify the order placing process.
I recommend free shipping during the whole holiday season with free two days and later overnight closer to holidays. This strategy will place you in a winner position because free shipping is convenience and convenience is often a deal maker.
2. Holiday Special Return/Exchange policy.
A holiday return and exchange policy should be as comfortable as possible. Providing free return and free first exchange will put you far away from your competition. To cut your risks reduce return policy to ten days to two weeks making it completely free.
3. Extra hours' customer service hours.
Extend your customer service support to the maximum because for many people late evening and night time is the most convenient way to complete their holiday shopping. Going overboard with customer support will put extra dollars in your sales. Your team should know that this is the busiest time of the year and everyone should watch for emails and social media messages.
4. Super-fast response time.
It does not matter what your usual response time is, but holiday responses should be extra-timely because each second can lead to winning or losing the customer. This extra second, also, can turn your buyer into the loyal shopper who will keep returning to your store during the year because your shop won their trust during the holiday.
Holiday marketing can be challenging, but it is also effective, fun and must to implement for each online and B&M store.
Happy Holiday Marketing to your guys!
Check out my most recommended TOOLS & RESOURCES >>>
Instagram for Business – how to grow your following and make sales >>>
Black Friday marketing advice how to boost profit – 20 ideas for fashion & lifestyle >>>