Fashion marketing is the key for moving your business
Fashion marketing is a set of actions to promote and sell your fashion (accessories, shoes, handbags) merchandise.
Let's slice and dice the subject.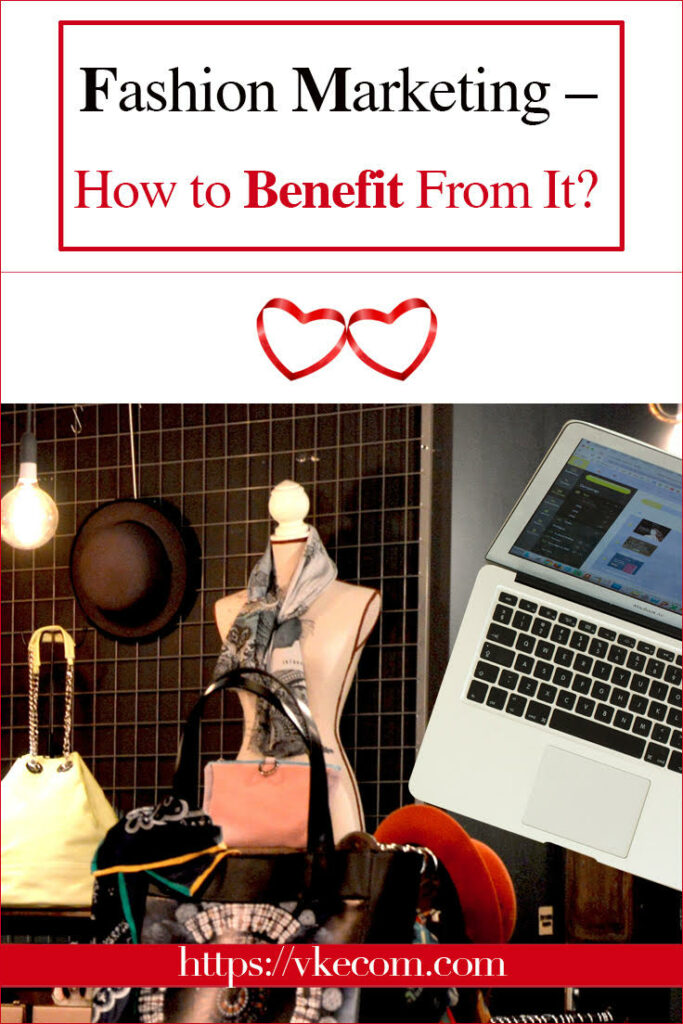 Fashion marketing can be
• Business to Business (B2B) when business is selling to another business. For example, fashion designer/manufacturer/distributor sells to retailers, individual sellers (sole proprietors) or other companies by packs at wholesale prices at the tradeshows or online.
• Business to Consumer (B2C) – when a business sells directly to the public. For example, designer/manufacturer/distributor/retailer sells to customers at retail prices from their stores or websites.
Fashion Marketing works via traditional/offline and online channels
So, what is the most important in Fashion Marketing nowadays?
Fashion Marketing is about promoting your product to make a sale, so it is all about appealing to your existing or potential customers.
In simple words, it is where to find your customer, how to reach them and how to package and present your product.
The difference between fashion marketing and all other marketing is that you sell fashion related products to fashion-oriented customers, so some marketing channels work better than others for fashion products, and you need to understand which channels to use when you plan your marketing strategy.
If you are new and starting out, you need to know what is the best way to reach your ideal clientele otherwise you will be out of business before you know it. You have to fish where fish are.
If your customer base is already well-established, you should know which channel converts into sales better
Research, promotions, and advertisement are main parts of fashion marketing.
How to benefit?
If you create your marketing strategy right and execute on it properly, your customers will
Choose you over your competition, so you will make more sales =acquire larger market segment.

larger average order Buy more from you than you projected =

Come back to shop more often = greater average customer value.

Perceive you as a trusted selling source = stronger & more recognizable brand name.

Refer you to their friends/family (B2C), industry connections (B2B), or write positive reviews = translates into sales and branding.
So, proper fashion marketing directly translates into sales and brand recognition.
Let's see which fashion marketing venues are available
Also, you should remember that even if you spend tons of money on marketing your product still should be as great as you can make it!
Business to Business Traditional Marketing Channels
Trade shows.
Trade magazines/newspapers' editorial articles and advertisement.
Direct mail to existing and potential customer.
Billboards.
Business radio / TV networks – commercials or editorial.
Traditional PR.
Word of mouth/referrals.
Online Marketing Channels – Business to Business
Online trade publications/portals/ forums – for advertisement and editorial materials
Website / Blog Marketing – websites / Blogs with quality informational content.
Search Engine Optimization – the set of techniques which make website to show organically in the top searches of Engines.
Advertisement with Search Engines – paid ads that make website to show on the top Search Engines
Product Placement and Advertisement at online marketplaces
Affiliate marketing – other people will promote your businesses using promotional methods of their choice and receive commission for that
Email Marketing
Re targeting – a form of online advertisement that helps you keep your company in front of bounced website visitors after they leave your site/blog
Online PR
Social Media (Facebook ads, Facebook groups, Instagram, Youtube)
Online Reviews (Yelp, Google)
Traditional Marketing Channels – Business to Consumer
TV
Radio
Newspapers / Magazines
Direct Mail
Billboards
PR
Business to Consumer Online Marketing Channels
Search Engine Optimization
Search Engine Marketing (Advertizement with Search Engines)
Affiliate Marketing
Influencer Marketing – when focus places on influential people with established following rather than at the target customer.
Ambassador Program – branded company program to find, embrace and engage their biggest fans and make them promote to their friends, family, following, etc
Display advertisement – the form of online advertising on different sites in the form of ads, videos, etc.
Content Marketing (Website / Blog content)
Social Media Marketing
Mobil Marketing
Email Marketing
Retargeting
People often think they need a formal education in fashion marketing to get into the industry. Is this true or not?
I've been leading fashion marketing teams for multiple clients and there are a list of things that are important for me (or my fellow industry leaders/marketers in candidate search)
Knowledge of how fashion companies structured and operated (both wholesale and retail)
Good understanding who wholesale and retail customers are, what they want and how to reach them effectively.
What B2B and B2C marketing channels are and how they work? Which ones are more efficient than others?
Perfect written and spoken English for marketing material & content creation.
Deep knowledge of Social Media (both management and advertisement)
To me, hands-on experience in the industry + excellent English skills are more desirable than a formal degree from fashion school because people who teach at schools, especially full-time, have no idea what is going on in real fashion business world. Every time I tried to take a course, I knew much more than a teacher.
So, if you would like to learn more about fashion marketing, I suggest learning from trusted online courses, ebooks or conference sources – from people who had their hands dirty in the real business fashion world.
If you go to traditional schools for your fashion marketing degree, I guarantee you waste of time and money.Without connections you can get an entry-level job, you are lucky.
The fashion business seems as elite and cruel as entertainment – you have to have either connections to get into a particular level or luck + desire climb the corporate ladder from the bottom.
Holiday Marketing Ideas Definitive Guide