Speaking of content marketing strategy – according to CBS News, the average person exposed to about 5000 ads daily. Ads are popping up from everywhere around you from all possible devices (phone, computer, tablet, TV, radio) to paper coffee cups & napkins at the restaurant.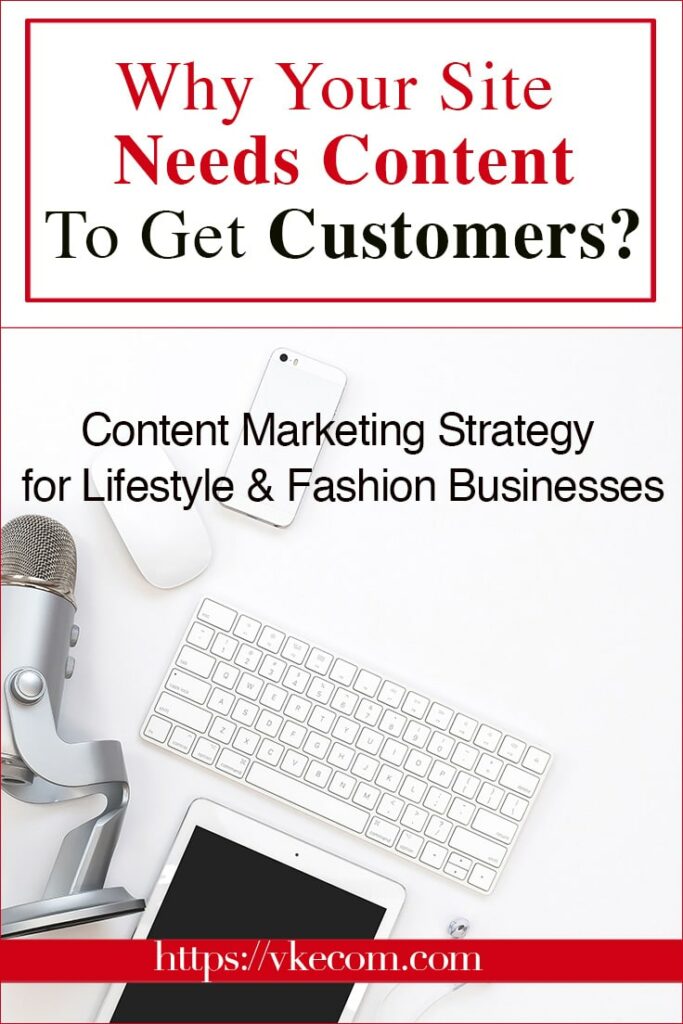 While well-developed advertising campaigns bring companies a substantial ROI, content marketing is taking leading positions for attracting and retaining end lifestyle and fashion customers who place larger orders than ads' driven audience segment.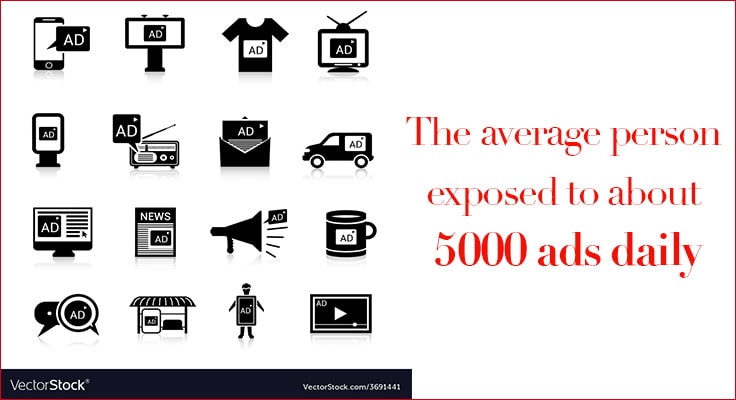 Top 4 Reasons Why Your Website Need Content (in Simple Words) and Why Developing Quality Content is Critical for Your Business.
Both website and Social Media content is essential for SEO (for your site showing up higher in Google)
Providing valuable information helps to establish trust and bond between a business and customers.
Receiving unique information will be the reason to come back to the site and buy more (retention increase)
Whoever provides better quality information will win the competition game at the end of the day.
Wholesale and retail, Fashion & Lifestyle business owners are often confused about why they need to spend money on creating and producing high-cost content when all they want is to sell.
When they ask me this question I always explain, "Your customers are 80+% are women and in most of them are between 18- 34 and 35- 50 which mean that they are busy either with soul mate search or family and kids.
Majority of them either going to college or having non-satisfying jobs and tons of problems in their day to day life. They got stressed, upset, overwhelmed daily and the only thing they (potential or existing customers) want is to relax and feel good and entertained.
Great content is the vehicle to deliver information in a friendly, trustworthy, non-selling way while making an online customer feel informed and excited.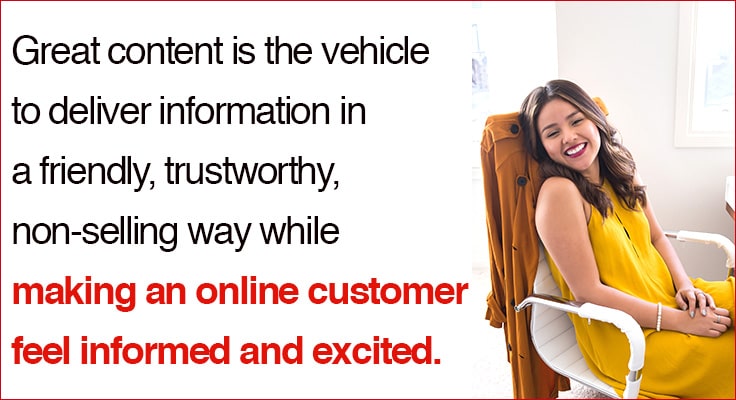 The content strategy that works is when you provide products' details and benefits to customers in such a way that customers think they need this product now because it can improve their lives.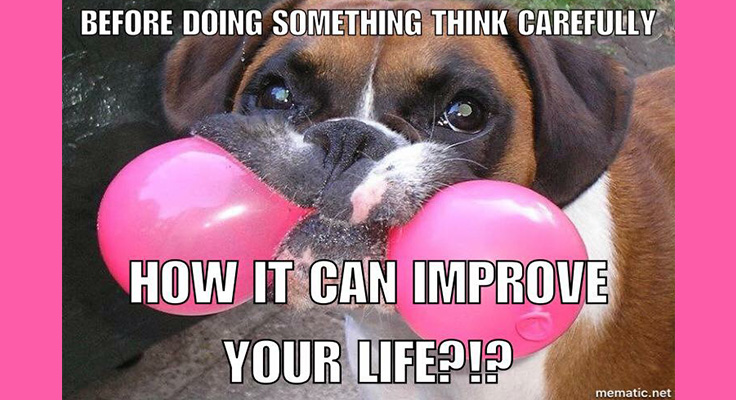 Content marketing is when you make customers feel comfortable while making a purchasing decision. Ease and comfort sell fast.
Content marketing strategy is one of the significant parts of the whole marketing strategy, and business owners should craft it thoughtfully.
B2B content marketing strategy is no different from B2C, just instead delivering quality info to end retail customers, you deliver it to businesses who buy from you.
Majority of lifestyle and fashion smaller retailers believe in do it yourself approach and most of the time don't have a budget for a professional strategist. So that's why I would like to provide with the most critical aspects that worked for me, my clients, and industry leaders.
3 Types of Content Your Company Should Produce.
Text Content
The keyword-based text is a goldmine for providing information and improving SEO at the same time.
Text content tips
Product descriptions
Keep it at least 120 words, but the more, the better. Describe the product; it's benefits to a customer, ways to wear/use it.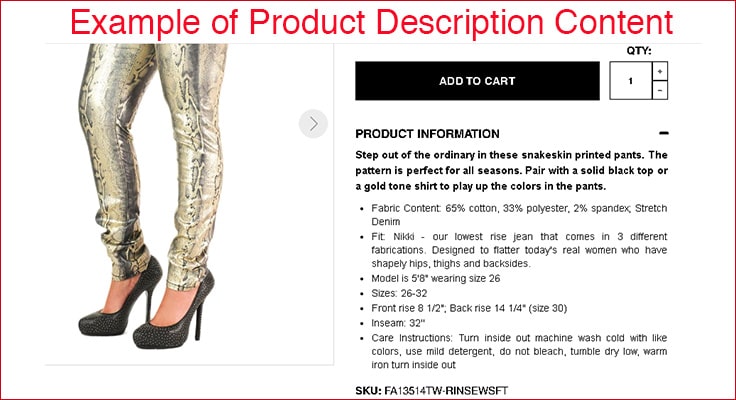 Always try to provide as many detailed measurements as possible. For example, armpit to armpit, shoulder to shoulder, etc., thinking of every measurement possible. If your website has a fit guide, showing detailed analyses it is a good idea as well. Below is a great example. I also recommend display measurements for every size available.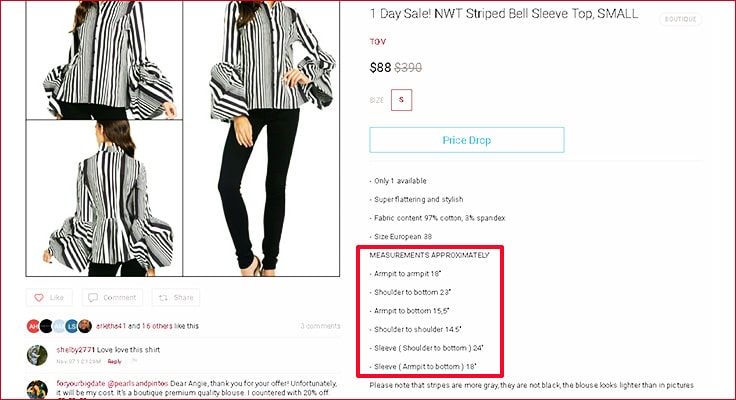 Category & Subcategory text
Tell your story about why your customers need the product.
For example, if you sell candles, explain how you can use candles of different colors. If you sell jewelry, list the latest jewelry trends and give styling tips. If you are a fitness studio, provide with details of every class, how it can help your clients to get in better shape, and which specific body areas each workout targeting
About us section
Lots of time businesses make mistakes telling tons of facts about their work journeys and themselves, putting a long story about their families and kids.
However, the truth that is this busy world all customers care about only one thing – how your business can improve their lives. They need to know the benefits of using your company over others and what precisely you can do for them what others can't.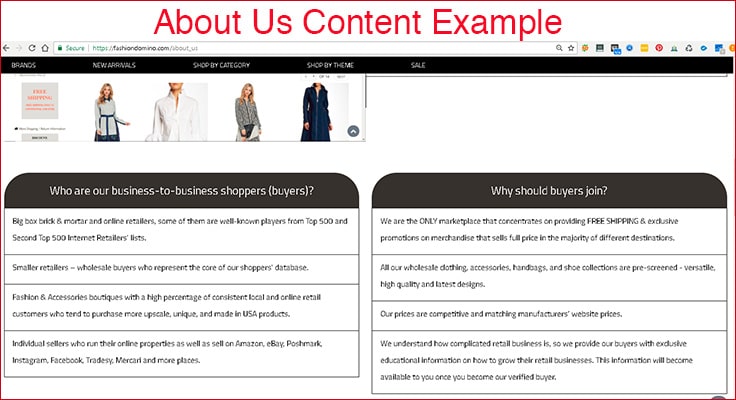 You can see the example of the About Us section here.
You need to concentrate on benefits to your end consumer. Also, make sure that your "About Us" is keyword based and SEO optimized as all other text at your site.
FAQs
Research what your competitors do, and make it many times better and comprehensive. Try winning with every little detail and extra information.
Shipping & Return Policy
It must be competitive, crystal clear and easy to understand from the first sign.
Blog articles
If you don't write useful articles and guides, your competitors will do it. 77% of people read blogs, according to the Content Marketing Institute, so but not investing in your blog, the large chunk of all organic traffic will go to your competition.
Lead Magnet
While having a lead magnet many businesses consider as an informational products' practice, I always recommend retailers of all sizes having it for acquisition and informational purposes. It's the cheapest way to acquire great quality leads who are already potentially interested in your product or service.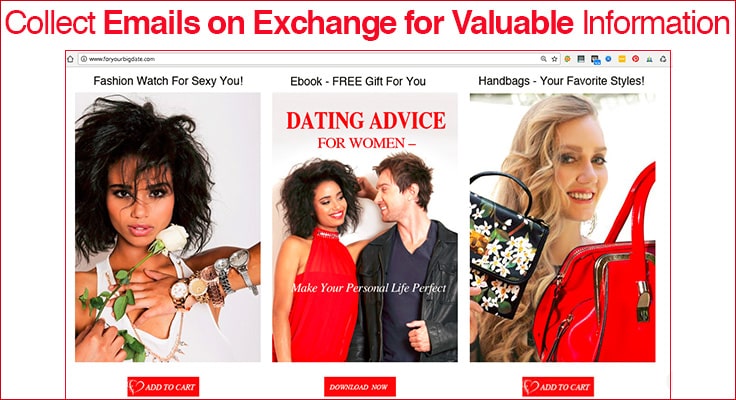 "How to" guides
It speaks for itself. The more quality guides your site has, the more chances that your customers increase their visiting time and share your information with their followers, friends, and family.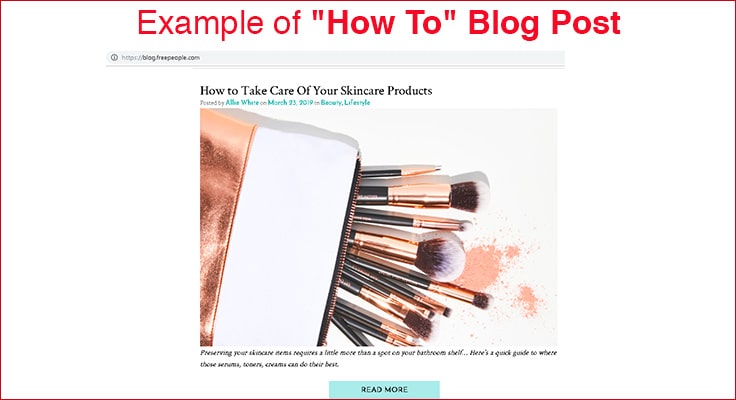 You can see more examples here, but please remember that this is a huge well-known company, and you as a smaller business should create content with more than a thousand words per piece.
Video Content
You can place your videos on-site, Youtube, Facebook pages & Groups, Instagram, Emails you name it. People love watching and sharing great, informative and entertaining videos.
Video Content Tips
– Plan your videos in details. Write a script first. There are 150 words in one minute of video.
– If you create Youtube videos, make them longer than 7 minutes.
– Shoot not only your products but "how to" tutorials
– Show behind the scenes, whatever it can be for your company – photoshoots, working environment, your employees. Again, people tend to relate to people, not companies.
– If you use your videos for Youtube and Website always name files using target keywords.
Graphics Content
Product images, infographics, holiday guides, collages, lookbooks will make your site authentic and your Social media outlets memorable.
– Invest in an excellent graphic designer who understands your target audience and product vertical.
– Infographics are time-consuming to create, but experts consider them the most shareable content.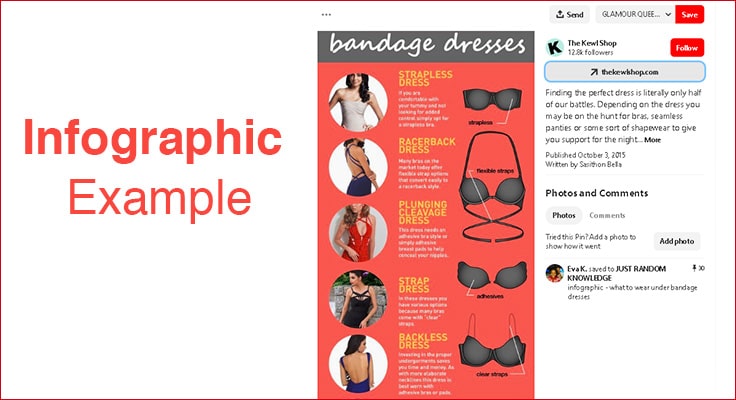 3 Main Places Where You Should Place Your Content
Website
Great salespeople are those who can sell snow to Eskimo, and they are in high demand. When you run your online business, your website acts as your storefront as well as a sale person. That's when content marketing comes into a play.
You have to describe your products, categories, subcategories, shipping & return policies, About Us as well as professional sales person could do for you on a sales floor.
You, also, should provide additional resources such as lead magnets, shopping guides, infographics, videos, and articles the way your customers won't have any other choices than buying all they need from you.
Social Media
Social media is where you provide product information, educate, entertain and communicate with existing and potential customers.
Your content should be useful, memorableAXXS, and irresistible for sharing with other people who might need what you sell.
Emails
Email marketing is the most profitable and high converting way to deliver all you want to say to your customers to their mailboxes, and when you do it right, it will be the cheapest way to increase your sales and retain your clients.
Content marketing has two essential parts, and you need to take them both seriously.
Content creation.
I recommend planning your content from a month to up to a year (the longer, the better) so you can coordinate your content strategy with all other marketing & promotional channels.
Content Creation Tips
– Have schedules and calendars for each channel.
– Create content in chunks to save time.
– Use automatic schedulers wherever possible, for example for the blog, social media, and email sequences.
– Merge content marketing with other channels, and make it keyword based and SEO optimized.
– Learn best practices on blog headlines and email subject lines' writing to increase opening rates.
– Be consistent; don't stop producing new, fresh content.
– If you did not have time to produce something new for a while, reuse and repackage old content.
– Update your blog posts and guides with fresh content to make it look fresh and re-index with Google as the latest.
Content promotion
All valuable content will be useless if you won't promote it and it just sits on your website or Social media outlets. That's why you have to have your content promotion strategy and tactics in place before you start creating the content.
Content Promotion Tips
– Split your advertising budget so you can advertise not only your products but your content as well, for example, if you sell plus size fashion, promote your "Ultimate Capsule Outfit Guide" that has a sign up for in it.
– Combine your content marketing with Influencer marketing and let industry influencer promote your valuable information to their audiences in addition to the promotion of your products and promotions.
– Don't ask industry experts to share, ask them to "review" and "advise" on your type of content. Create a separate strategy for Industry Leaders' outreach.
– Always include your content materials in post sign up and all transactional emails (order confirmations, email receipts, etc.) to make customers feel that they are getting additional value from communication with your company.
In summary, you need to take content marketing strategy very seriously. Going toward 2020, not one website will be able to get away without providing unique, useful content for both people and search engines.
If you would like 45 pages of super hands-on information and boiled down advice, download my new Vendor Guide. While it says "Wholesale", the information is great for retail and local companies as well
If you would like to learn more about how to use Pinterest for business, read exact steps on how I increased engagement for my client from 400 to 37,000 views in one month
Want more sales during the holiday season? Read Holiday Marketing Ideas Guide