List of things I with someone told me…
Online boutiques mistakes can be costlier than you even can imagine
At a glance, starting an online boutique might seem as easy as getting inventory stock, taking pictures of the stock, posting products on your store and then the money starts flowing in from sales. The process sounds like a no-brainer, right? The internet is now a rich resource for millions of people who are ready to spend money by buying things online. There are many prospective online entrepreneurs (apparel, accessories, shoes, beauty manufacturers and retailers) out there who have this misconstrued idea that they can pull off a magic trick that will make them rich overnight.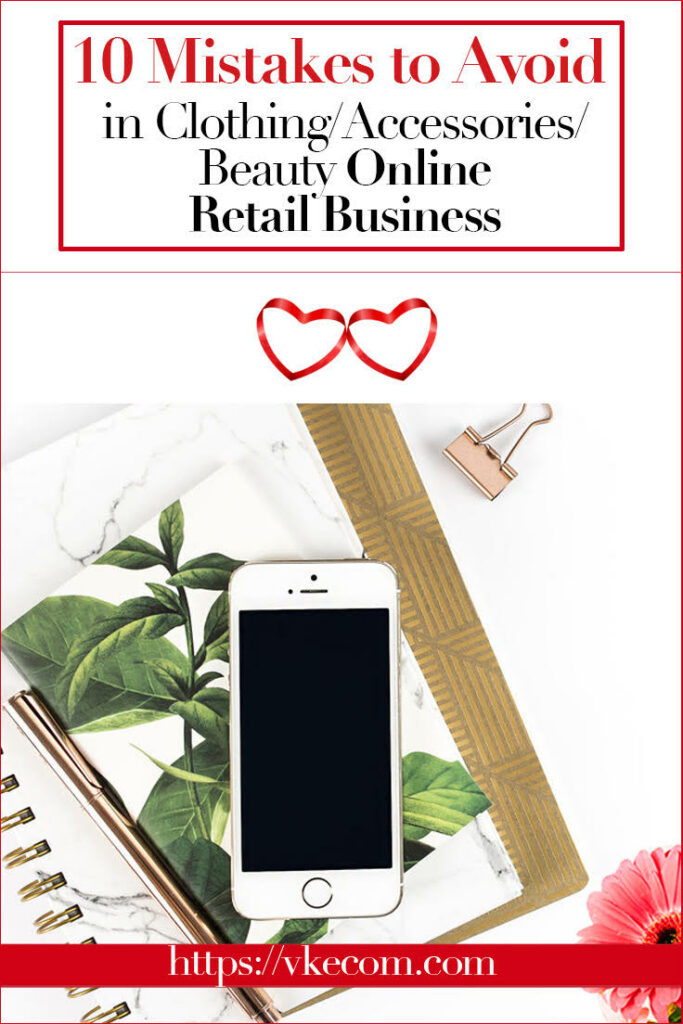 I have been in the consulting business for more than a decade. I always start my conversations with clients by informing them that I cannot recommend solutions to their online stores right away after they ask me how to make their online business profitable. To give you a simple analogy, when you visit doctors, they do not give you prescriptions on the spot. They will first send you to do several tests before they prescribe you a treatment.
Online boutiques ( beauty, fashion, accessories, gifts, etc) share the same principle. Even if a small portion is missing, the picture will never be complete. Only by following my recommendations to the letter, you can get great results.
Get Started
To get started, you should have a realistic budget, retail marketing understanding for an online business, and free time (lot's of time). If you do not have these basic requirements, then you should consider alternatives such as full-time employment (working 9 to 5 for some company), or marry rich.
Each of my clients comes to me with ideas and advice that they read from the internet, something they heard in conferences or private conversations with successful online business owners. I always feel sad when I remember what it cost me to acquire my tried and tested knowledge of running an online retail business profitably. Before I became successful with what I do, I made several mistakes on the way, lost money, jobs and at times even shed tears.
Here's a comprehensive list of the things that I regret not knowing as I started out:
The List
Do not jump into business without the necessary experience and knowledge.
Before starting an online boutique, always ensure that you know the business well enough to avoid getting ripped off by people who prey on your lack of knowledge about a particular element of the business.
What is better, drop shipping or inventory stock?
It's obvious that there is a lot of risks involved when you keep the actual merchandise. However, to me, drop shipping has more drawbacks
At times you will invest in increasing website traffic, generate leads and get new orders from customers but you cannot fulfill it because your vendor has run out of stock. In such scenarios, you end up losing both the money that you invested in marketing and the new customer. If you fail to fulfill a client's order, it is very likely that he or she will never come back to your store again. Well established retailers usually have well-defined dropshipping contracts, and their suppliers always keep extra items just in case the retails receive more orders than they had anticipated. Vendors seem not to pay a lot of attention to small retailers unless those small guys bring in lots of cash.
In the drop shipping business, you do not have direct access to the physical product. It is therefore impossible to guarantee quality. When it comes to a consumer-based business, flying blind is not good for the company.
When you keep actual inventory, you have direct access to your stock which gives you control over photography and styling.
Having control over such simple elements of your business is detrimental to the success of your online retail business.
Overstocking
A while back, I worked with a large Hollywood Influencer Management company. The project involved creating a campaign with top YouTube talent. The campaign manager recommended overstocking because she expected the Youtuber to sell a lot. Sadly, YouTube talent did not sell as much as she had hoped. To cut a long story short, I still sell some of the surplus inventory to date.
Here is what I took home from that experience:
Start out with a single pack of the product if you are not confident that a particular product will sell.
Practice honesty and transparency. Let your customers know how much you have in stock.
Always remove your product from your catalog as soon as possible when it becomes sold out, especially if you sell at multiple platforms.
Choose your products wisely and ensure that you study and understand your customers.
Always keep in mind what you like and what your customers want – those are two different thing.
Pick a particular niche and serve clients within the said niche. Never go too broad because it is ineffective, and it turns out to be difficult especially when it comes to marketing a broad range of products.
At times you may know who your customers are, but you may not understand how they think, or what they specifically want, so it is okay to hire a buyer with experience in this niche.
Avoid making products on demand at any cost.
Large retailers usually deliver products the same day when you place an order. Production on demand is time-consuming, and it results in the loss of customers due to delayed or unfulfilled orders. If you are creating a unique and extraordinary product, then it is okay to manufacture it on demand.
Choosing and working with influencers
Ensure that you select an influencer whose audience matches your customer niche. Learn how to use Instagram for business.
Consult with the influencer in advance. It is important to know what kind of content an influencer is planning to post, and when it will be posted.
A good number of influencers think of themselves as superstars, so be prepared to deal with that type of attitude.
Have the influencer sign a contract in advance.
Financing and business loans
Usually, you are required to start repaying your business loan one month after you take the loan. It is wise to avoid loans at all costs unless you have a well-established customer base or you have presold products.
Do not put business expenses on your personal cards because if the business happens to fail, you will be left buried in debt. Also, avoid asking for money from friends and family unless you are sure you will be able to repay them and your business will succeed (especially with new business)
Do not hire your friends
Don't make friends with your hires either. It is unhealthy for your business. You need to hire people who are swift, dedicated, willing to learn and work fast & effective. You ought to able to replace your employees on the spot if they fail to perform as you expect.
If you have limited resources and a tight budget.
Ensure that you have up to or at least six months worth of living expenses, inventory funds, and marketing budgets to ensure your peace of mind during the pilot stage of your online retail business.
Misconceptions:
For some reasons, people think that an online retail business is easy and profitable, and the fashion vertical is easy and fun.
Of course, your business will be profitable if you are confident, have a well-thought plan, your margins are high, overheads are low and customers come back again and again. However, you have to work for this 24/7.
The fashion industry sounds like fun, but running an online retail fashion store is monotonous since you have to repeat the same tedious task every day.
Read my Holiday Marketing Ideas Definitive Guide