Valentines Day Marketing is the essential part of digital & offline marketing strategy for any online and brick & mortar retailers (and manufacturers if they are looking to sell their products to consumers directly).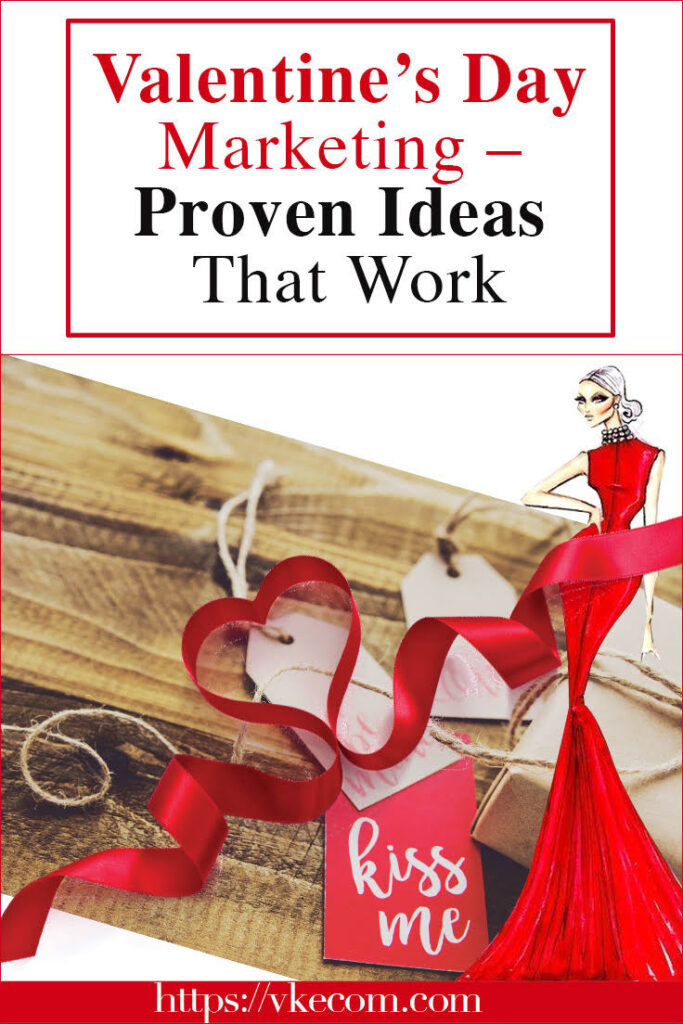 Some great statistics below show how important and profitable Valentine's day can be for your business. Personally, I consider it sweet, but an entirely commercial holiday.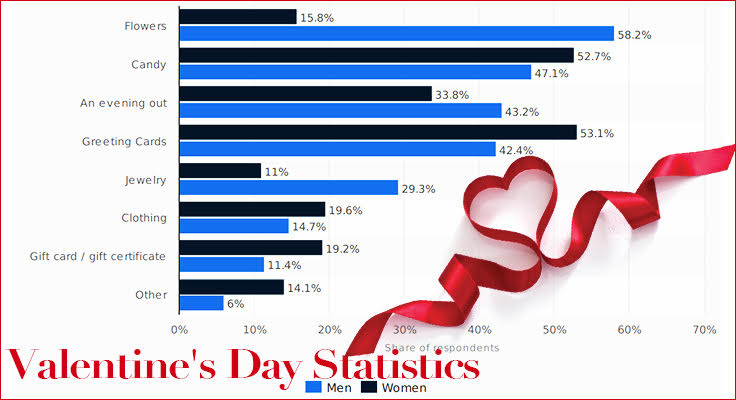 If you look at statistics above, aside of 19,6% women & 14,7% men planning of gifting their significant others with clothing; 29.3% men & 11% women with jewelry, about 42.2 % men and 33.8% women planning evenings out. It means almost ALL those women in most cases will buy new dresses, shoes jewelry, lingerie and everything else that can relate to a romantic date and will make them look and feel beautiful and desirable.
Also, It means that for retailers this time is HUGE! So, let's make the best out of it for our businesses.

I. Valentines Day Marketing – Website.
1. Dedicated Web page.
Valentines day marketing should start with creating (or updating) your Valentines day dedicated page. It is a separate, keyword-based page that should be hidden on the website during the whole year, but visible between Valentine's promotion periods.
This page has two primary purposes: to showcase your Valentines day related products and gain rankings for Search Engine Optimization.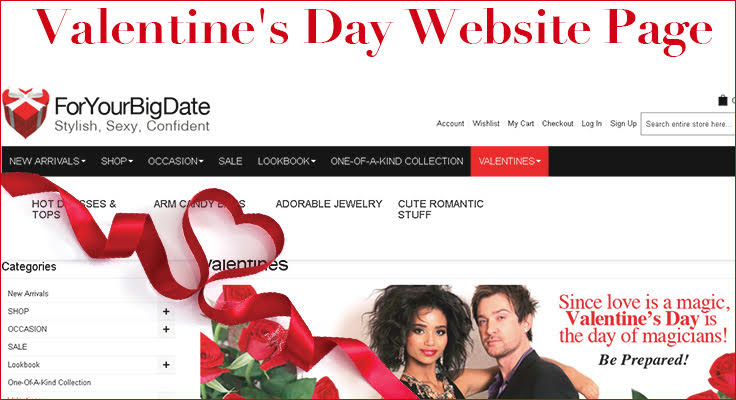 2. Valentines day merchandise.
1) Products.
You need to display all products that can fall into two following categories. First of all, everything possible that women can buy for themselves to wear (use) and that will make them look and feel beautiful when they go on Valentines' date. Second of all, everything that falls into "gift for her" category. In other words, everything that men would buy for their women as a gift to give them on Valentine's day.
2) Gift sets.
To increase your average order value as well as to push more merchandise, create gift sets and gift baskets. Knowing your existing and potential customers, build different price points that resonate well with your clientele.
Don't forget to add little, cute, romantic, Valentine's themed items for your cross-sell at checkout.
3. SEO for your Valentines Day Web page.
1) SEO web page text.
Run your keyword research and create "valentines day" keyword-based text for your valentine's category and subcategory pages.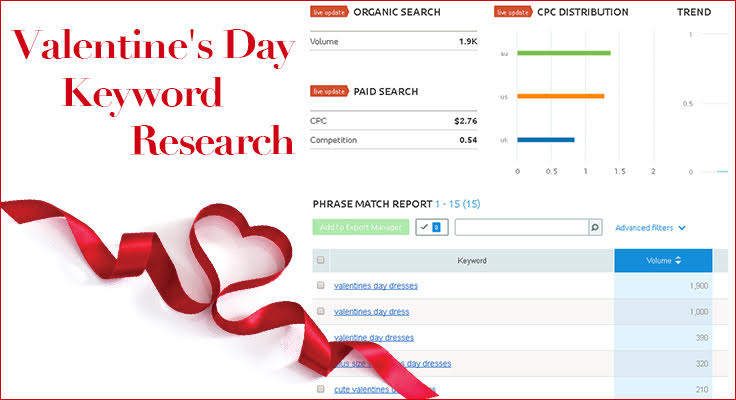 My favorite tool for Keyword research is SEMRUSH. You can try this tool below.
If you are not sure what and how to write for your SEO category/subcategory text pages, you can outsource it to someone else. For example, one of my favorite place to order some of my SEO texts is iWriter.com.
You also can hire a dedicated SEO (fashion/lifestyle) writer for your projects.
If you decide to move forward with iWriter.com, there are several tricks you should know. First of all, try to order from "premium" or even "elite" writers. "Elite" category will be a little more expensive, but your customers will enjoy reading the text if they will choose to. Second, offer slightly more money than the website suggests you.
Third, make sure that you provide proper directions to a writer, and your text has at least one thousand words (if you have time and budgets, I recommend having more words).
If you are not sure how to do it, here is (below) an example of my project description for Valentine's day SEO text for my online boutique.
"This text is for SEO purposes (but also must read well for humans), and it goes to the valentines day section of fashion online boutique.
This text should describe valentines gift for her (the ones that she would buy for herself to go out on valentines day and gifts that her man would like to purchase for her from my boutique).
For a writer – entirely no English as a second language, only native English speaking writers, please. The writer should have advanced knowledge of on-page SEO writing.
Please, follow the rules below:
1) Focus keywords appear in the first paragraph of the copy (especially main keyword "valentines day gifts for her.")
2) Please, write text in short paragraphs with bullet points – must be readable. Each paragraph should have main ideas or main subject.
3) The maximum amount words in each section no more than 300, but preferably a little less.
4) No more than 25% of text should contain long sentences with 20 words or more.
5) Please, keep passive voice to the minimum (no more than 2 %).
6) Please, maintain keywords density 1-3%. (mention keywords 10 – 25 times).
7) The text must be original, and be able to pass plagiarism tool.
8) Use headings/subheadings.
9) Use signal words like: 'first of all'; 'secondly' and 'finally.' Also, words like 'nevertheless,' 'surely' and 'indeed' give a clear signal to your readers. Readers will instantly get that a conclusion will follow after words like 'consequently,' 'so' or 'for this reason.'"
2) SEO Text for Product Descriptions.
To gain more SEO for your Valentine's Day pages, write longer keyword based product descriptions (up to hundred words, the longer, the better) and use your targeted keywords in image names.
If you don't know much about image SEO, read this article for more information. https://moz.com/blog/seo-photos-visuals-graphics-whiteboard-friday.
II. Valentines Day Marketing – Promotions.
1.Valentine's day marketing promotion schedule.
After last fifteen years in online retail, I figured promotions that worked for me the best in fashion & lifestyle companies.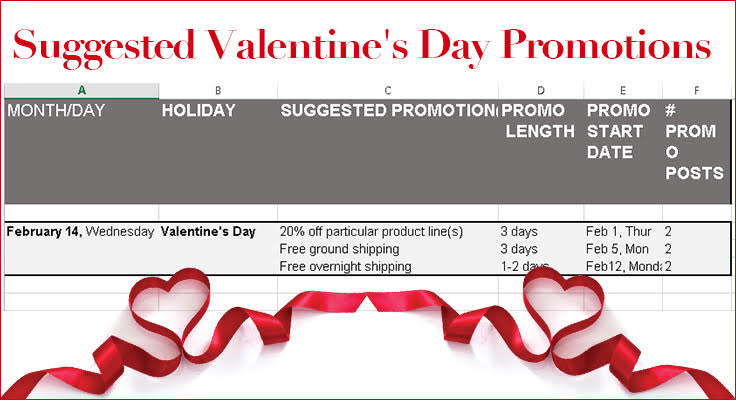 1) Percentage off.
The best promotion that has ever worked is a percentage off some merchandise (in particular 20% off). For example, 20% off Valentines Date Night Outfits. This promo should run a few days approximately couple of weeks before the Valentine. It is mostly for women who shop for their date night outfits in advance.
2) Free Shipping.
This offer should follow previous one for in a few days.
3) Free Overnight Shipping.
This is for people who shop for themselves or intending to buy gifts at the last moment. Those orders I recommend treating with extra love. You should embellish them with surprise gifts and beautiful packaging to decrease return rate.
If you are interested to have suggested promotions for the whole year, you are welcome to check out our Ultimate Instagram Planner here>>>
2. Email marketing campaigns.
Using suggested promotions from above, I recommend starting planning email campaigns asap. There should be about three emails for each advertisement/promo and a couple of informational emails with, for example, Valentine's Day Gift Guide.
Sharp, short subject lines with showcasing promo in them should help to increase your open and click-through rates.
To generate more email addressed during the pre- Valentine's day period, create a lead magnet and place it either on your site or your valentine's page.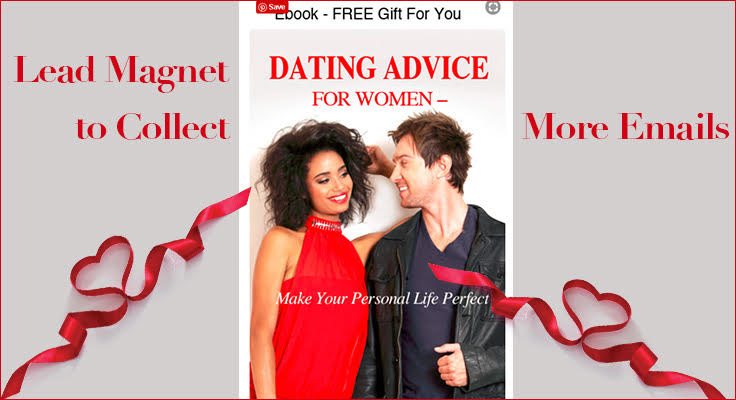 3. Social Media campaigns
Again, using suggested promotions, you should duplicate your campaigns via Social Media outlets.
1) Instagram Promo posts.
Create a schedule and a dedicated campaign for your Instagram as well. The best way to plan is using either our unique, Excel-based working document Ultimate Instagram Planner. If you don't need to invest in Promotional Calendar, Influencers contract and Fashion Hashtags Collection (those are parts of the Planner), you should use Ultimate Calendar instead.
Make sure you write appealing, product descriptions in captions and use proper branded and general hashtags (if you don't use Instagram scheduling software, use hashtags in the comment rather than in caption).
There are examples of Valentine's Day merchandise hashtags.
#valentinesdaydress – 2,538 posts
#valentinesdress – 5,496 posts
#valentineslingerie – 1,085 posts
#valentinesjewelry – 4, 484 posts
#valentinesgifts – 72,068
#valentinesgiftsforher – 1,413 posts
2) Valentines Pinterest board with your valentines products.
You should pin all your Valentine's Day products, gift sets & baskets, as well as related articles, quotes, statistics and everything else you think. Those pins will inform and entertain your customers.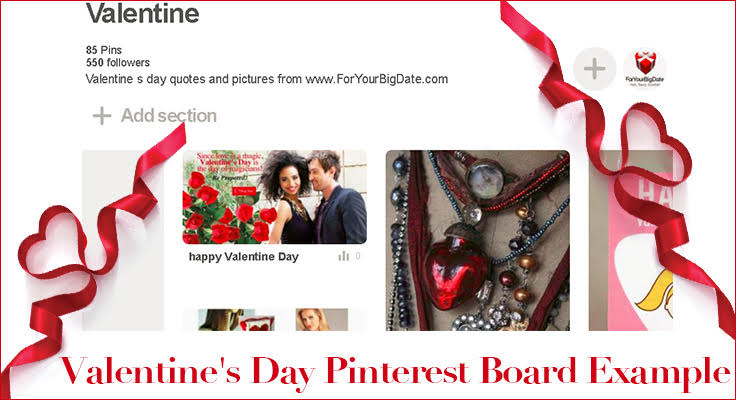 3) Facebook Valentine's Campaigns.
– Create Facebook live informative videos to showcase benefits of your products and make your business presence more personal.
– Make consistent Facebook group posts (if you have a group, and if you don't have one, negotiate with Facebook group owners who will let you post about your product.
– Run Valentine's Facebook ads, but only as a retargeting to people who visited your website and engaged with you on FB and Instagram before.
4) Quick Youtube Valentines day themed videos.
Shoot quick Youtube valentines day themed videos and put keywords in your title and video description. Make your video description pretty much the same way as I suggested to make SEO Web page texts.
III. Valentines Day Marketing – Packaging & Gifts.
As I wrote in my Holiday Marketing Ideas article, I firmly believe in going an extra step and delivering exceptional service to my customers. For the majority of fashion retailers, women create the core of businesses' customer base. Women are emotional. Therefore, lots of times feeling good is one the main reasons for their purchase.
I suggest every order look unique, thoughtful and beautiful. Female customers love opening orders while feeling that they received presents. Also, extra cute free surprise gifts that won't cost a lot for your company may make someone's day. As a result, you will acquire a long-term loyal customer who not only will buy from you consistently, but also will refer friends and family to your store.
IV. Valentine's day shipping & return policy.
Your special valentines day shipping (especially during your shipping promotions) should be crystal clear for your customers. Remember, people who shop online are busy. Also, they have access to hundreds of other stores that are just one click away. Display your policy under each product description as well as at shipping and FAQ section.
Plus, don't forget to make your return and exchanges easy and enjoyable. I suggest first exchange make free.
In summary, Valentine's day marketing can be super useful if done the right way. So, go ahead and make this year profitable right away!
Read my Holiday Marketing Ideas Definitive Guide