Wholesale fashion jewelry has become an essential part of every fashion online and brick & mortar retailer nowadays. It serves as a separate stream of business income as well as cross-sell for apparel, shoes, and other accessories such as handbags, hats, and sunglasses.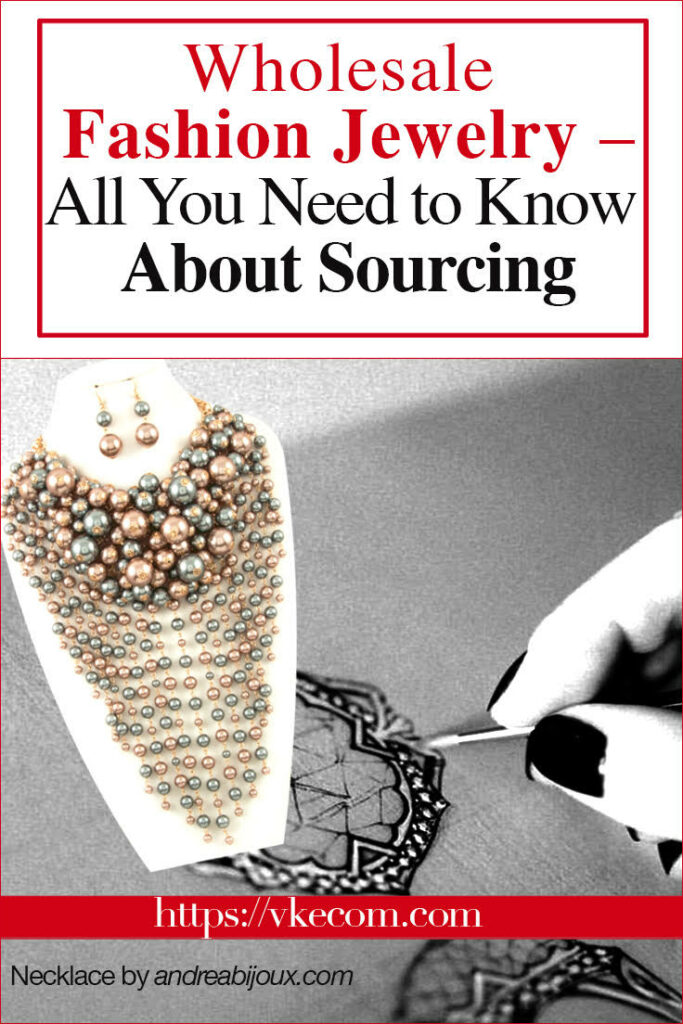 Fashion jewelry nowadays is a favorite among all ages and income segments because it goes with branded and non-branded, designer and fast fashion, classy and trendy clothing. Everybody from high school girls to top executives, from low-income to super wealthy people love and fashion jewelry on a daily basis. There is a statement piece for any style, look and outfit.
My personal favorite wholesale fashion jewelry sources.
Below I will explain my best personal approach to sourcing wholesale fashion jewelry, but for now, I would like to share my two own favorite wholesale fashion jewelry vendors. They are both located in Los Angeles in San Pedro Mart. I came across both of them accidentally many years ago and remain faithful since.
1. Andrea Bijoux.
Their website is http://andreabijoux.com – has their showroom in the heart of San Pedro Mart.
This wholesaler sells from their website as well as from all three significant marketplaces – LAshowroom, FashionGo, and OrangeShine.
Unfortunately, each marketplace lists limited inventory (but some of them contains different pieces), the website has more, but their actual physical location has the most variety of products
Andrea Bijoux always has a fantastic selection, unique merchandise than many other fashion jewelry vendors, high quality, and competitive prices.
As many other wholesale fashion jewelry vendors, they require to purchase a minimum order, but after you did, you can buy as much or as little as you want (if you're going to buy a few pieces just bring your receipt to show that you placed an original order).
The beauty of Andrea Bijoux's products is that you can retail them long after you stocked because lot's of them are pretty timeless.
Usually, this store has enough inventory if you need to re-stock, but it is the standard issue with almost all wholesalers that you never know if you will see the same product again.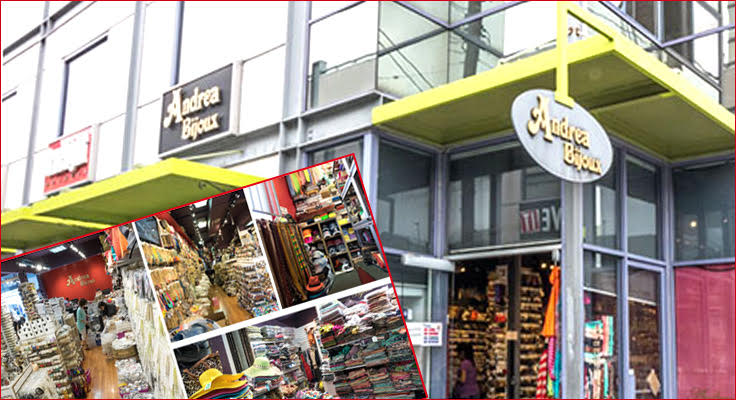 2. Joia Accessories.
Their website is http://www.joiaaccessory.com.If I could describe Joia's Accessory in two words – it is an Accessories' Paradise for any taste.
This company just updated the website, but still, nothing can beat in-person, in-store experience. There is such a vast selection that you always can find what you need (unfortunately, in most cases, I see more there than I need, and usually I end up buying more inventory than I was planning to).
The only downside is that majority of time Joia can run out of particular style by the end of the day, so if you did not buy enough right away, you might never find this product again. You never know if a particular product will be ever back or not.
What I like is that salespeople often point you to best-selling merchandise and most popular aisles because they want you to come back more often.
By now I know that if you see eighty percent empty shelf, than it's a very good idea to pick up the rest of merchandise because it sells well.
Personally, I can spend tons of time walking their three-story store feeling like a kid in candy shop. Going to this store is not just inventory buy, but some wholesale fashion experience.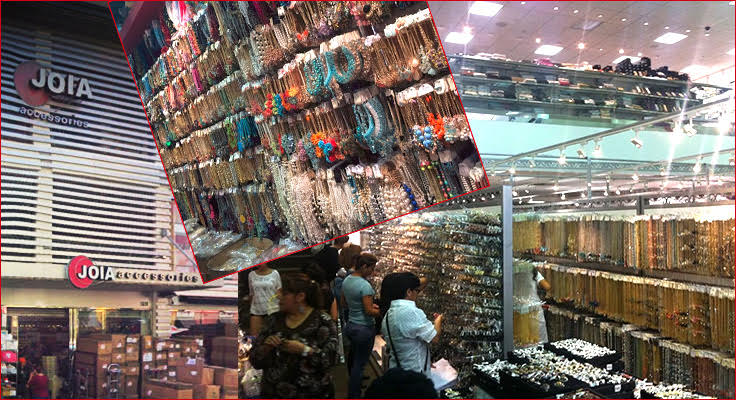 What is fashion jewelry?
Fashion jewelry is jewelry made from anything else except precious metals and stones. It can be inexpensive metals like brass, nickel, stainless steel, pewter, or fabrics, plastic, acrylic, leather or wood. Lots of pieces have a combination of multiple textures. Fashion jewelry contains simulated gemstones.
Fashion jewelry can be
Non branded – when jewelry has no name, random, not known name, or manufacturer name.
Branded – when a company put their brand name on the product.
Designer – the difference between a designer and branded is that designer label usually has their designers and present more unique styles.
Licensed – when manufacturer buys a license from well-known designer or brand and manufacture under their name (s).
Private label – when a manufacturer makes their product and sells it to brands and brands put their name on it.
You can buy wholesale fashion jewelry from either manufacturers or distributors.
Manufacturers are who design and make jewelry themselves.
Distributors are re-sellers' companies who buy from manufacturers and sell to business owners wholesale.
Sources to Find Wholesale Fashion Jewelry – Non-Branded.
1. USA Wholesale Market Places.
While uncle Google suggests multiple sites, the reality is that there are three major fashion marketplaces in USA – LAShowroom, FashionGo, and OrangeShine.
LAShowroom is the oldest and the most original one, FashionGo is newer, but also stable and reliable. OrangeShine is smaller than previous two, but excellent as well.
If you don't buy from those marketplaces, I highly encourage you to use all of them for your fashion jewelry inventory research.
For more creative and unique items, you might want to check Etsy Wholesale.
Pros:
1) You have access to multiple storefronts within one single interface so that you can compare designs, and prices. The same models almost always have the same quality because they nearly all jewelry companies within marketplaces are distributors and they buy from the same sources overseas.
2) In a majority of cases you can use stock photos from market-places (usually it is part of the deal with vendors, but I strongly encourage you to check each vendor's policy individually).
3) You can consolidate orders and receive all your inventory including clothing at the same time.
Cons:
1) The variety of designs under individual storefronts in marketplaces are much smaller than on their websites because some market-places charge per image and some have limited space.
2) Prices are a little higher than if you would buy from individual vendor's website. However, not all fashion jewelry vendors have their websites, and even if they have one, usually they don't list all merchandise. Main reasons for that are a fast turn around time and lack of internal resources.
2. Wholesale Fashion Jewelry Directories.
I recommend directories such TopTenWholesale, WholesaleCentral, FashionDistrict.
Pros:
You can see listings of many of companies under one umbrella.
Cons:
Unless you know which exact wholesaler you want to buy from, you have no idea who is who and what quality their products are. So you will spend tons of time on research, reviews, and then on registration with each individual vendor.
3. Designer Wholesale Fashion Jewelry.
You need to check out Joor for this. However, you won't necessarily get in quickly or easily. Joor usually requires invoices from at least three well-known brands.
4. Branded Wholesale Fashion Jewelry.
I suggest visiting fashion/accessories trade shows. You can find great merchandise there.
If your business is in Los Angeles or you can travel, I recommend visiting California Mart, Cooper Building and Jewelry District 's showrooms in person. One time you spend some time, but you will touch and feel the products and pick your favorite wholesale fashion jewelry vendors. I believe in personal experience and business chemistry.
5. Chinese Fashion Jewelry Wholesale Marketplaces.
You can buy from Alibaba, DHGate, Aliexpress. Alibaba and DHGate sell in vast quantities, and you never know (unless you know the factory well) what quality you will end up receiving. Aliexpress is a semi-retail version of Alibaba. You can buy fewer quantities, but for higher prices. You might end up paying as much or more as if you purchased from USA based marketplaces or websites.
In conclusion, different models work for various businesses, and it will take time and efforts to source wholesale fashion jewelry that in particular your retail customers will love and buy with pleasure.
Either you bought inventory or now, you have to grow your Social Media Following. Check out our latest Social Media Product – Instagram Ultimate Planner>>>
Holiday Marketing Ideas Definitive Guide