Wholesale suppliers for boutiques are one of the essential parts of your boutique business plan because they are responsible for the quality, quantity, the uniqueness of your product mix.
Before choosing any supplier and placing your order, you have to have a desirable product mix plan and budget. Don't purchase what you love instead of what will appeal to your customers unless your clients follow your recommendations and you sure that you can move those products.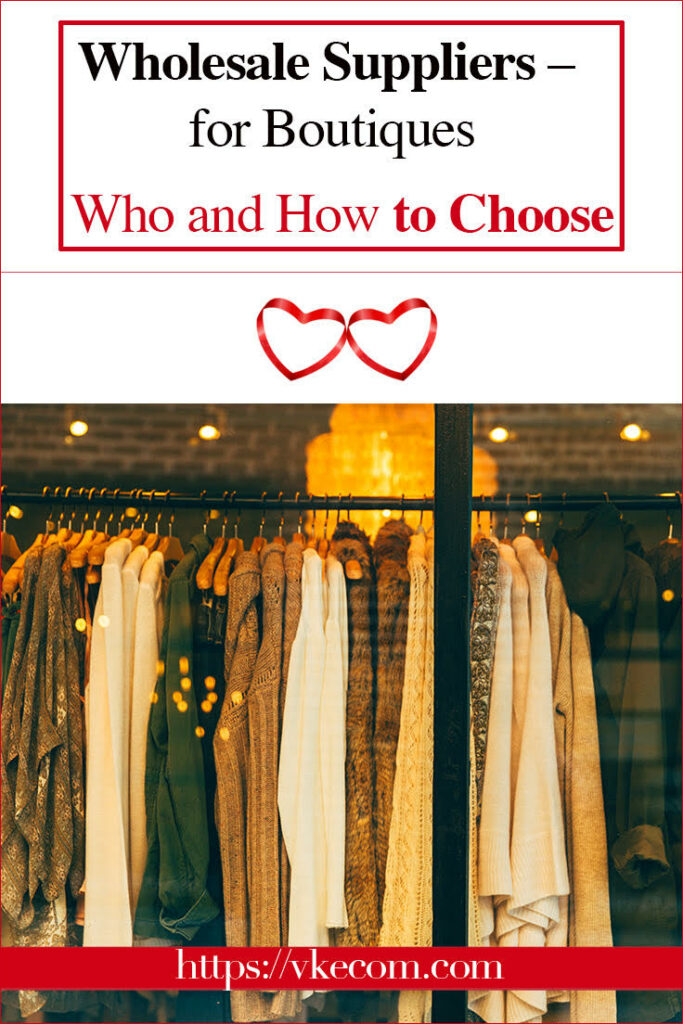 Sourcing Checklist for an Online Boutique
When you are starting an online boutique or running an existing store, product sourcing is an essential part.
Quality – what you see in pictures and what you will touch and feel in person might be two different things. If you position your business as a boutique, it translates in customers' mind as great quality products.
Uniqueness –if you are the only one (or one of a few) carrying the product, you can price it higher
Keywords – if you sell online, you should sell something people are looking for to buy (something that they search online for), so your store will pop up in organic search after your SEO is in place.
Pricing – always leave a sizable room for markups and promotions. For example, If you know that your established customers buy average $70, your wholesale spend should not be more expensive than a half of it, unless you are planning a marketing campaign to reach new customer segment.
Product availability – if you order pre-sell, you might end up not receiving the product if the supplier did not project correctly and manufactured less product than received orders. In this case, the product will go first to larger stores and repeated retail buyers
Shipping fees – if you order online (they add up to the pricing)
Supplier reviews – it's always a good idea to read what others experiences, however, you should make your judgment. Sometimes bad reviews can address not product qualities and prices, but something different
Ordering from Overseas
If your boutique is relatively small, scratch the idea of ordering from overseas because the quality might be poor and minimum order tremendous. Also, your merchandise can get stuck somewhere on the border for days or even weeks while you plan to have it for new arrivals or holiday season.
However, if you already have established suppliers with high quality who you can trust, divinely go for it, because prices will be lower.
Ordering from "Big Guys" – Well-Known Brands
• If you a completely new to this game and want to sell recognizable names, start contacting brands one by one and see if they are willing to sell for a boutique. Usually, they want to see which brands you already carry and unless you can show them proof (written orders from other brands) the answer will be no.
• Joor, the largest big brand name marketplace will ask you for three proves from the famous brands. If you show it to them, they will accept you to the network. Otherwise, you won't hear from them back.
• Big brands usually want to make sure that their products are displayed at well-established retailers so their pricing policy won't be violated in any way. The solution is going to trade shows, meeting them in person, and building relationships personally. Or keep knocking at their doors.
Personally, I don't think that selling big names is a good idea for boutiques because other companies sell them from already established and trusted online retailers. You should not compete if you are not able to win. Usually, larger retailers provide with faster shipping, easier return policy, and better customer service. Or they just have an established name and customers' trust and loyalty.
Finding unique products.
Going toward the year 2020, unique niche products sell the best. If you mix great quality merchandise with relatively one-of-a-kind inventory, you can have higher margins and better prices, more interesting mix and better chances to sell.
Product Sourcing – Finding Wholesale Suppliers for Your Boutique.
Different stores have different product sourcing strategies; I will share what worked the best for me.
Living in Los Angeles, it is easier to go directly to manufacturers. I do research online, schedule my shopping days (actually, this is one of my most favorite part of running my boutique) and buy merchandise.
If you are not from LA and don't have a traveling budget, you can order your inventory online
Just make sure that when ordering from the supplier first time, get the bare minimum to see the quality. Doing that is ok. Majority suppliers won't do returns unless there is something completely wrong with the product. Many of them are not excellent in customer service either, but don't worry – if they sound rude, most likely they are not. As a first time buyer, you can order minimum to ensure the quality.
Wholesale suppliers for boutiques – sourcing checklist.
Major fashion marketplaces
I suggest signing for all of them because while some vendors/suppliers list overlap, you can find different new arrivals, brands, and designers in each.
2. Vendors'/suppliers' websites
After you find what you want in the marketplace, you can buy either directly from them or your favorite vendors' websites. Majority of vendors are selling wholesale online.
Usually, prices are a bit smaller (a few dollars per piece/pack) when you buy directly from them, but web selection might be different (all depends on how much of in-house resources vendors have to run their website). If you can't find their website, call them and ask for line sheets.
3. California Mart & Cooper buildings – apparel, accessories, shoes, décor, gifts showrooms.
4. Apparel/Accessories Tradeshows – for fashion, access
5. California Gift Show and LAmart – for gifts.
6. San Pedro Mart – my favorite place, sourcing gem. Over the years, I spent days walking around finding the merchandise my customers love.
7. Etsy – if you have a small boutique and like one-of-a-kind items, you can research Etsy and order wholesale from there.
If you are starting an online boutique, download free boutique business plan
Read my Holiday Marketing Ideas Guide >>>